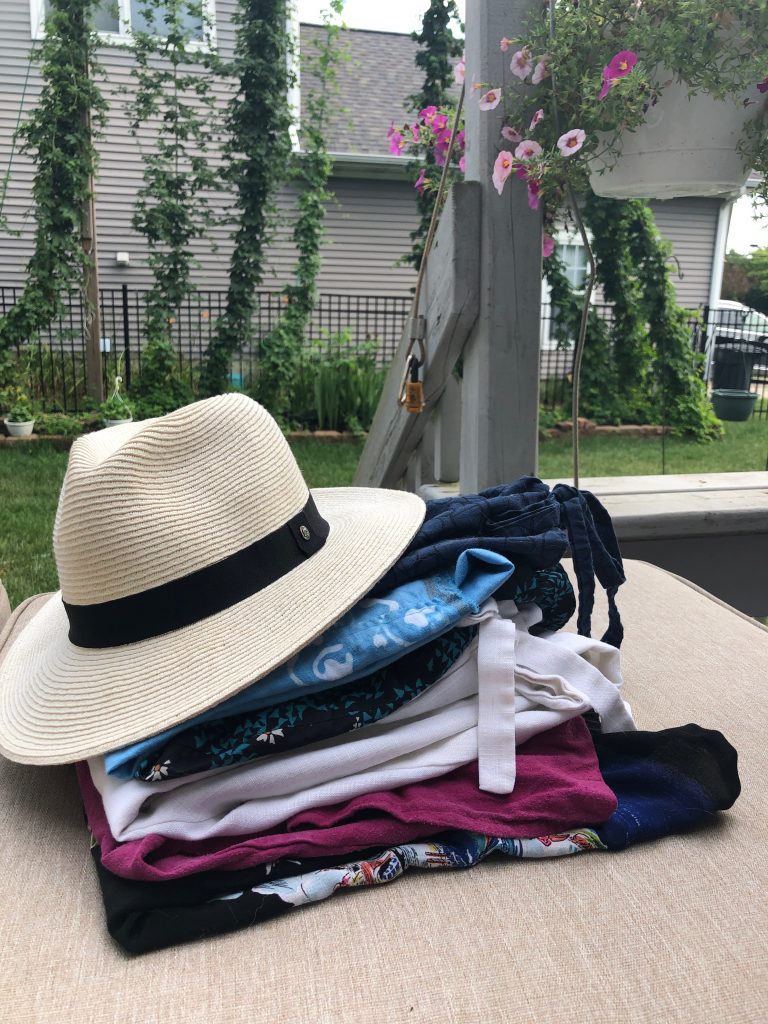 "The Stack"
One of my favorite RTW brands, J. Crew, does this thing called "the Stack". A stack of curated essentials / capsule wardrobe. They photograph it as a stack and show you how the pieces work together. I know many, many sewists struggle with this idea of a capsule wardrobe. And since I prefer to align with the slow fashion/sustainable fashion movement, I buy my J. Crew mostly secondhand these days.
Over the years, I've developed a VERY simple capsule wardrobe formula for myself, extended it to sewing brands that I have worked with, as well as shouted it from the rooftops. Make what you love to wear, make just one or two pieces to work with the rest of your wardrobe and build on it. This way, you're not overwhelmed by the six, eight, ten pieces you have to sew, you build gradually and work in your existing closet, which is the ultimate in wardrobe sustainability.
In this "Stack" are some of my favorite me-made garments (all except one from the past 12 months.) They go with many things in my existing wardrobe and are things I wear every day (in fact, two of these I plucked from my "not quite dirty" pile of clothes on a bench in my room, because I'd worn them this week! Two were in the clean laundry.
From top, a linen curved hem skirt with hybrid elastic drawstring waist (tutorial here) using Christine Jonson Patterns Base Wear Two straight skirt pattern. Hacks shown here for the curved hem (including a clever way to hem the thing without tears!) Printed geometric linen is from Seams Fabric in downtown East Lansing.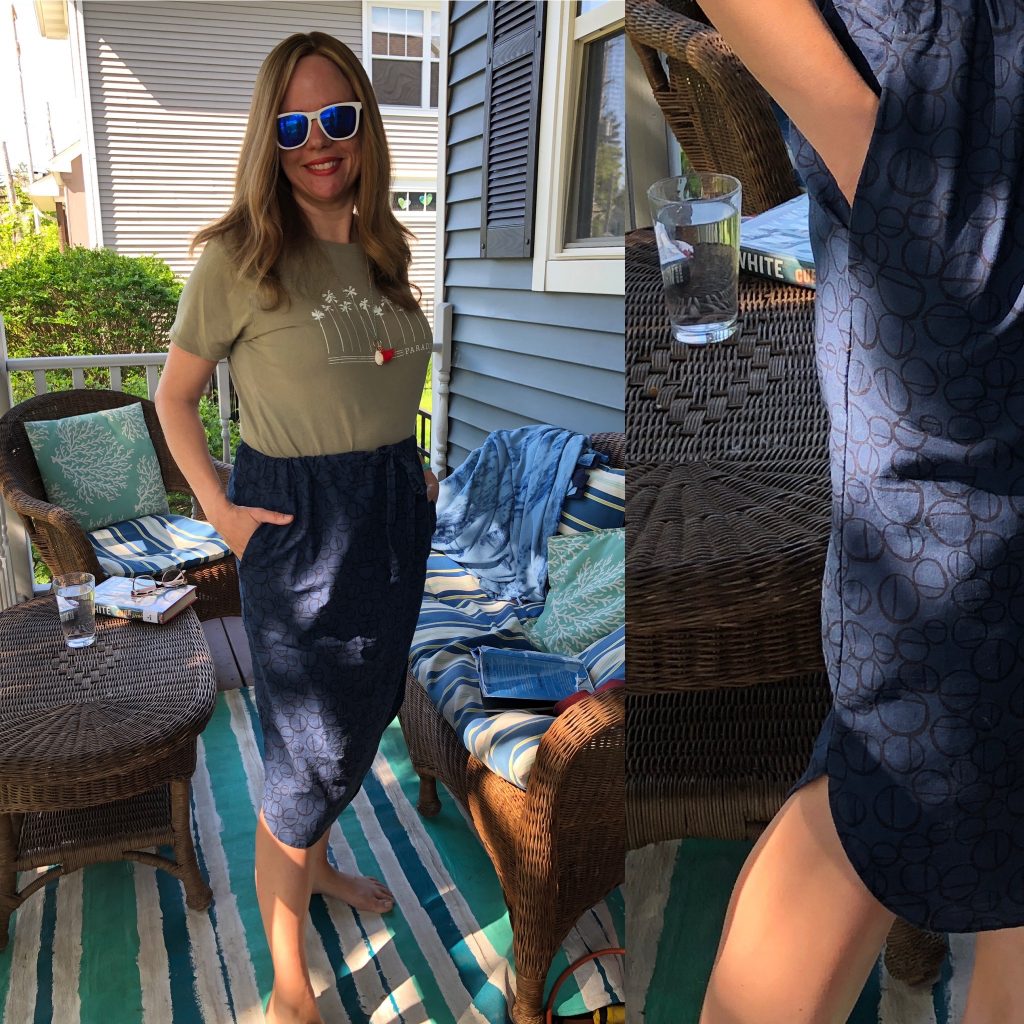 The second item is the Ann Normandy Designs Slip Dress pattern, a really wonderfully constructed and simple dress that I sewed from Kona cotton, batiked the designs myself and then stitched it up in an hour on my children's Janome SewMini sewing machine (I took it with me in a backpack!) at a Seams Sewcial, back when we did such things in person, together, last summer.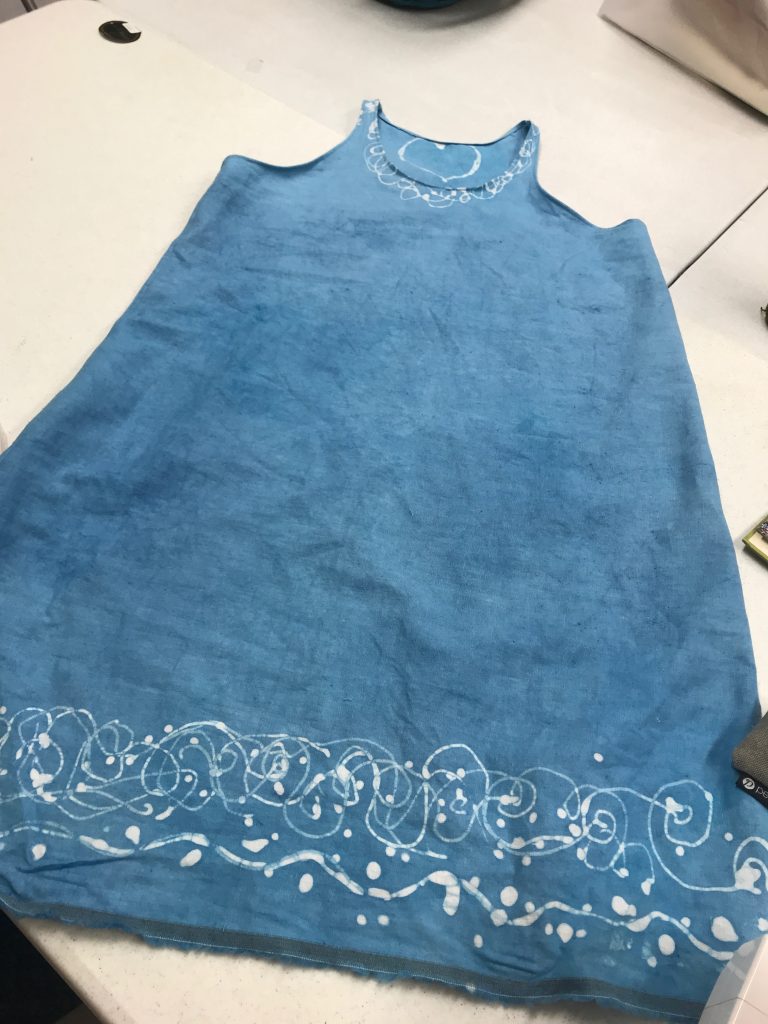 Below that the Scout Tee from Grainline Studio in a cotton voile black print from Seams Fabric in downtown East Lansing. This fabric is incredibly lightweight and goes well with this tee pattern.
Next up, my favorite, favorite white "linen" pants (in a linen/poly blend that is virtually indestructable) made 25 years ago, from an OOP Butterick pattern. Any basic elastic waist relaxed fit pant will do, I show you how to craft the paper bag waist here. If your pants don't come with pockets, you can draft one. Try this one from Sew News with a fun side square pocket and add my hack for the waistband paperbag add-on. The Sew News pattern has several other patterns, all in the same casual chic vibe, so it's a great value. I've taken my version of these pants on every warm weather vacation for the past 25 years, summer, and winter getaway. Plus, I wear them at least once per week. There are a few minor stains that work their way in to the slubby look of the "linen" and I let them go. An alternative is the Christine Jonson Taper/Wide Leg pant. Designed for knits, you'll need to select a size at the waist that will go over your hips (e.g. use the waist measurement that fits your hip size) to make it in a woven fabric. This one also doesn't have a sideseam, but there are tutes on the site for how to add one using a dart, which is very clever!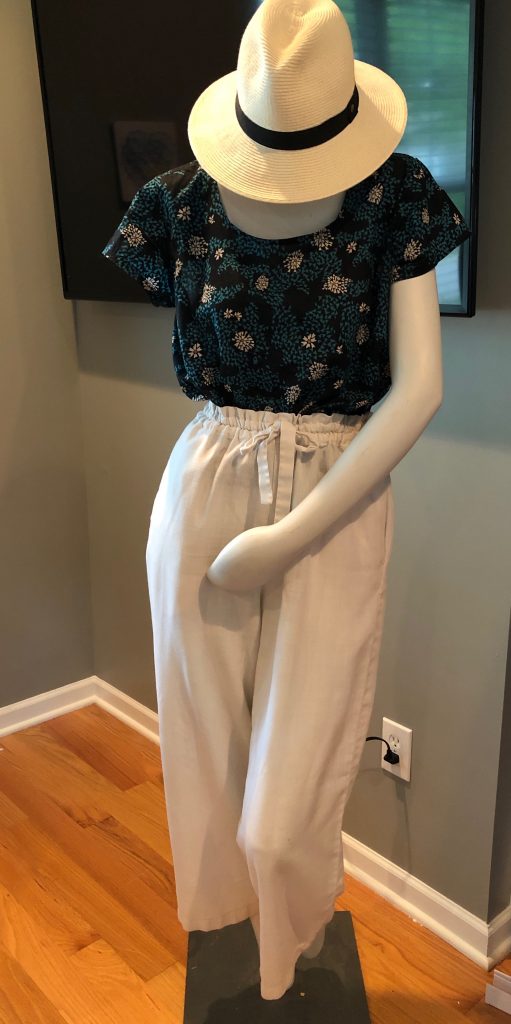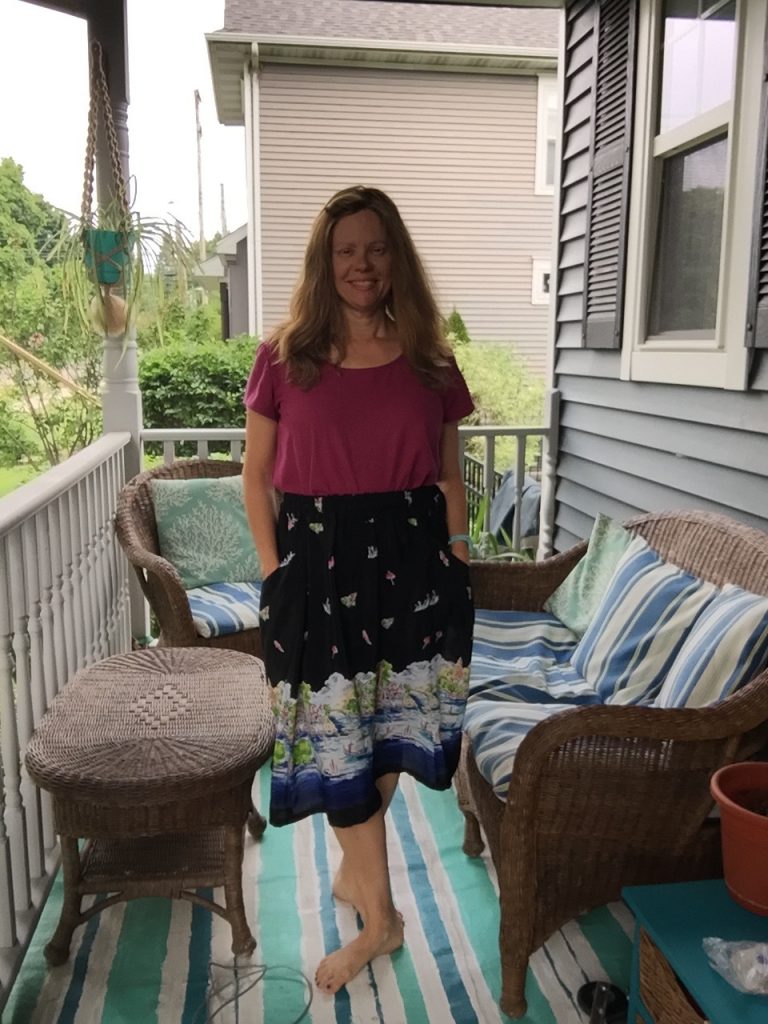 After that, another Scout Tee from Grainline Studio in fuscia silk noil, washed for a faded look. Also from Seams Fabric in East Lansing.
Last up, the Gypsum Skirt from Sew Liberated in a gorgeous rayon border print from, again, Seams Fabric (this one is one of their vintage "estate sale" collection, so as far as I know, no other exists, but any cool border print works with this paneled, pocketed skirt.)
Planning a wardrobe is easy. I use the Pick One, Sew Two method that I wrote for Christine Jonson Patterns. If it's no longer available there, you can download this here (with my branding.)
I pick ONE item in my closet and I go into my stash and sew TWO more. Sometimes I do not have stash for both, so I then head over to my LFS (Seams Fabric, y'all, all online too!) and pick something that works for both.
It's been a while since I've sewing-blogged regularly under my own name. I've worked for about five years helping other sewing brands. It's nice to be back! While I still work with sewing brands, most of my work now is in marketing coaching and marketing-tech training. I'd rather coach sewing pattern companies' brands through developing content, as their authentic voices come through in what they write, photograph and record. A perennial challenge for any brand is maintaining that level of content (I do not have this problem!), but we work on that, too. Think of it as coaching AND motivation.
Very last, the fedora hat is one of my favorites, from Sunday Afternoons. It's adjustable, it's durable, affordable and its called aptly, their Havana Hat. Get it here. They offer a lifetime guarantee, and for such an affordable hat, that's a bonus.