It's very late summer. The cusp of Labor Day weekend – and it's 86 degrees and humid (at least for another day). Today's outfit is joggers and arty tee outfits, but also unique hem treatments – so all your pants don't need to be cuffed to cropped length.
And, an invitation to say YES to something or someone new in your life.
First off, the Wall Street Journal weekend edition off Off Duty featured casual woven pants with hem treatments that aren't cuffs – because you can't cuff EVERY pair of pants, right? These included pleated, banded hems, self-fabric drawstrings, folded over pleats with buttons, or pull tabs to cinch an ankle hem to above ankle. Although the article was about men's pants, these apply equally to women's casual pants. See below for some pattern recommendations.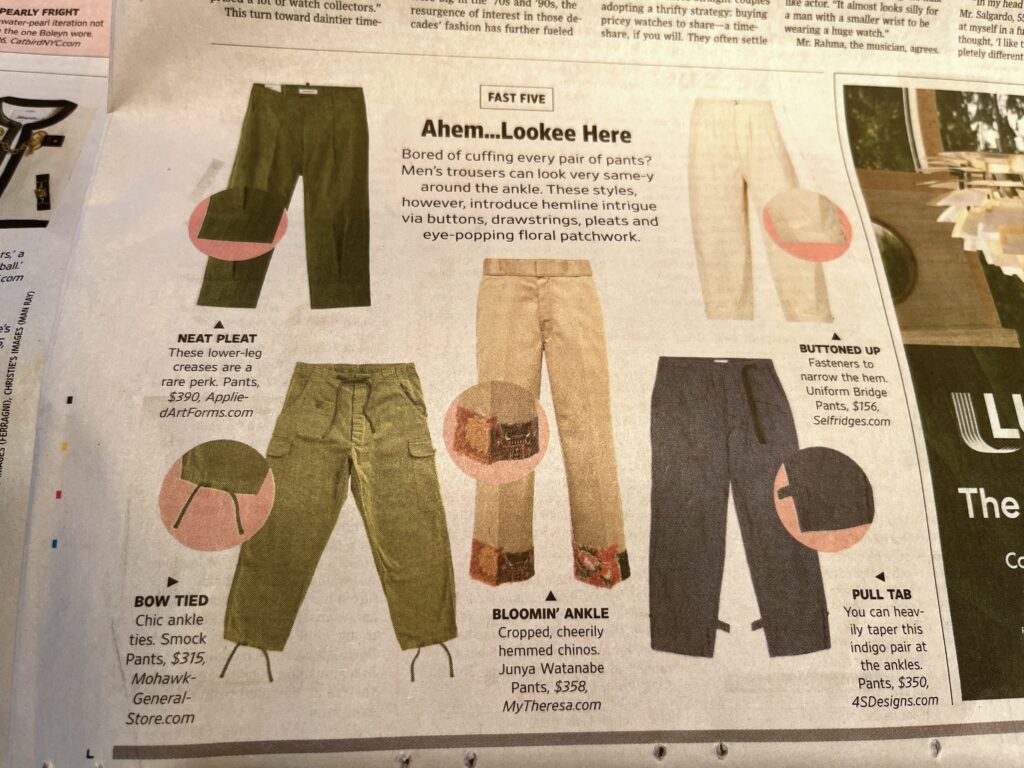 I sewed these 1990s OOP beach pants (similar to the Miller Pants by PaperCut Patterns.) (midway down, in navy linen with a fuscia Scout tee), I opted for full length (they are slightly tapered from a roomy fit) but I prefer cropped ankle, so I roll them. Only, they unroll! So I am either going to do tabs, or one of these more creative hem finishes so I can get them up a little higher on my ankles.
The outfit in this post are my Luna joggers in a mint tencel deadstock from my LFS, these are well loved, washed, worn and loved again (almost three years now.) They are a Made by Rae pattern. I have it on with what I call my La Jolla tee, because, about nine or ten years ago, I shopped with my sister in law in La Jolla at a thrift store and found this tee. The print on the tee is Nagel-esque for those children of the 1980s like me. The top can be worn at the waist or hips. Here's on my waist so I can use those lovely deep pockets on the pants.
The trend toward longer (and wider) pants is here for fall and winter, but for summer, it's nice to have a more cropped ankle and I don't think that trend is going away any time soon (given the increasing heat of our planet.) So I don't think you can go wrong sewing pants with interesting bottom ankle details. Some pants that come to mind are anything by Sewing Workshop, the Bob pants from Style Arc (note, I have not ever sewn Style Arc, but I have one and their instructions are not for beginners.)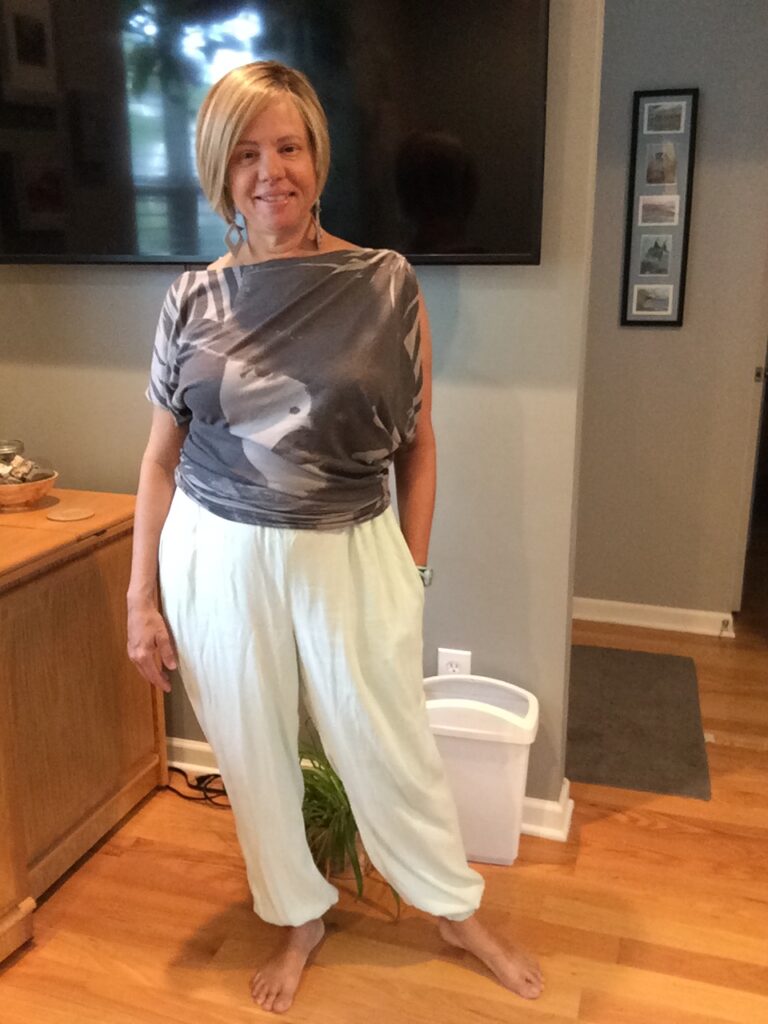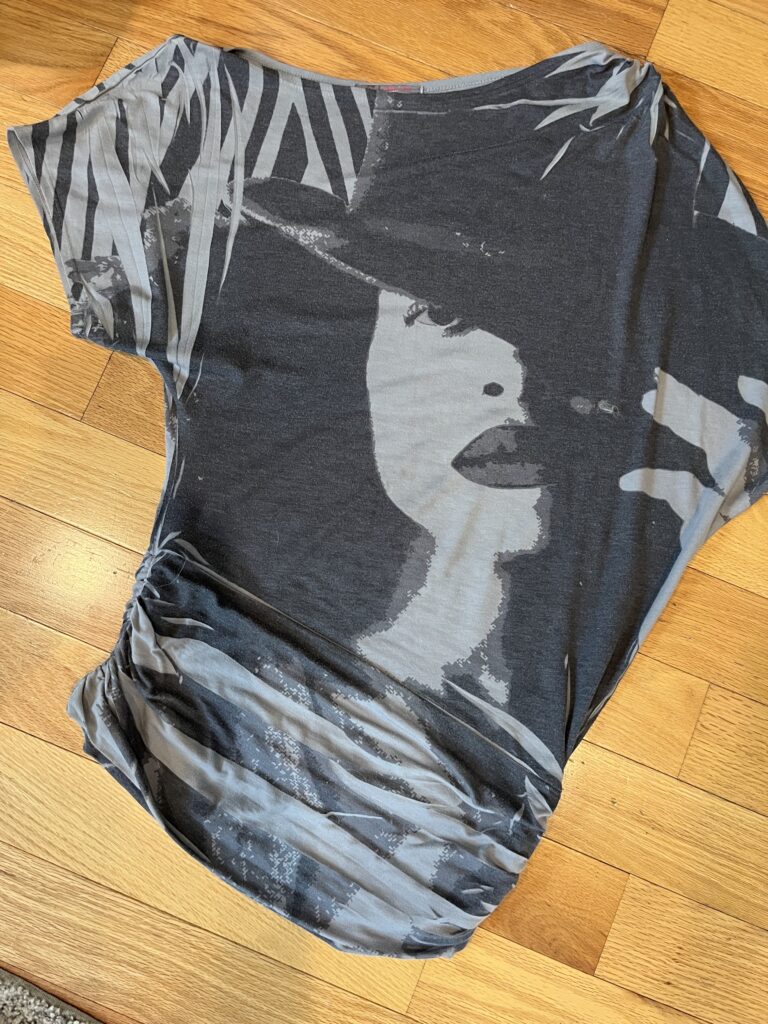 As for saying YES, all summer long our local sewing and knitting store has been hosting "stitch outs" in our city's pedestrian hang out space. As the hang out space is packed up for fall (waaah!) the stitch outs have come to an end, and I wasn't able to make any.
At church this week, our pastor and our congregation members invited us to "entertain strangers as they may have entertained angels unawares." (Hebrews 15). The message, which, combined, with a middle-and-high school family picnic at a local park, invited us to meet others. Many of us did, and while there, I met a mom of two, who also enjoys stitching, and we agreed to start this up. Our pastor also makes things herself, and I think this might be a way to say YES to something and someone new.
How can you say yes to something or someone to get out of your comfort zone a little?
While I have dear friends I see periodically, and I love them, they are my age, I need to also branch out and find friends with common interests too (to friends younger and older). Stitching is one of those and I have a few stitchy friends that I need to reach out to that love this too. Say yes!