Refashioning your wardrobe, refashioning garments is akin to refashioning your life. I'll explore some refashions in my own closet and show you how these changes help influence who you are (and your life path.) I know, it's deep, but stick with me here. Sewing is transformative, but you already know that!
Refashioning is the process of taking something that once was and making it a better version of itself or into something else.
Aren't we doing that every day, with our relationships, our careers? Change in one area of our life makes change in another easier.
For this blog post, I'm going to show you three garments I sewed but then changed to become something much better than they were.
The first is a pair of black and white stripe doubleknit wide leg pants. I first sewed these in the late 1990s from a Sandra Betzina book called No Time to Sew. It came with a book and patterns.
In this pic, the pants on the left in floral are those pants.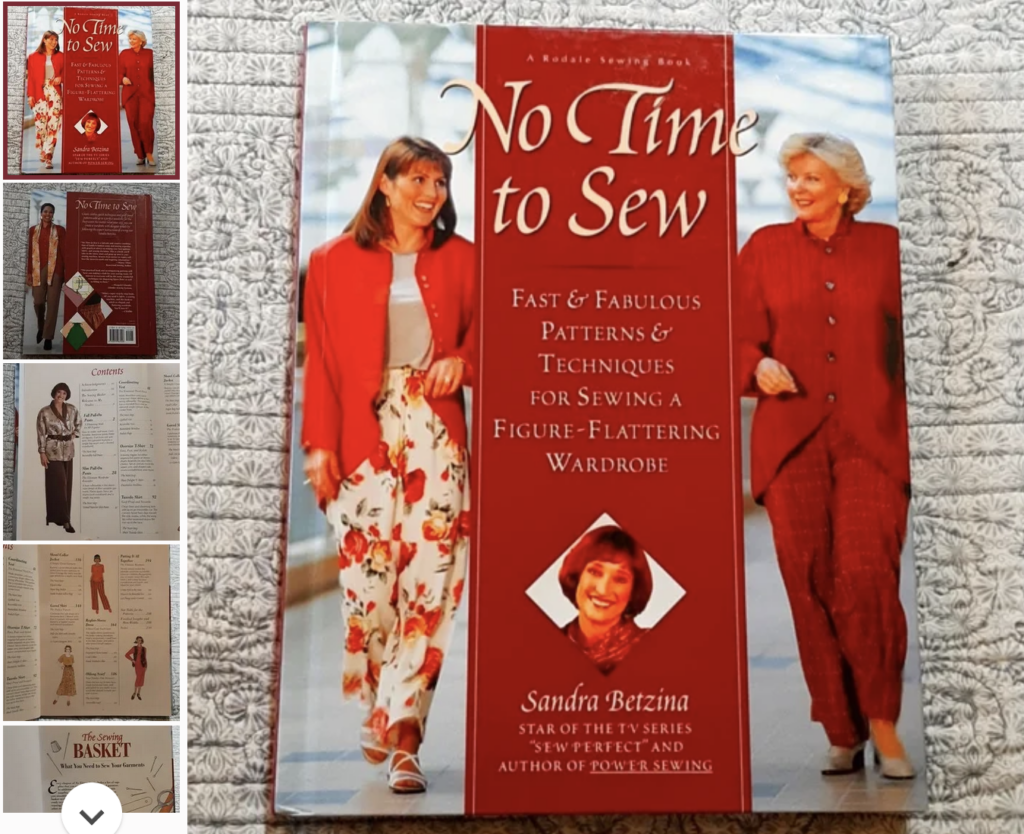 But that pattern is not as suitable for my doubleknit striped fabric as, say, a drapey floral rayon like the pattern book recommends. I hardly wore them. So, in 2019 (twenty years later) I removed the elastic waistband, cut off the inner leg seam, laid a Christine Jonson Wide Leg pattern on top of the pant and recut. I used a rotary cutter and a ruler to crop my pants. And then I put them on the lovely Ella for a photo shoot for Christine Jonson.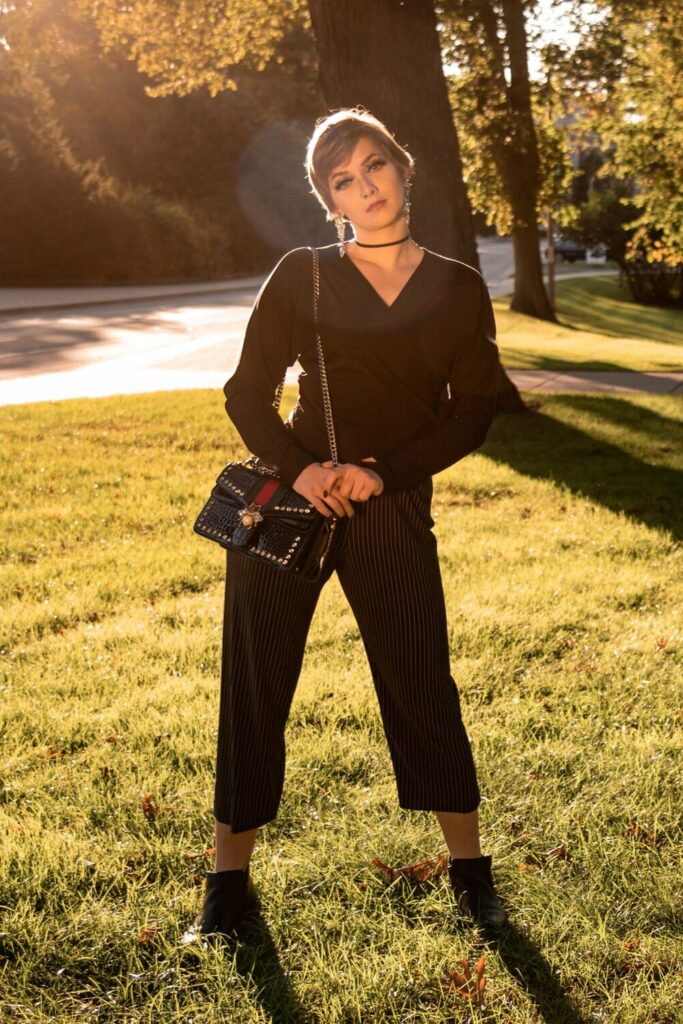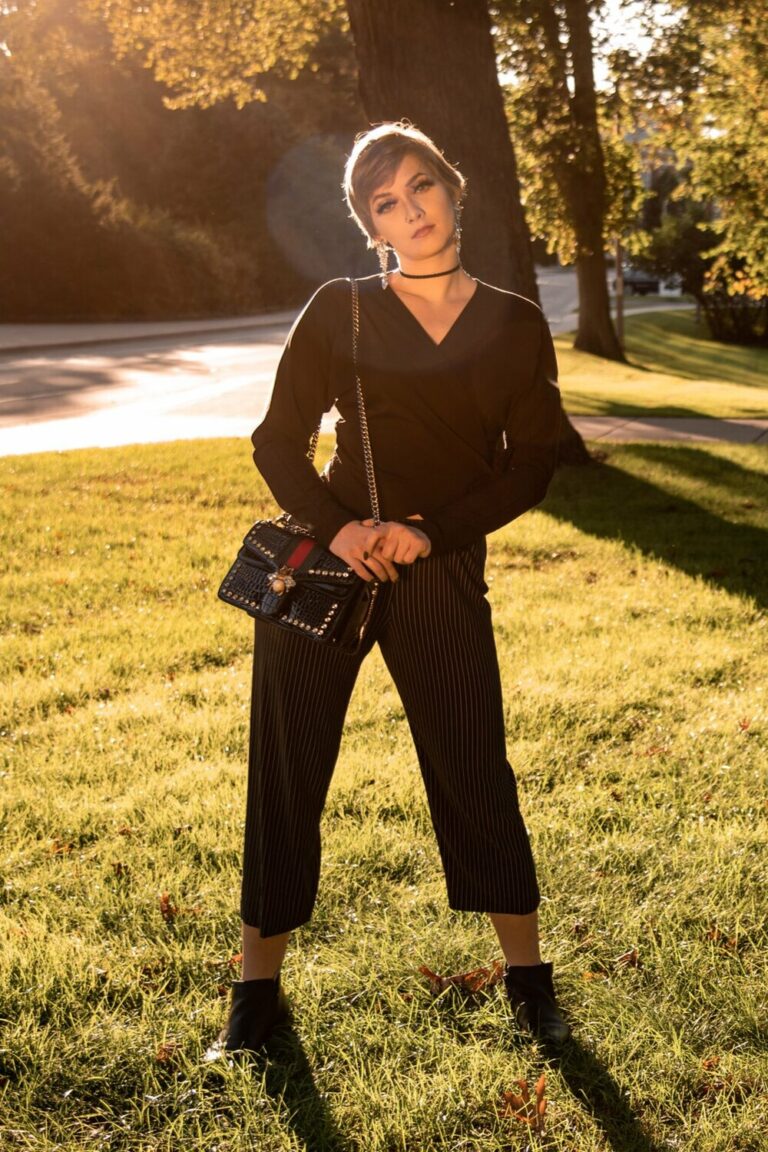 Recutting a garment – refashioning – can be as simple as cutting it smaller. Or you can sew it into something totally different! Or you can skip sewing and go to dye and embellishment.
I recently dyed a poncho I'd sewn from a BurdaStyle pattern (that in and of itself was a scrap pieced project to accommodate a lack of fabric.) It came out much better than the original!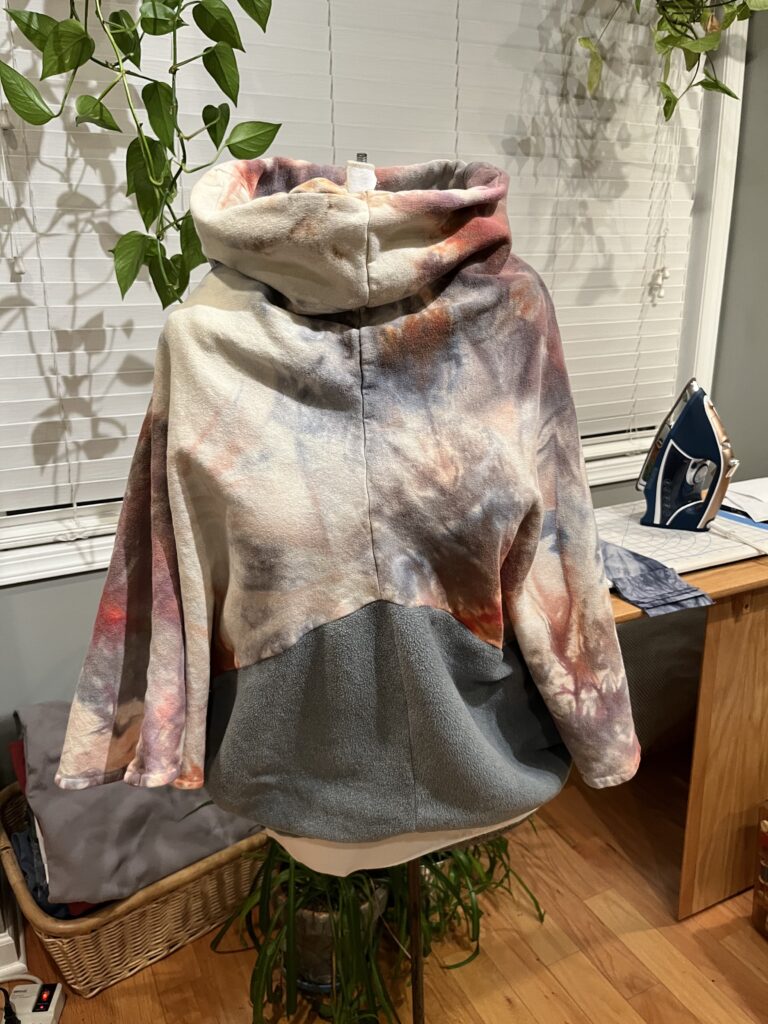 Refashioning garments helps you see and breathe new life into the garment. All of a sudden, you have 10 things you want to wear that garment with! Where before, it languished in the closet, with no exciting outfits coming to mind, a refashion gives you a new look at it – and even though it's the same garment underneath (in some way), it's newly refreshed look gives it life.
Isn't that the same with your own life?
Change one thing – cut your hair, clean up a room, move your home office, get some new plants, and all of a sudden, your space, your whole mood changes. Get a dog? Your whole life changes.
If you want to continue on this life change thread, read on. If you want the sewing / refashioning part, zoom down–>
Change is often hard for many of us. We've been rocked by change for the past two years in ways none of us could have seen. The entire nature – and power – in work is changed. Teaching changed, learning changed, kids changed, parents changed, millions died. But change is within your power and your control through the iterations of refashioning your life that you can take.
If you journal (and you should, there's a lot of good evidence it can help in a myriad of ways), your task is to write just one little thing that you don't like about your life and then use a refashioning technique to change it.
For me, it was feeling like I was relentlessly serving others – clients, spouse, children, special needs dog – and never myself. My physician asked me pointedly "where's Ann's time?" and I said "I don't have any". After exploration of this, we realized I do. I can take 8am – 9am every day for Ann's hour. Naturally, in that hour, my physician wants me to get some exercise. Yoga, weights are my at-home choices. But I also use part of that hour, sometimes ten or fifteen minutes to trace a sewing pattern, or sew a couple of seams on some project. Or write in my journal and meditate. That one hour – which is 5 days per week – is 260 transformative, healing, healthy hours per YEAR. You can do a lot with 260 hours.
Your tiny change might be that you're not happy with how your morning routine with your kids transipres every day, and you'd like to change that. What is one thing you could do? Maybe you can make your kids hot tea in the morning, a comfortable loving thing. Or maybe you want to put their bathrobes in the dryer five minutes before you get them up so you can greet them with a cozy warm bathrobe (makes it easier for them to get out of bed so they're not late!)
Whatever your one tiny change that helps you refashion your life, start there. Your life gets better not in big chunks but in small iterations, every day.
So, how do you get started refashioning with your own wardrobe?
Go into your closet and pick out 2-3 things that aren't perfect for you. Maybe they don't fit, or you don't love the fabric.
Assess the garment, does it have an overall shape that you like (e.g. pants but not the right shape?),
Does it have a color you like (if not, dyeing fabric is an option).
Does it have a pattern or color you like but just not that garment? You can piece scraps of it together into a different garment – pantlegs, for instance, make great recut sleeves on a jacket. A too-small skirt can get a waist chopped off, a stretchy yoga waistband added and turned into a fun shorter skirt. Or a skirt becomes a top by using the bottom part of the skirt to cut a basic cap sleeve tee.
Take those 2-3 items to your sewing patterns and determine what you need to recut these or dye these.
Once recut and sewn, pair them with 2-3 things in your closet you've never worn them with before and enjoy the novel sensation of something new from something you already have!
You can do the same with your life! Change one thing! I changed my home office this winter and it transformed my business. All of a sudden I had this beautiful space to work and sew in and I was much more creative and productive.
Refashioning is also incredibly sustainable. The most sustainable piece of clothing is the one that's already in your closet. And research shows we wear only 20 percent of our wardrobe.
You can do this with accessories too! Scarves make lovely kimono garments when sewn together. Sweaters make wonderful mittens when recut (if they are wool.) You can also work with sewing patterns designed for using scraps. Here's one that uses sweaters! Leather jackets and skirts make great bags and purses. I have a pleather skirt that doesn't fit, and I have no need to wear a pleather skirt anymore, so I'll recut that into an awesome tote bag, keeping the exposed back zipper as a design element.
There are tons of patterns for basic tees that use your existing scraps. These are also perfect for refashioning that garment that you don't always love to wear (skirts and dresses become tees pretty easily.) This casual blazer jacket works well from scraps too! Or try this cardi/bomber/utility cargo jacket (it's called Mighty Morphin' for a reason!)
Refashion your wardrobe and refashion your life at the same time!