Sewing a pleat into wide leg pants (or wide-r leg pants) is easy and adds a fun design element. I'll also share a few pants patterns that have this detail. You can do this to both purchased and handsewn pants. I did this with a pair of OOP Simplicity sewing pattern navy linen pants after seeing someone online who did a similar hack. The pattern I used is an old Simplicity x Christie Brinkley #9440 collab pattern from the 1990s. I bought it in the 1990s and made the button up shirt and the pants several times in the 1990s. I sewed my usual size (and I was 30lbs thinner in 1992 so not sure just how oversized I was wearing these then!)
The Demi pant by Sew Tessuti has a great option here https://www.tessuti-shop.com/collections/patterns-pants/products/demi-pant-pattern – this one uses a band at the hem with a folded over pleat – and you can do this to most pants patterns by folding the pleat and then adding a band. Originally I tried this on these pants without the band, but the band really is needed to create this look. I was just too lazy to cut a band and sew it on.
You can also check out the Picasso pants by Sewing Workshop. https://www.sewingworkshop.com/shop/Picasso-Top-and-Pants-p113475563
I ended up doing a side pleat stitched down partway with a fold-under cropped hem instead. I modeled it after this pic here: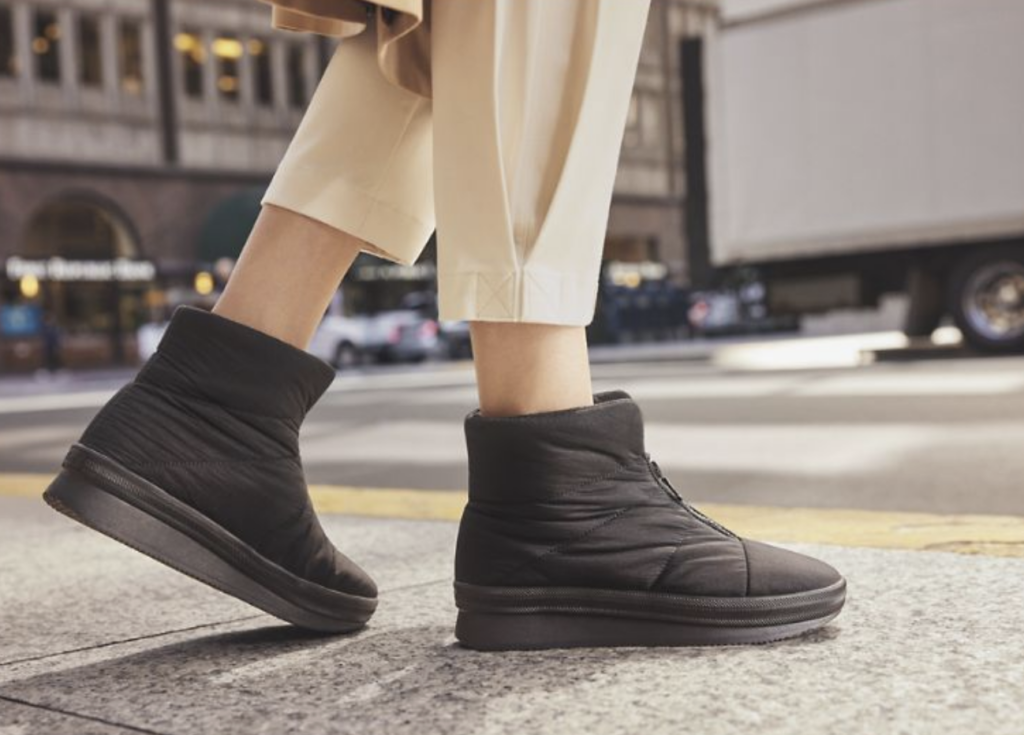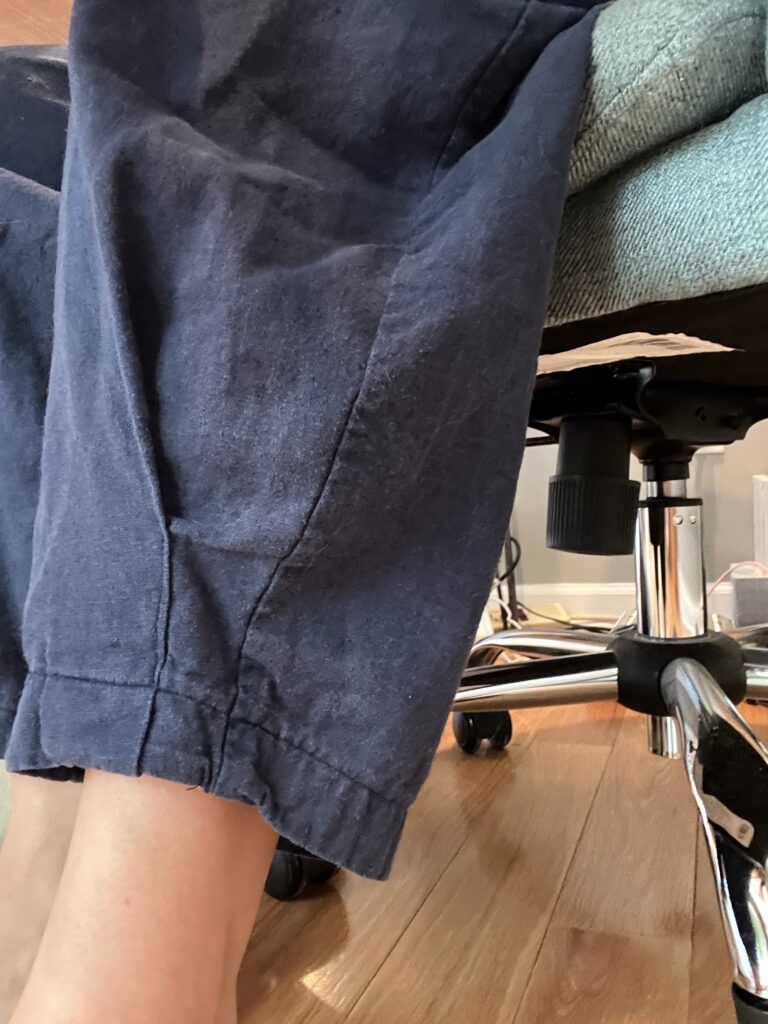 How I did this: I pinched two inches near and forward of the side seam and pinned it down. I folded the excess toward the FRONT of the pant (under the pantleg). I stitched the fold down on the right side about 2″ up from the hem and 1″ away from the sideseam. I then folded the hem band under itself, and stitched all around the pantleg opening, securing the loose fold inside the pants and making them a little more cropped.
For those of us in the 1990s, remember the fold and roll of the jean pantlegs? Well, similar (and that's back as well!) we folded and rolled on the inside and the outside. This is just that fold and tuck of the hem with stitching.
This pant shape gives the "barrel" look – with a pouf of fabric near the hem, but not a gathered cuff like a jogger or sweatpant. This stays in line with our wider pant which is a continuing post-pandemic trend. We aren't going back (collectively) to skinnier pants just yet, and the trend is toward wider pants as a more comfortable option that moves us past joggers and into real but comfortable pants.