This is a really cool dress! I recommend this for intermediate sewists.  It is a dress with many wonderful details that make it a joy to sew, but, there are a few tricky spots. Let's break it down: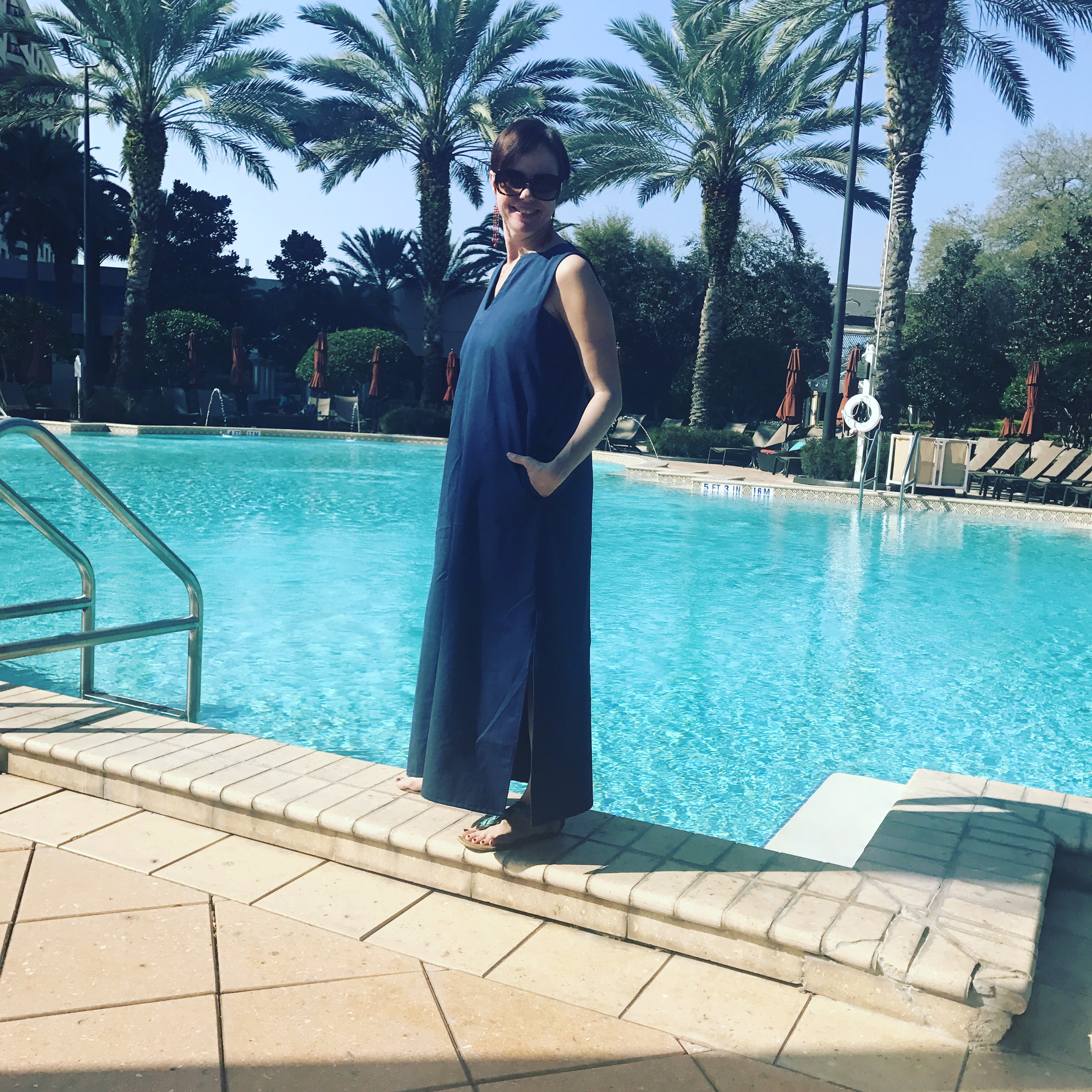 This is a classic maxi dress – floor length, sleeveless, and designed to be made in a mid-to-heavyweight linen (or similar fabric). I chose a textured heavy cotton with a herringbone weave to it. It's close to the hand of a heavyweight linen. I wanted to test out the dress and I have a lot of fabric. It's perfect for tall people (that is, if you are tall, you'll have no issues making this dress and having to lengthen.) I removed 9″ from the dress during the layout stage. Fortunately, for me, the perfect spot was right at the vent opening (you can see the high side vents in this photo.)
I chose a size M from the measurement chart, and it fits beautifully with no alterations. I'm a C cup, and it works on me in this size. I like that the top of it is fitted, but it opens up below the bust and slides right over all the squishy bits. It stands away from the body, which will be great for spring break and for this summer. Normal years, it would be chillier in early March in Florida, but this year, they're having record high temps down there. I'm under no illusions: this summer is forecast to be hot, and this dress will be perfect for work – it's polished enough to wear to a client meeting but casual enough for work at home and weekend.
This dress has pockets that are sewn to the inner front,  and it has a very nicely sewn folded pocket edge that's captured in the side seam. This was one of the really nice details of the dress to sew and it came out very well.
There are some tricky bits – the sideseam (which is flat felled) and the vent really threw me on this one. I read the instructions again and again (and there are pictures, too, which are detailed.) But I still messed it up on the first try.
The instructions are to create a lapped vent with 3/8″ folded and narrow hemmed seams. And then, to connect a flat-felled side seam to this vent. I screwed it up by cutting away the wrong side of the seam allowance on the dress, so my flat fell would be on the wrong side, and my only save was to serge this seam to capture both raw edges, and then flat fell it the correct direction. I serged it with white thread, no less (I was not about to rethread my serger at this point.) I will not be showing you those interior photos. I vowed to make it correctly the second time and screwed something else up – but this time, I'm not quite sure what it was. So I plan to digest the instructions again and make a test sample of a sideseam and vent. I'll report back. Fortunately, overall, it was a save; I was able to get both vent and felled seam to work, but they did not go together as beautifully as instructed.
At this point in the project, I required a beer.
So my choices were: "Do I feel sufficiently distressed to have the big beer, or can I just chill with a smaller one." Fortunately, it was the latter. It wasn't a crisis – it was more determination to see if I could make the dress look good on the outside (with that faux serged-flat felled seam. What will I do differently? I'll probably make a sample sideseam. In linen next time, although this cotton pressed really well and was not difficult to sew.  It's hard to justify buying more fabric when I have (nine or ten) big bins full of it and a cabinet besides.
A tip: When sewing the flat felled side seam the first time, the dress is 'open' – so it's easy. But the second side seam, you should sew from the vent UP to the underarm, because that that point, the dress is tubular and you'll have to keep the other side of the dress from being captured in the seam as you sew the flat felled seam. I still ended up catching a collar tip, but it was one stitch and easily removed. Be careful to sweep the underlayers out of the way as you go.
The squared neck AND the unique squared off underarm facings are really a lot of fun to sew. They are interesting without being too complicated, and there was something so deliciously satisfying to pivot 90 degrees at an underarm facing seam. So precise!
For the first release of this review, I'm in my bedroom. It's February, and it's snowing out and I'm not even bothering to adjust the photo. It's a bit of a mess up here (I had to move my laundry hamper and some other things out of the way), but I did put on lipstick, and fancy long earrings. A big win for me tonight is that, in this photo, I'm sporting my natural hair, which is growing in very well now, and probably I will go on vacation without a wig. I have an autoimmune disease and this was my second round of baldness, which has lasted nearly 16 months. This time last year, I was almost completely bald and wore scarves and headwraps on vacation.
This dress is definitely a must-sew-again. It has distinctive details and a great fit. It's a bit of a challenge, but I think that if you're making such a simple dress, a challenge is a good thing; you learn how to do interesting techniques on an otherwise very simple garment.
I will update this review to include a poolside photo once I'm in sunny Florida!
A note, I was given this sewing pattern in exchange for some marketing and web site consulting work for Ann Normandy Patterns. The review is my honest review, I was not compensated for it. I do this type of consulting for a few sewing pattern companies and love it. I love helping these independent designers – and these are GREAT designers – get their beautiful patterns out to the world. This review, and my sewing of the garment, is entirely for me personally.
SaveSave