I love a good Boyfriend jacket / blazer. Back in the 80s, I lived in and loved blazers. I remember a particularly awesome one, a white crushed satin-y fabric that I bought at a popular teen clothing store, and wore over my paperbag waist acid wash tapered denim jeans and pastel tee shirts.
The Christine Jonson Patterns Boyfriend jacket is a favorite of mine now that the Boyfriend jacket has come back in fashion (same, too, with those paperbag acid wash jeans too, I guess!) I have made this four times, twice in a knit and twice in a woven fabric. The beauty is it works in both knit and woven fabrics.
I chose a vintage glen plaid that I got from a local sewing store, Seams Fabric in downtown East Lansing, from their vintage and reclaimed fabrics room. It's a poly-rayon-wool blend (it does want to wrinkle, and has a smooth feel, so I suspect more rayon or wool than poly) I added a lined pocket to the front, matching the plaid to the jacket.
The Boyfriend is a straightforward sew. The only even slightly tricky part is the shawl collar – the back neckline and the facing come together in a squared off U when you sew them, and there are clear instructions on this. I mark well, clip where I'm supposed to and flatten out the U as I sew it directionally as specified in the instructions. The other key sewing tip is to use directional sewing for major parts of the jacket – for instance, I sew down the facing from CB to hem and CB to the other hem – I don't start at one hem and sew all the way round to the other one.
One of my very favorite things about this jacket is that the unlined facing is completely topstitched down, so you have no floppy facings! I prefer pockets and there's a free download template for one on the Christine Jonson website. I line mine because it's easier to sew around a pocket hem than it is to fold under, secure and topstitch. I line it and turn it through where the lining meets the folded over top edge of the pocket, then slip stitch the opening closed.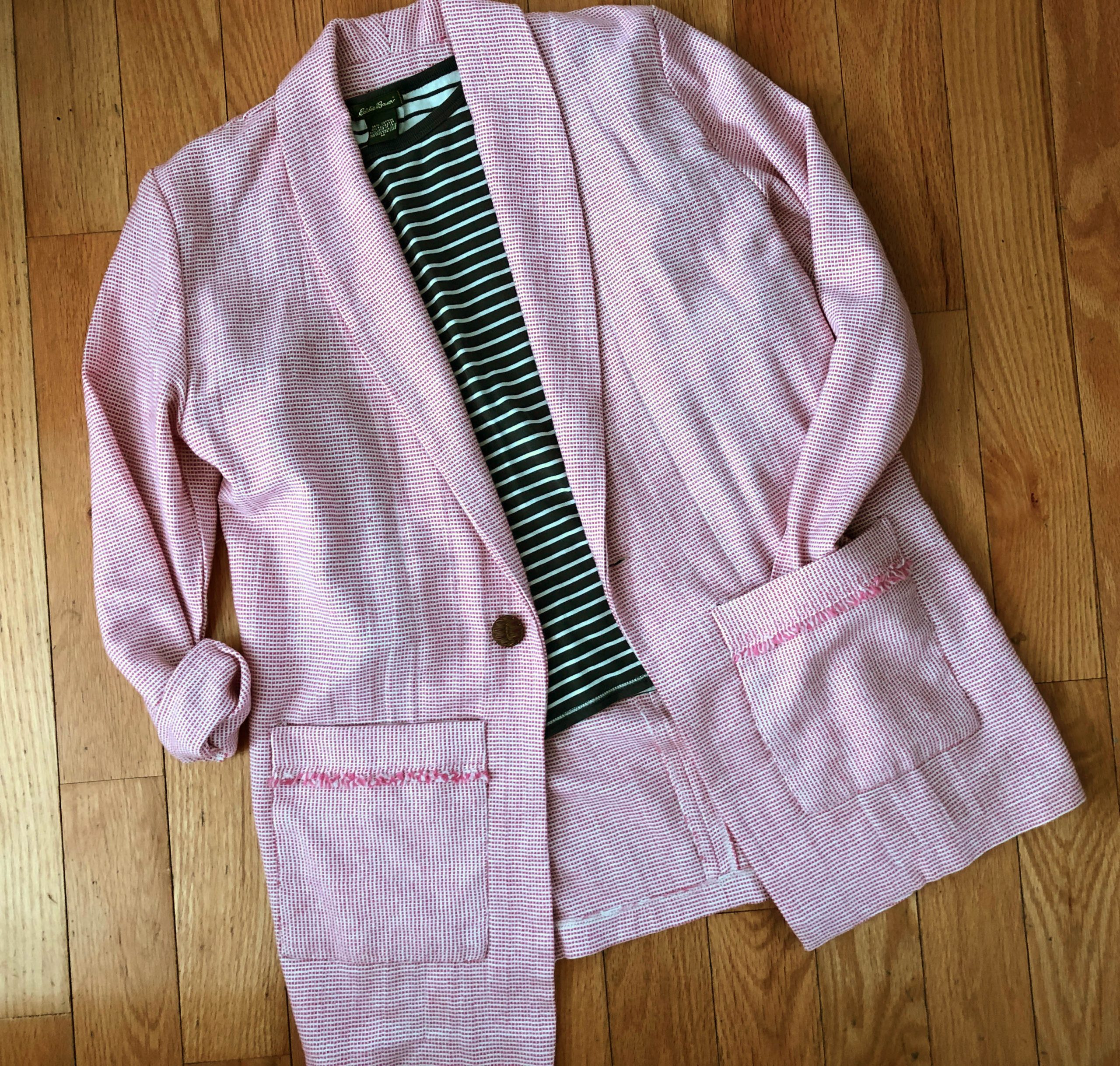 I also made this, unlined, with pockets, in a pink tiny check wool blend that I got from a buy-sell-trade group on Facebook. It's definitely wool (again, vintage, reclaimed fabric) but lightweight and a pretty pink that looks fabulous over a blue and white striped tee and jeans. Because the fabric appears more solid than patterned when you stand away from it, you can feel free to wear a floral or stripe tee under it. I utilized the selvedge for a fold-over facing on the pocket, for an interesting detail.
The pockets don't come with the pattern but you can download MY pocket pattern here:
If you're using a woven fabric, a tip, measure the sleeve width BEFORE cutting, as the jacket is designed for stretch knit fabrics, and to push up the sleeves, you may want to go wider than the pattern is on your woven fabric so you can roll the sleeves comfortably. I recommend 1/2″ at wrist tapering to the elbow. I have skinny arms so this wasn't an issue, but my arms are fairly unnaturally skinny (smaller than my 9-yo's wrists!)
I cut an S in this jacket in either fabric, but check your hip measurements using the enclosed Tissue Pattern Measurement sheet (they calculate what the measurements are flat on paper and add them up for you) so you can be sure you can button the jacket (if you choose!) in a woven fabric. I actually omitted buttons and buttonholes entirely on the gray glen plaid version as I rarely use them (mainly for decoration.)
I have made this previously in a cream ponte knit and a heather charcoal gray ponte knit too. Both of these are well-loved in my wardrobe, and the skinnier arm opening in my size works great to push up the sleeves on the jacket.
The slightly slouchy but STILL shaped jacket is just oversized enough to look like you nipped it from your rock band's bass player's closet. Wear it in cream over a leopard print midi pencil skirt and Vans sneakers or over a graphic tee shirt and skinny jeans. This jacket begs for a cool statement necklace and a graphic tee shirt.
The pattern comes with a boatneck shell sleeveless slightly boxy tee shirt – the shirt is slightly cropped and boxy, designed for stretch knit fabrics. In a stripe, it is a cool under layer to this awesome jacket. The boat neck isn't too crazy wide, just flattering. It's an excellent sleeveless tee on it's own, and well worth sewing it to wear with the Boyfriend Jacket.
Try the boatneck shell tee in a stripe (of course!), a print to coordinate with your jacket, and sew up a bunch of solid color ones – they go well under the jacket but also over your summer clothes like shorts. AND they have that famous ultra well fitting Christine Jonson armhole that is the best fit in the business!