Finding Sewing Inspiration without Social Media and how to get your sewjo back using your inbox
Like many of you, I've made a conscious decision to limit the amount of scroll time I'm doing. Not necessarily screen time (I work from a computer, after all, and hubby and I like to watch things on our big TV at the end of the day), but scroll time. Mindless scroll isn't good for us. It can lead to doom scrolling.
To reduce my scroll time, and still keep up my sewing and alopecia/hair inspiration, I've begin limiting my time on Instagram to 50 minutes per day (I set an alert, and IG reminds me). That's still 2.5 hours of my life in the end (whatever the "end" is – as I'm sure in 10 years we won't be using IG anymore.)
I am limiting my personal Facebook time to one hour as well (again, set yourself some alerts in the app or your device for screen time usage.)
But I STILL want to find sewing inspiration, discover new designers and patterns in that process AND stay up with trends. What's my backup? My inbox!
Yes, you heard right, my inbox. Good old fashioned email. When you sign up for that coupon for 10% off patterns or a free pattern or a fabric discount, did you know that those retailers BEND OVER backwards to give you rich, amazing and INSPIRING content? They do! And you've forgotten all about it!
In your inbox, search "sewing". It'll find everything in your promotions, primary tabs that is relevant – and the best part is, this is way better content than just a pic on insta! It's usually an email consisting of a roundup of several blog posts, maybe a podcast or video tutorial and it's rich with information, tips and, well, frankly, doesn't get filtered by anyone's algorithm but YOURS.
I harp on the (continued) success of email marketing through documented testing with client accounts, over here on my blog at Marketing Acuity, and I also love how I can search for anything and find all those brand emails that I signed up for that I never see on social media anymore (thanks, algorithm!)
And in that is a WEALTH of sewing inspiration! Just today, I discovered the Liesel & Co Verdun tee (thank you to the Confident Stitch in Missoula, MT for that.) They're a local fabric store in Missoula, a college town in Montana. I also have a local fabric store, Seams Fabric in East Lansing (they don't blog or email but they do have a group and an IG that I follow.)
I searched my inbox, found the email from Confident Stitch, that I'd signed up for some years ago, and lo, there's a great tee shirt pattern that my local fabric store doesn't carry, so I'll get it from Confident Stich. I recently bought the Gyo Top from Merchant and Mills from them as well, unable to find this locally.
I also find a ton of wonderful content from aaaalllll those knitting and crochet bloggers I signed up to receive emails from (who knew! I never see them on IG anymore thanks to the algorithm). In fact, my inbox gets filtered by MY taste – looking for outdoors inspo? Hey there Sierra, Moosejaw, Eddie Bauer, Patagonia and Carve, nice to see ya! How about beachy inspiration? Beachly, O'Neill, Roxy, Hapari and Carve send me stuff all the time!
I receive inspiration, tips, how to, helpful details all from these emails which I willingly signed up for to get a discount – and I am not bombarded by things I don't want to see and I'm not scrolling endlessly. It's much easier to get in and out of a blog than it is to stop the mindless scroll.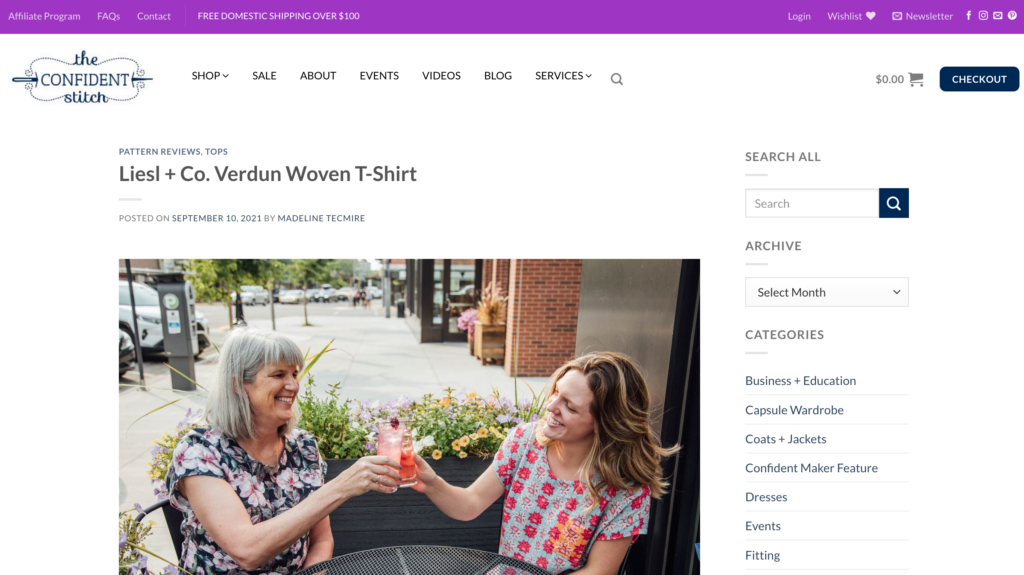 Oh, if you want tips, techniques, wardrobe planning for the SIMPLE and EASY sewing way, you can subscribe to MY blog here: (see what I did there!) BONUS:
I'll send you a FREE EASY sewing wardrobe planner. I promise you can craft a me-made wardrobe easily with this method (and it will still work with the stuff you already sewed that's in your closet!)