The Gyo Top from Merchant and Mills is both a top and dress, in an asymetrical arty style. I first found this on a fellow sewists' IG feed, then couldn't find it. I sketched out what I remembered and one of MY sewing followers told me which pattern it was!
The pattern envelope is terrible. They scrunch up the dress and shoot in black and white, very artfully – which does a terrible job at showcasing the pattern. Even the photos on the back, very dark, very arty, do not showcase the pattern. It's expensive, imported from England, so if you're going to sell one at $25 you've gotta expect to merchandise a little.
But all that aside, I've seen some positive (and negative) reviews of this pattern, so here's my take:
The pattern sizing is WAY generous. So, even my high bust at 37.5″ put me in a 16 which was massively huge. I'll share what I did and what modification YOU should make for a better fit.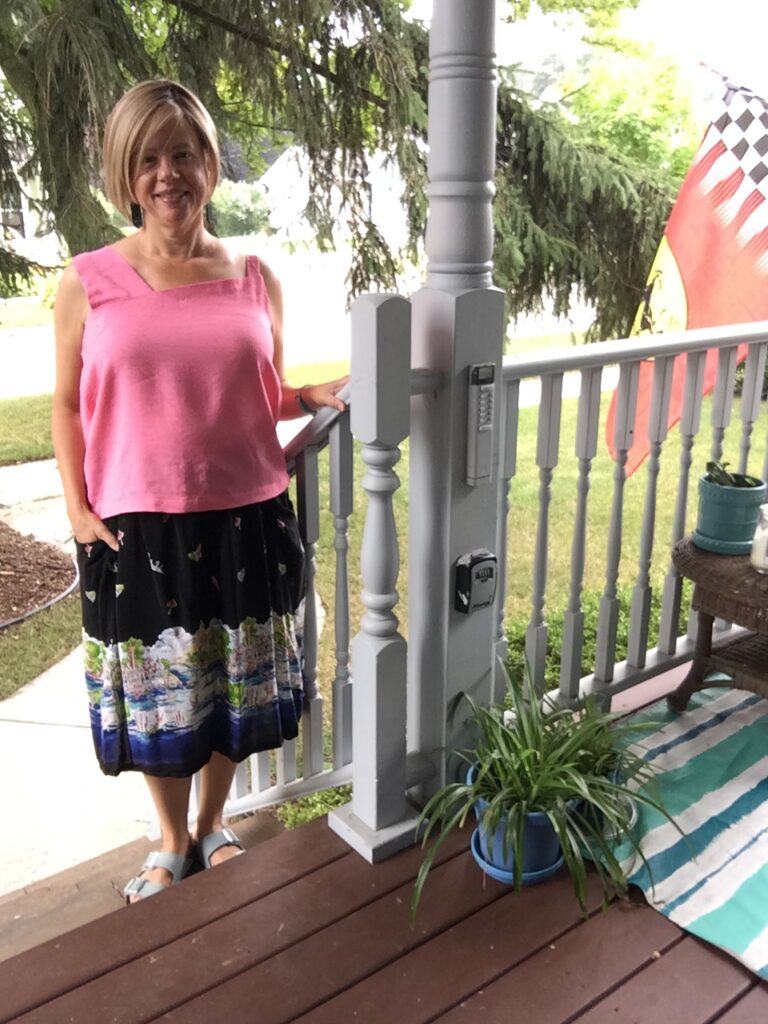 In the pics above, I am wearing the Gypsum Skirt from Sew Liberated, in a border print, with the Gyo top. I also have on a proper bra, so the Gyo does offer coverage! In this edited version, there are some drag lines off the bust area – this is probably since I cut two sizes too large and couldn't really edit this part. The next (not test) version should be better.
First off, go down a size from whatever your high bust measurement is. To determine if this is correct, measure the front and back (minus SA's) from underarm across the upper bust to underarm and compare to yours. Make a muslin. With actual muslin! I chose a silk noil from my stash (no, not kidding! what was I thinking?) I had previously washed the silk.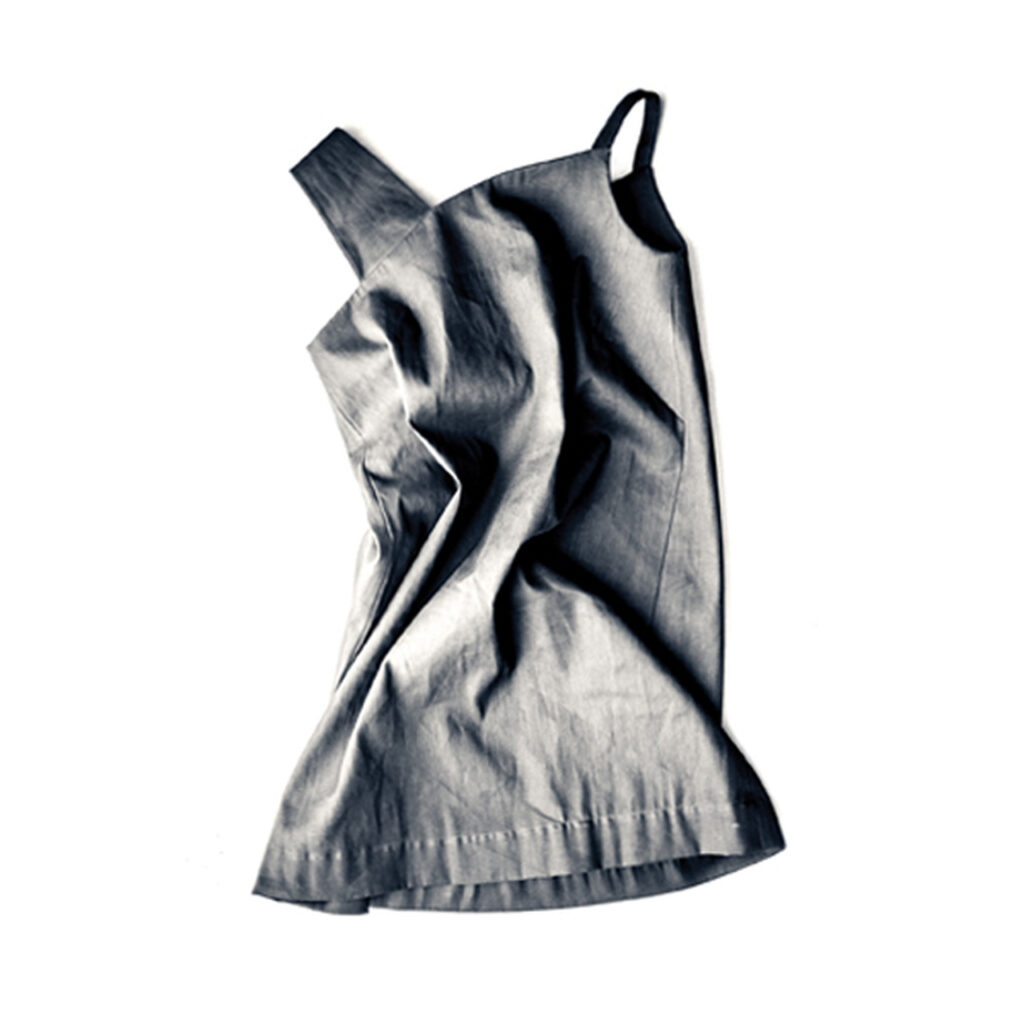 I fiddled with everything – taking in the side seams, moving straps inward, moving them back out. I finally traced a size 14 and while I couldn't recut the silk (silk! but it was a gifted stash fabric from a friend, so…) I did manage to take off the underarm down to past the darts to a size 14. Still too big though, so I started looking on the interwebs at other people's Gyo tops. Turns out, almost 100% of the time, there's a big gap across the back, like the back is too large on everyone. Even one of the shopkeepers at my local fabric store pointed this out in the photos we searched while I was at the shop. So I immediately pinched out a dart in the center back with a pin and voila! Size down and add this dart on the pattern before you cut it, and all of a sudden it fits a LOT better.
So in the end, I cut a size down, I also fit the straps a little tighter – pulling the back strap down into the facing a little more than designed (I'm short waisted, this is a common alteration for me with tops and swimsuits, I need less room between bust and shoulder and shoulder and waist.) I did leave the sizing at a 16 for the hem, which is VERY trapeeze-y (and I may take this out, it's not perfect.) This is already an A-line top and that just adds more poof that's weird.
Here's what you should do to the Gyo Top and Dress Pattern:
Cut a size down, based on high bust measurements. If I'd have made the largest size based on FULL bust, that would have been eeeeenormous! I figured the fit here is really at the upper bust, but it was still too large. Use my measuring tip above to select your size and go down. You can take a tissue pattern measurement on this one first – measure across the high bust underarm to underarm and calculate this against your body – leaving about 2-3″ for wearing ease.
Pinch out a dart at the top of the center back after you fit your tissue pattern to yourself – just take it out on the pattern itself by slashing and overlapping the pattern pieces in the width of your total dart. Then cut out the back. You'll ALSO have to remove this space from the facing as well. I traced off the dart from the pattern piece, THEN laid the pattern facing down, traced the part of the dart that would be on the facing, and just repeated the same slash/overlap/tape on that piece to match.
Sew a muslin. Really. In muslin. Then, you'll know how it fits without making it in fancy fabric. If you really dislike muslins, a cheaper cotton fabric would be fine for testing it out.
Fit: several sewists gave this bad marks for being 'boxy' – but that's precisely the shape – it's a boxy, arty, asymmetrical top or dress that has a dramatic look for such a simple garment. The construction itself is done full and flat (no cut on folds here), and there are instructions for cutting certain pieces right side up and wrong side up. I highly recommend using a piece of blue painter's tape to mark right and wrong sides. Mark notches and dots carefully because the attachment of the straps is really key here. The skinny one attaches at the top of the armsceye, the wide one along the top edge of the tank top.
Here are some Google searches for others' versions.
I'm fairy full busted, (34DD) and this top fits well. Note the darts are not anywhere near your bust, but they do add fullness. You can cut a box around the dart, raise it up on the tissue and place it higher up so the dart point is at your bust point – this is an adjustment I will make with my next Gyo top. There are tutorials around raising and lowering a bust dart, and the box method is easiest. Just trace, trace a box encompassing the whole dart, move it up OR when you trace it to begin with, just slide your paper down to put your actual bust point where the dart point is. If you are less busty, note that this will fit more like the pattern envelope shows. If you're full busted, you'll get a nice shape, not boxy, in this top.
Styling:
This top looks great with wide leg pants – the top itself is fairly cropped so you'll see your hip curve and won't get lost in a big top layer. And it will also look great over jeans or shorts. I have not tried the dress version yet, but in black, this would make an awesome little black dress. If you want to just self- line the top (cutting two fronts and two backs, sewing them as a facing and then hemming the inner layer shorter, this would eliminate the bra, but you wouldn't have any support in the top. Still, in our practically bra-optional lives post-pandemic, It has room to let you choose how you want to wear it if you line it.
Overall, I like the shape enough to make a few – I think this would lend itself to piecing scraps, adding shibori or other embroidery techniques, using double layers like a burnout or sheer top layer and a full neutral under layer. The dress will be fabulous in black linen or black silk noil. I've seen other sewists use the hems of a border print, use piecing for the straps and it looks really cool. Any kind of surface stamping or design (like batik) would be amazing for this top. Again, it lends itself to anything arty, textural and even structured in quilting cotton.
Changes I'll make and fitting notes: on my pink sample, I intend to pick out the hem, stitch the size 14 all the way down from underarm to hem to take out some of the fullness and re stitch the hem. I'll lose a little of the bust dart but that's OK for this sample. And then I'll wear it and see how it sits before I sew my second (third, fourth) one.
In the pic, I have on the Emerson short from True Bias and I love the way these look together.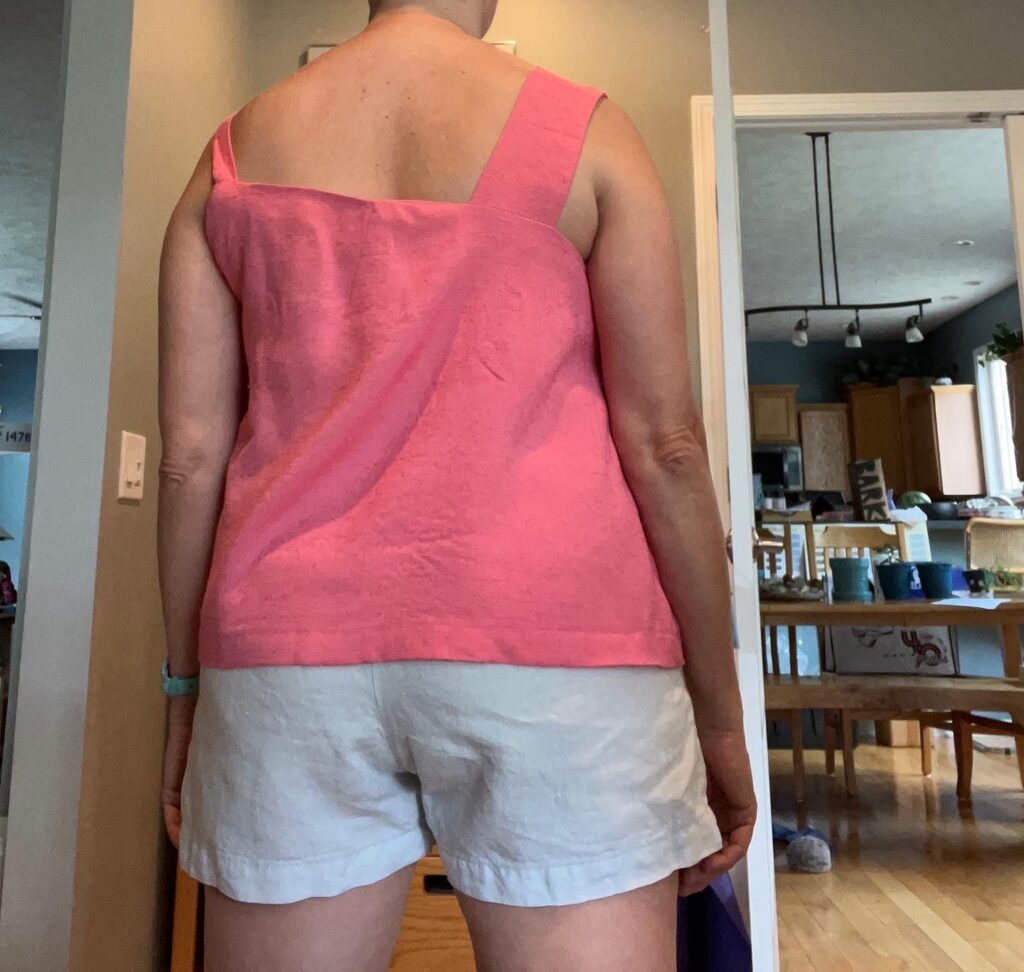 Overall, the Gyo top wins high marks for being interesting. It's also a tank top/camisole and you can't have enough of these in the summer, but dramatic enough that it's not "skimpy summer tank top". It comes in a dress version, which I really want to make (and sew) for a summer dress, so that may yet happen before summer exits stage left in a month or so.