Using a precious fabric bought on an Italian vacation, I made a sewing mistake. And I fixed my sewing mistake to become one of my favorite summer outfits!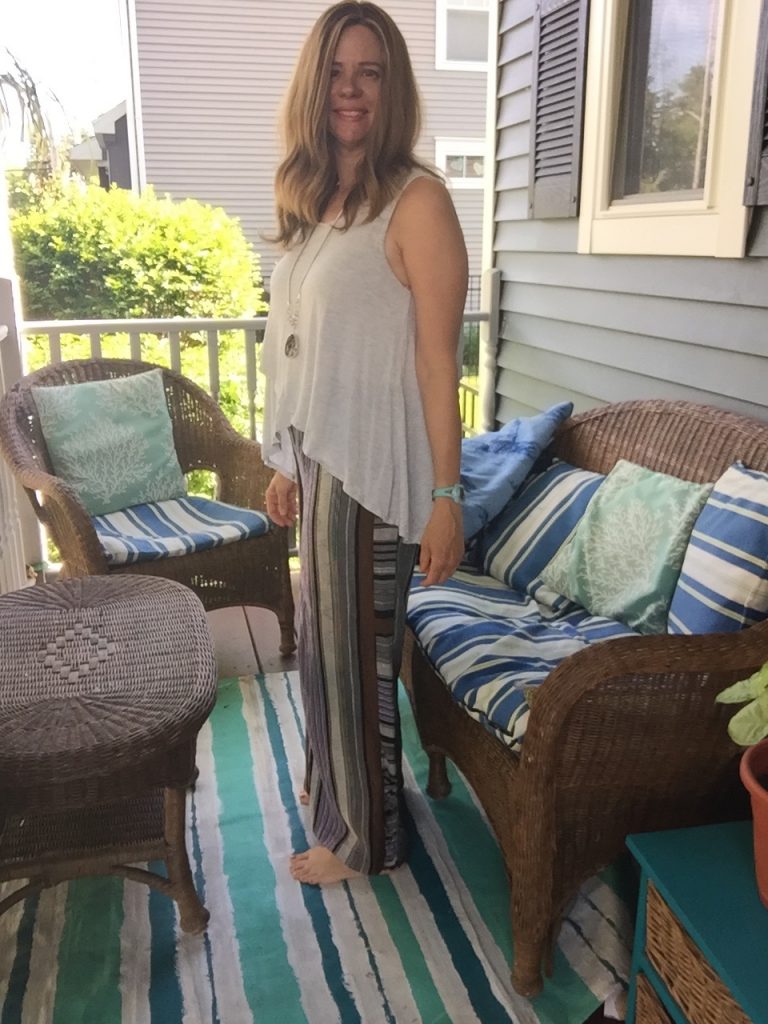 Around the corner and up two twisty blocks from the Duomo in Florence, along cobbled streets, zig-zagged with crazy Italian scooter drivers and bicyclists, there's a three-story fabric store. On the first floor, the premium fabrics – silks, Italian wools, leather and suede. The second and third hold better bargains. On the first floor, in the silks, I selected a beautiful silvery grey hammered silk with black and purple stripes. I bought two meters. Intending this to be a blouse of some sort, I figured that was enough fabric. I also bought gray windowpane lightweight Italian wool (still in my stash! Must sew!)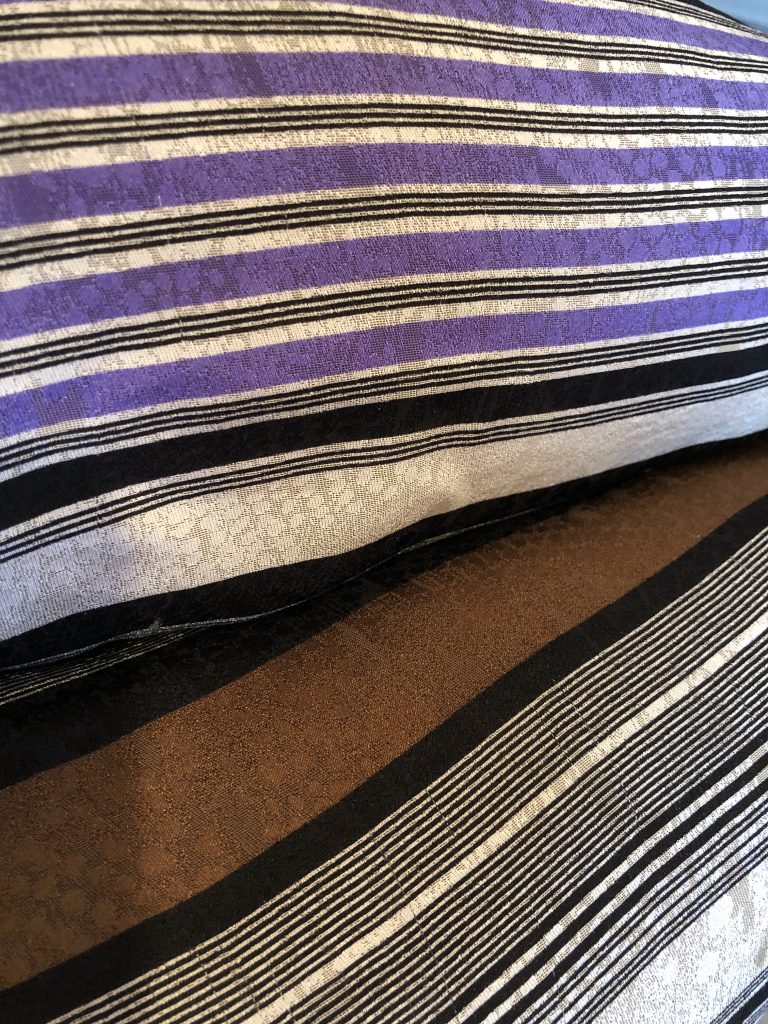 My two fabrics went home with me in a large gallon ziploc bag in my small 40-cubic inch "going to Europe" backpack.
The next spring, I sat down to sew the blouse, but it didn't want to be a blouse at all. It wanted to be palazzo pants. I selected a no-side-seam pattern (now OOP, from Sandra Betzina, but a similar pant, with modifications, is the Christine Jonson Wide Leg pant #824.) Except, during cutting, I realized I didn't have enough fabric.
At first, I pondered adding in a patch in each crotch seam. Too weird. Then, I looked at splitting the pattern at the side seam, and using actual scraps left over from cutting the pants, cut across the crossgrain of the bottom of the fabric to create long, ruched panels down the side of the legs.
The crossgrain panels put the stripes sideways, and the long lengths I had of these scraps I ruched from about mid calf to the hem. This ruching and crossgrain stripe ended up being the very best part of these otherwise simple elastic-waist wide-leg pants.
I had quite literally zero fabric waste on these pants when I cut them out (except for the crotch cutouts, and I'm pretty sure I saved those in a scrap bag somewhere to make, I don't know, a bookmark or something.)
A complete screw up during cutting led me to making my favorite summer pants. This precious fabric became one of my perennial favorite summer garments, super lightweight pants with enough style to hold up a simple tank top and flip flops.
Top: Christine Jonson Flyaway Top and OOP Sandra Betzina pants (similar, Christine Jonson Wide Leg Pants #824 with leg width modified below the knee.)