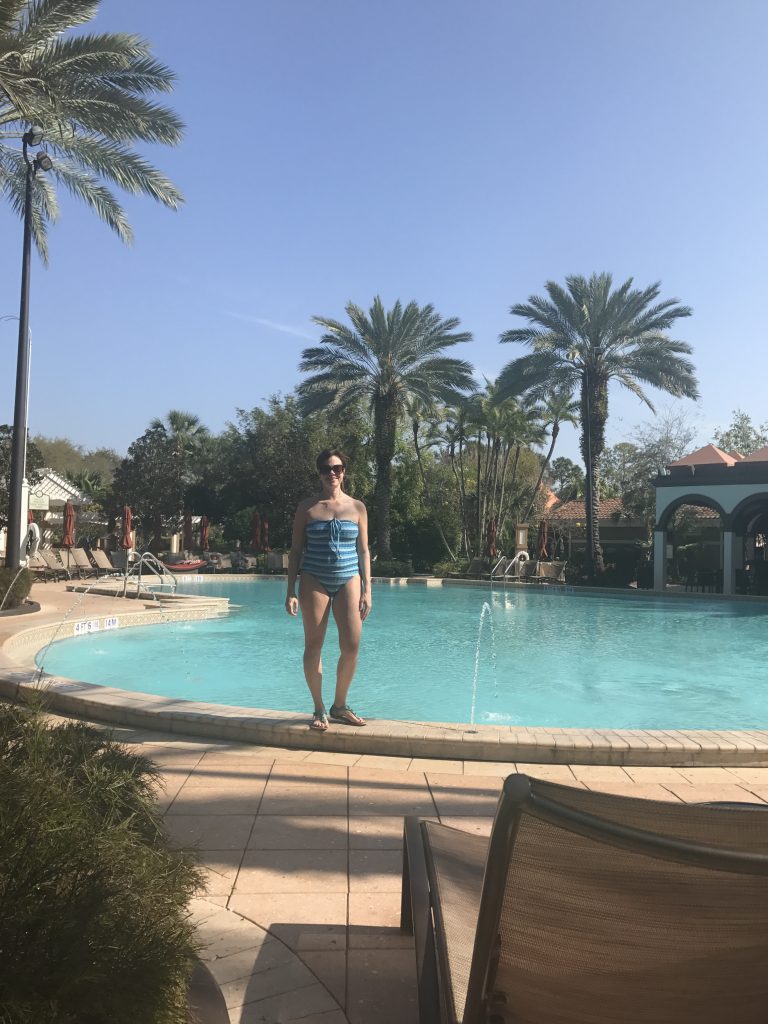 This week, I'm sewing a Kwik Sew 3608 bandeau tankini swim suit out of gorgeous Chanel swimwear knit from France. I purchased this fabric last summer from Elliott Berman Textiles in NYC, and it's luscious. It's heavy 4-way stretch in a florentine pattern in aquas and blues. It's spongy-textured and very, very nice. I've made this view B suit once before – I sewed it as a modified suit for breastfeeding my children, and wore it through both of their nursing careers. The modifications I made to the bust lining, which included openings in the lining for nursing, I taped back together as one piece for this suit, my kids are now 8 and 5.  I also made a tank style suit with really nifty nursing openings hidden in princess seams (Elizabeth Lee pattern) and that, also, was a huge success. I wore that suit til it wore out.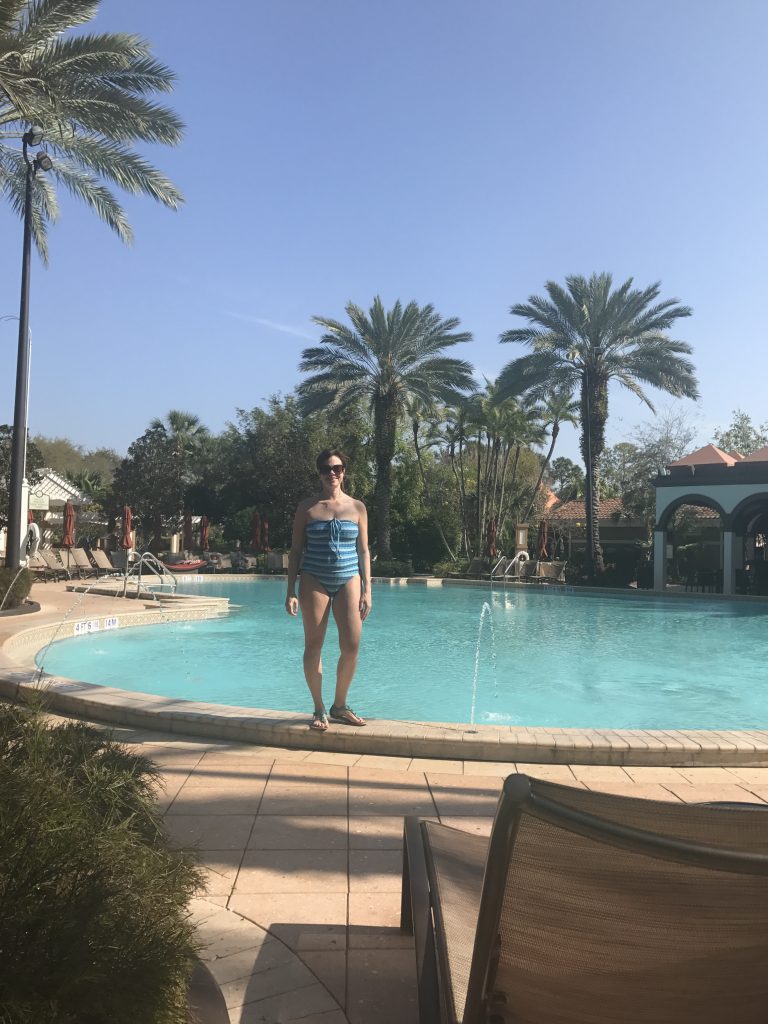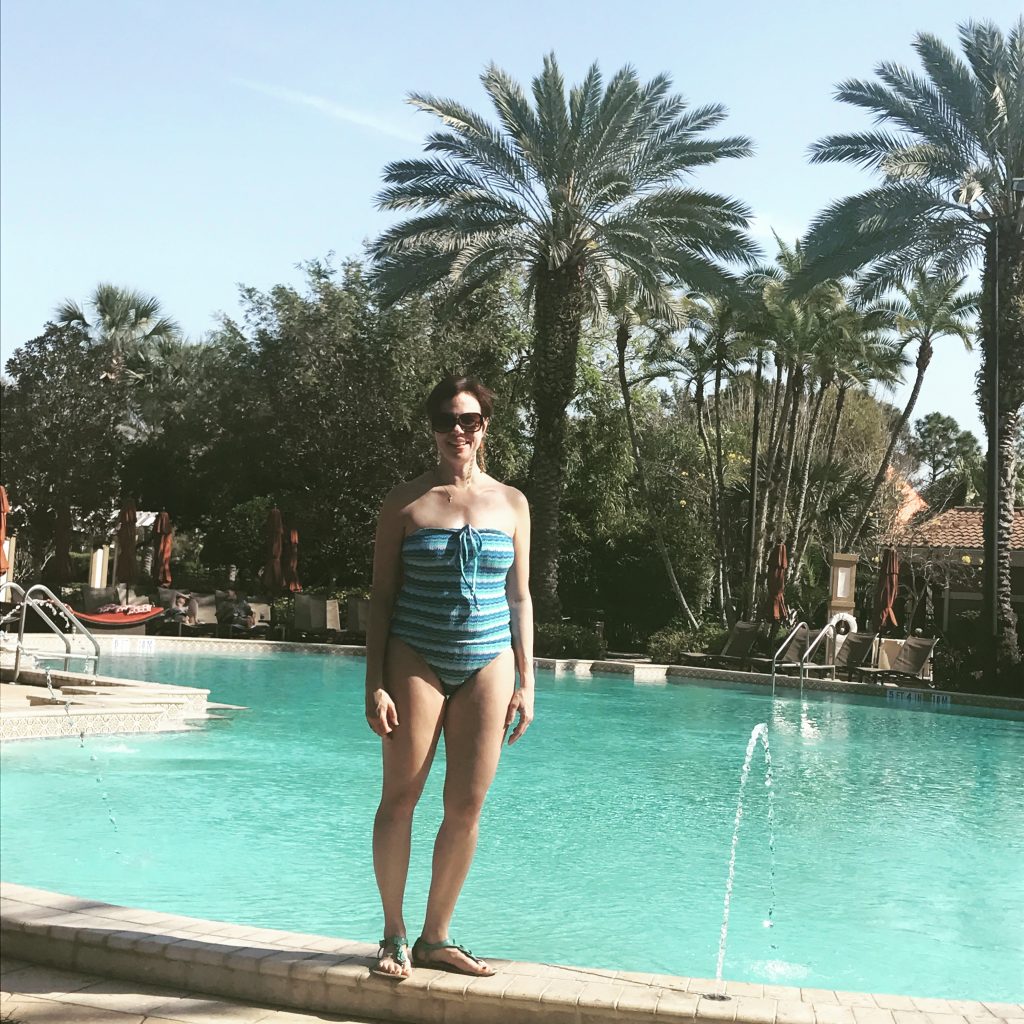 So what do I love about making swimsuits? I'll dive back into my childhood for the answers. Growing up, I was a pretty awkwardly skinny kid, and my mom didn't believe in bikinis. I thought this a travesty, of course, being a teenager. When I was twelve, an older cousin gave me a green terry cloth bikini and my mom wouldn't let me wear it initially. I remember my mom's younger sister saying "If she can't wear a bikini at twelve, when CAN she?" Thanks Auntie for coming to my rescue. But she wasn't fond of the suit and I never wore another bikini until I could buy them myself.
One summer, my mom gave me a suit of hers, a navy blue one piece bandeau suit. Today, I would love this suit, it had white trim on the top and on the sides and a white tie around the neck. I have a similar suit in red and white stripe and love it for it's old Hollywood chic. But as a fourteen year old, I was mortified to wear this suit – it was a MOM suit – and wore it with a tee shirt over it every summer I had to wear it. Which seemed like aeons! One summer, I purchased, with my own money, an aqua blue tank style suit at an inexpensive local store, and the very first day I wore it, I slid off the bow of my dad's ski boat and caught the back of the suit on a cleat. I was hung there, on the boat, my brother howling with laughter, with a giant wedgie suspending me from the side of the boat. I was both furious and mortified. It was probably the worst day of my teenage life. And the worst part? The suit tore, and my mother wouldn't buy another. It was the worst summer ever! I'm kidding, but my cheeks still flame thinking of hanging there while someone came to help me down from my cleat-hook swimsuit at the boat ramp.
I swore I'd learn to sew my own swimsuits that summer, but it wasn't til I was a mother myself that I attempted this. I really don't know why – they are ridiculously easy to sew! You don't need a serger, although I did sew mine with one – a zigzag machine is sufficient, and it follows along with the directions which is shown sewn with a zigzag stitch.
And now, on my list is a white bikini. I purchased one of these specimens, a triangle-top, tie-side bikini when I was in my 20s living in Florida. I wore it in the ocean exactly once, and my husband told me to cover up when I got in shore, as it turned entirely see-through! Now, in my mid 40s, I'll make a bandeau tankini in white (THREE layers on the inside, two white, one nude) and finally have my white swimsuit day in the sun.
When I first learned to sew swimwear, sewists on PatternReview recommended Kwik Sew for it's awesome directions and drafting of swimwear, and this was an excellent recommendation to take.
The tankini I chose has a bandeau top and hipster bottom. On me, they meet and overlap (depending on my hem length), but you can choose your own length, if you want more (or less, as the pattern shows) coverage.
I highly recommend making your own swimwear – they take a ridiculously small amount of fabric to sew (usually a yard, including self-linings) and they are very easy. The negative ease built into them makes for easy fitting. The most critical fit is the torso length measurement, and I highly recommend you follow the pattern directions for this if you're making a one-piece suit. For a two-piece suit, this is not necessary.
One thing that is absolutely is necessary is to use swimwear elastic. This is natural-colored, natural rubber elastic with cotton that won't get destroyed the first time you go in seawater or chlorinated pools. Don't use traditional polyester elastic; it will disintegrate quickly. You can buy this at any big fabric / craft store, or online in bulk, in many widths. It's cream colored, so it looks different. I buy it in bulk from SewSassy.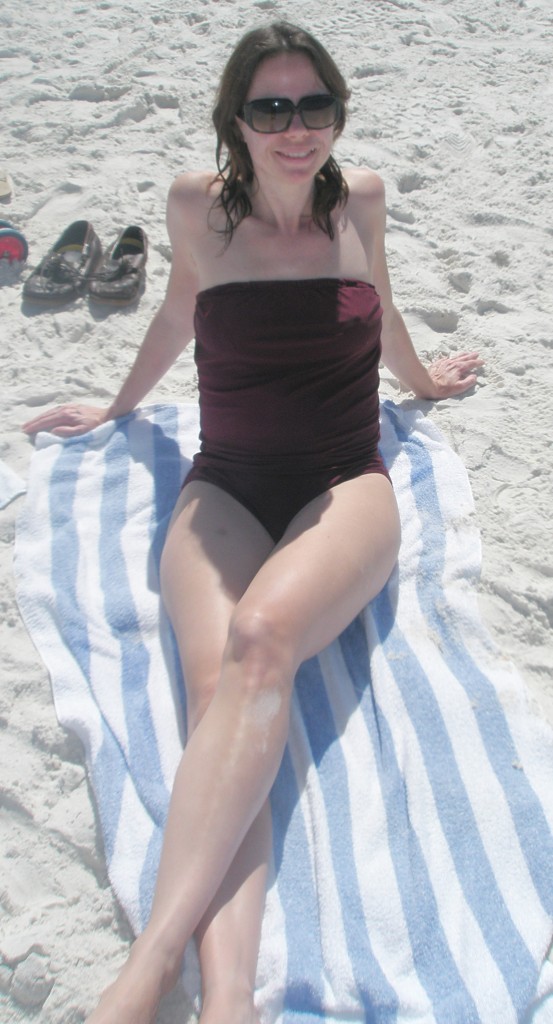 Making your own swimsuits – particularly out of this expensive and awesome fabric – is easy and rewarding. For me, the making of my own suits allows me to come full circle on awkward teenage-hood life. I made this myself, it's exactly what I want and I can make as many as I want to!
SaveSave