Everyone's make nine grid is different, but what if you needed just bottoms? Here's a MakeNine grid for 2023 and the patterns I've selected for it.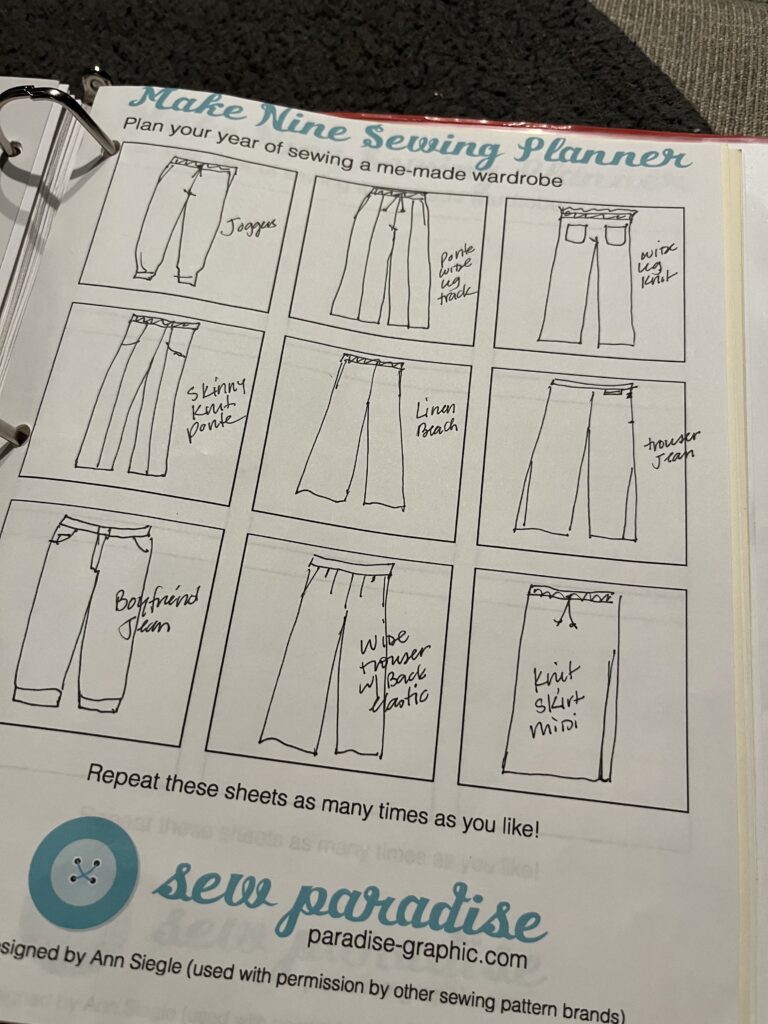 My MakeNine Pants Grid is a fun way to concept the bottoms you'll need to round out your handmade wardrobe.
From the top left, joggers. I really like two joggers – the HotPatterns Tailored Trackpant and the Luna Joggers by Made by Rae. I've sewn both many times. The HP jogger has tailored turn up cuffs (they are very presentable joggers!) but you can also make a banded cuff or even an elasticated cuff on these – I've done all three.
The center top row are wide leg trackpants with front and back pintuck seaming. I love these – they're inspired by the Athleta x Alicia Keys collaboration – and I have two recommendations. For a true wide leg, elastic drawstring, try the HotPatterns Fast & Fabulous Princess Seamed Trackpant. If you want the high Hollywood waistband with no visible elastic, like in the actual pant from Athleta, try the HotPatterns Fast & Fabulous Miracle Pant – both have front seaming, long (or cropped) legs. Just the waistband area is different on both.
The right top row features a wide leg pant (knit or woven), with a ruffled top edge. I've selected the Paula Suit from Ukranian Designer Yulia from DudasPatterns. You can get this on Etsy. Sewing microblogger BlakandBlanca has some great versions of these and I'm copying her front patch pockets in a woven fabric idea here.
Second row, the Christine Jonson Perfect Pant Skinny – these are just as they say they are, a perfect pant, skinny leg. Threads featured them in a recent issue in a dark teal green ponte. I have them in black but they're a size too small (even for ponte).
Middle row, linen beach pants – the HotPatterns Marrakkesch Xpress Pant for these for sure. To the right, trouser jeans, the Ann-Normandy Wide Leg pant with added (traced) Levi-style back pockets
Bottom row, Boyfriend Jeans. I really really want to make something akin to the Carson Cord by Carve – and I have mint green and soft coral corduroy and the HotPatterns Boyfriend Jeans to use for this.
Wide trouser pants with a back-elastic waistband – the Rose by Made By Rae is my go to but the Emerson by True Bias has a nice option with two levels of waistband – I make the lower rise because I am short waisted.
And, last, because you've gotta have a skirt, a straight skirt with a slit on the side. I'd definitely use Christine Jonson's Base Wear Two for this, but ANY basic straight elastic waist skirt will do, midi length and perfect with sneakers and a tee or a funnelneck waffle weave sweater.
There you have it, Make Nine with just pants (and one skirt).