The Nikko Top by True Bias is a favorite sewing pattern for a reason! This is my review of the fast, fun and well-fitting Nikko Top Mock Turtleneck sewing pattern. I'll share several other turtleneck patterns if you want an upscale look, or a looser fit.
The Nikko Top by True Bias is an easy sew. A beginner can make this! I sewed it out of pretty stretchy with snappy recovery cotton lycra knit print from my local fabric store. It's a caramel color – it looks mustard-ish on the video but it's a little more caramel in the light. It's not camel – I struggle if camel is too cool of a tone, making me look washed out. This is warm toned and lovely with my skin coloring.
The top takes about 2 yards of fabric to sew, and about an hour of your time, from cut to finish. You can sew it with a serger (as I did) or a double-zig zag – a narrow one on the seamline and a wider one to the right of that in the seam allowance. I did a standard zigzag for the hems, no fancy coverstitch or twin needles here. My settings were 2.5 length, 2.0 width on the hem zigzag. I did edge serge the bottom before hemming.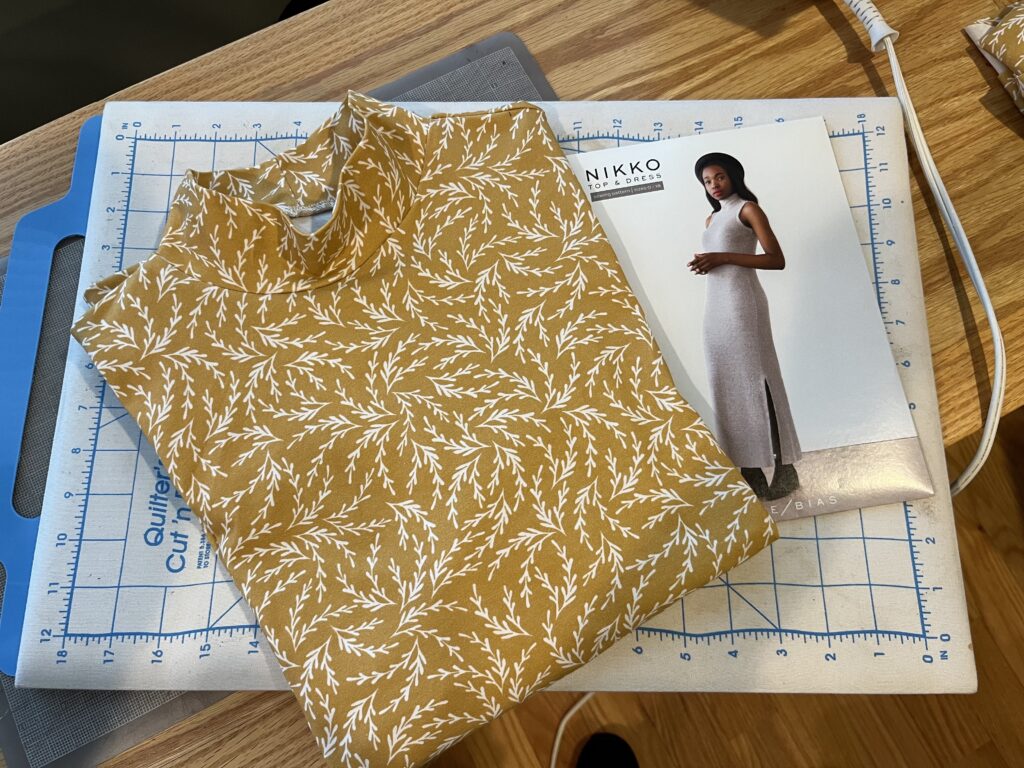 I sewed a 16 and I'm a 39.5″ bust with DD cup with a midsize middle and 42″ hips. The top fits well. I am going to compare the armsceye to a Christine Jonson pattern that also fits well (I think Christine Jonson has the best drafted armholes in the sewing pattern industry.)
There's plenty of length for a good tuck into jeans, pants or skirts.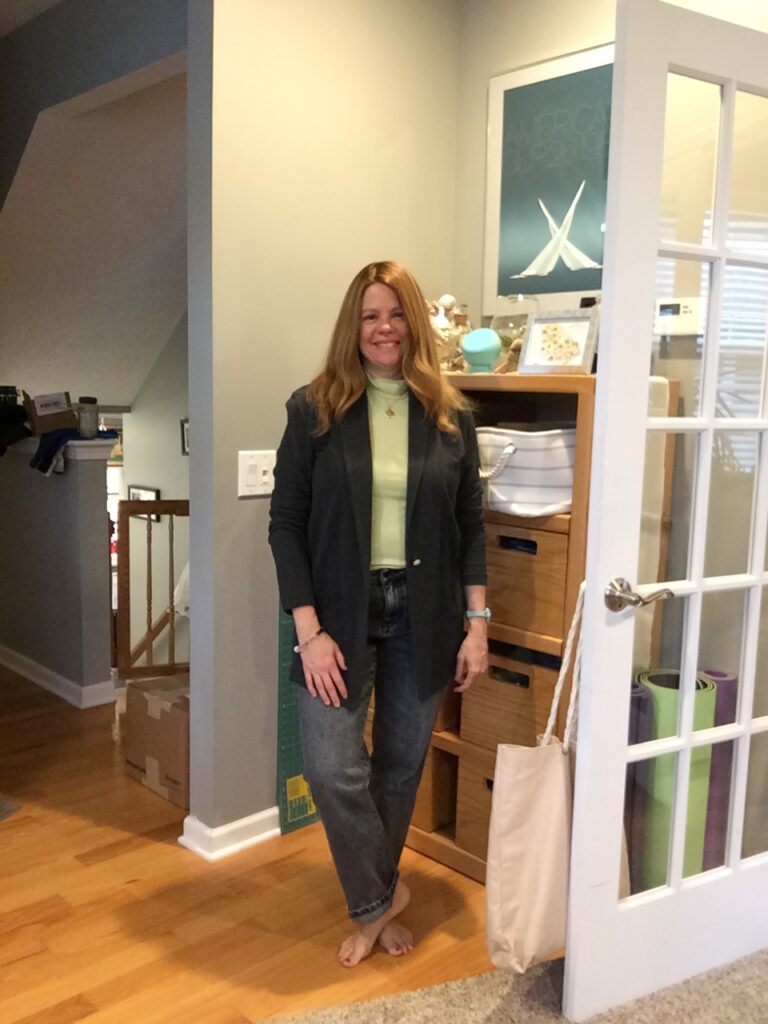 Turtleneck Options:
If you want a looser fit, try the Monroe Turtleneck by Tessuti. That one might even be free. An upscale beyond-basic is the Shirred Raglan Turtleneck from Christine Jonson (Travel Trio Two) which has a unique shirred panel across the upper chest (above the bustline). And a super nice basic is Base Wear Two from Christine Jonson (the latter two are printed patterns.)
The slim turtleneck top looks great under ponchos, blazers, zip up sweaters and fleeces.
If you're looking for a winter basic like a tee shirt, this is your shirt. In a print, it almost stands alone, but I have a hooded sweater vest laying on the back of my chair that will be perfect when I get chilly.
The most notable point is the ARMS ARE LONG ENOUGH. I made zero alterations and I have long arms!
Worthwhile to sew, fun and fast, and a great basic for your wardrobe!