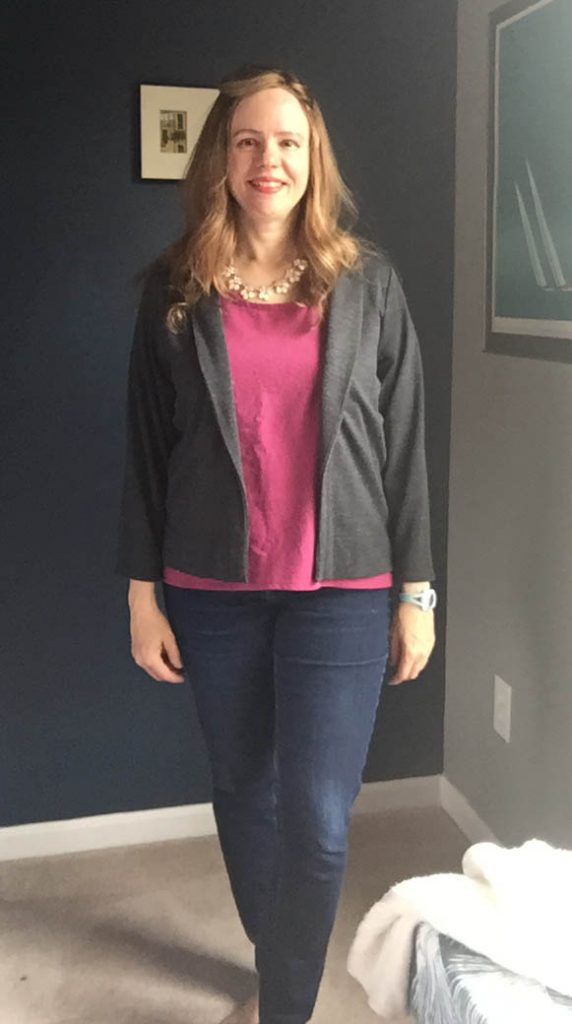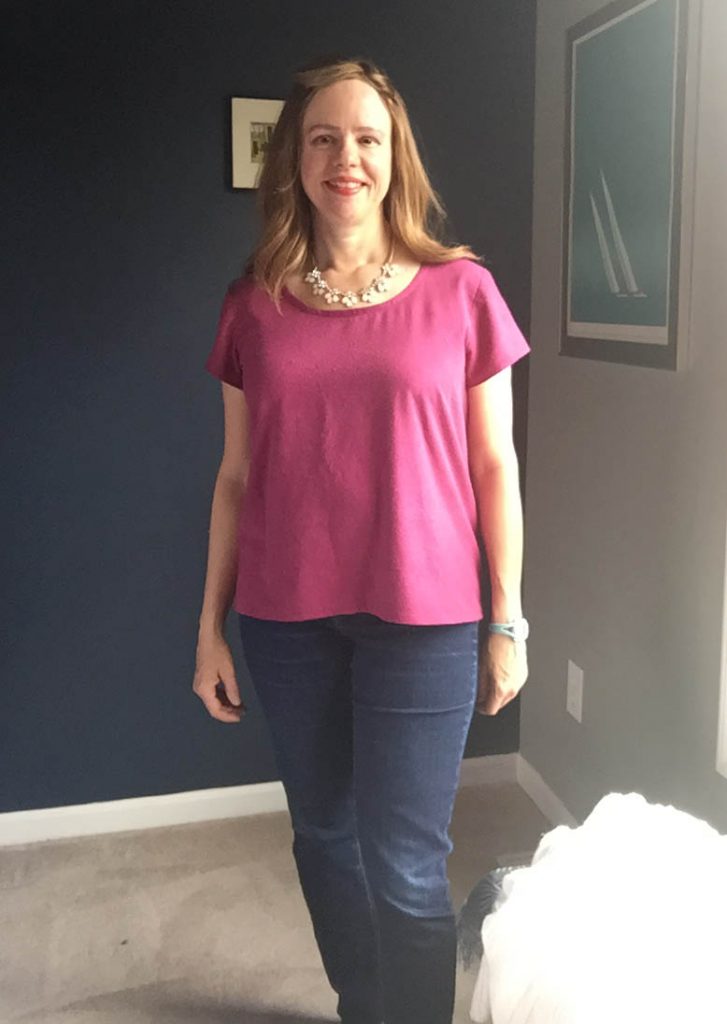 I sewed my second Scout Tee from Grainline Studio this week. This one, in a raspberry silk noil I sewed in a smaller size than my printed cotton voile one here. Both fabrics I purchased from Seams Fabric in East Lansing (my Local Fabric Store/LFS).
Woven tee shirts are interesting. Over the years, I've purchased ready-to-wear woven 'tee shirts' in various (usually polyester) prints. They are dressier than a knit tee, which is their appeal. I made a commitment to making some of these woven tops (of various shapes or styles) in much nicer fabrics to build out my casual work from home wardrobe. They have all the look of a tee shirt, but a slightly more polished fit. The Scout Tee has a scoop neck, with bias binding, a cap sleeve, a fitted upper bodice and a flowy lower body to the tee. This means it hides a multitude of post-quarantine dessert-baking sins, and looks cute with jeans and a knit blazer – the Silverton Blazer from Straight Stitch Designs.
Prior to the pandemic, this jeans+tee+blazer was my go to for most of my work weeks. Since I no longer have work meetings anywhere but my home office desk, I fell down the (admittedly, comfortable) rabbit hole of track pants and sweaters for about seven weeks there. It felt good to put on a blazer and a tee with jeans that zip and button.
The Scout Tee is an easy sew, for a beginner, this tee will teach you how to set in a sleeve, and sew a bias faced neckline. As for making woven tees versus knit, the ease of hemming a woven fabric versus a knit, cannot be overstated, but the ease of sewing a set in cap sleeve in a knit or making a reverse-bound neckline on a knit cannot be overstated. So you're trading one set of challenges for another with this tee. Neither is better or worse.
The silk noil is new for me, I'd never sewed with it before. Seams Fabric made this their January sew along project, and everyone and their sister in my town is sewing these Scout Tees in silk noil. Not wanting to be left behind, I bought two yards of it on my last pre-pandemic curbside order from Seams. I love the easy elegance of this tee on everyone I've seen make it in this fabric, and I wanted that same look for myself. I wasn't disappointed – it's exactly the kind of casual chic that I love. It sews up very well.
A few tips on set in sleeves: when you do the gathers on the sleeve, you sew two rows of gathering stitches near the edge of the sleeve cap inside the seam allowance. But then, you have to actually sew the sleeve in with those gathers in place. I recommend you sew from INSIDE the sleeve cap AND that you sew about 1/4″ or 1/2″ away from the stitching (yes, this means a bigger seam allowance than the pattern states) because it's only there that the sleeve cap is flat enough to not cause bunching while stitching. If you try to sew right next to those gathering rows, you'll end up sewing in some tucks you don't want. However, if you sew from inside the sleeve cap (and 1/4″ – 1/2″ from those gathers) and curve the sleeve into the machine as you sew, you will find that this helps ensure the cap is flat without little tucks. Curving the sleeve means to hold it up off the sewing machine in it's curved-sleeve-cap shape and roll it down and under the presser foot as you sew.
All in all, I like this pattern a lot. I did size down 1-2 sizes from my full bust measurement, and I tweaked this by cutting my "measured" size and then using a 3/4″ seam allowance on the tee. For finishing, I used pinking shears. I think pinked seam allowances are very underrated – they lay flat, they are kinda retro and they are simple to make.
The Scout Tee is worth your time to make it more than once. I would consider this a staple in my wardrobe, and I'm off to raid my stash to find all sorts of 1.5 yard cuts that I can squeeze a woven tee shirt out of.