Sewing pattern review and tips to sew a reversible hoodie jacket. This sewing pattern review (tips, and a link to a sewalong I did for this sewing pattern client some years ago) is beginner-friendly knit sewing pattern that is fun to sew, super soft in rayon/lycra and offers a lot of fun options for color and pattern coordination.
First off, I used to do marketing for Christine Jonson Patterns for about 4 years, but it's been 5 years SINCE I worked with her, so these opinions are my own.
This pattern is the 331H Hoodie in digital download format. It used to be part of Travel Trio Two but that pattern (print) is out of print now, though you might be able to find it on Ebay or Etsy. https://www.cjpatterns.com/all-patterns/hoodie-331h
Second, you'll note that I made this longer than the actual pattern (and some of the photos – on gorgeous model Ella in downtown East Lansing, which we took for Christine Jonson – show this length option too.) The pattern finishes at the hip. You can go cropped, the regular length or long, and here are the instructions for the long version.
The pattern itself is very straightforward. There's a front piece, back piece, sleeve and hood and you cut two of every set (two backs, four fronts, four sleeves, two hoods) out of, hopefully contrasting fabric. You can make it all in one fabric, too, but why not add some fun. The most important thing is choose the fabrics with the SAME fabric content and hand – you do not want a tight cotton lycra married to a soft rayon lycra. Nope. You can do it in Cotton Lycra or rayon lycra but make both sides the same type of fabric. After that? have fun!
I have a color match with the reverse side that's in the print I chose. It's a Missoni-esque print and I bought it similar to when Missoni did that Target collab and people bought stuff up and sold it on Ebay.
The hoodie on me in the video and pics is TOO SMALL. Yes, but I do want to show it anyway, because I'm in my workout clothes in part of it, and I want to honor all of you who, like me, middle aged moms, post-menopausal, who need to shed some weight to be healthy (that midsection weight is no good for us.) Sew YOUR size and love your body, but also recognize that if it's healthier to trim down, like it is for me, do that. My cholesterol is 207, and I've put on 20 extra lbs I don't need, and I'm working it off.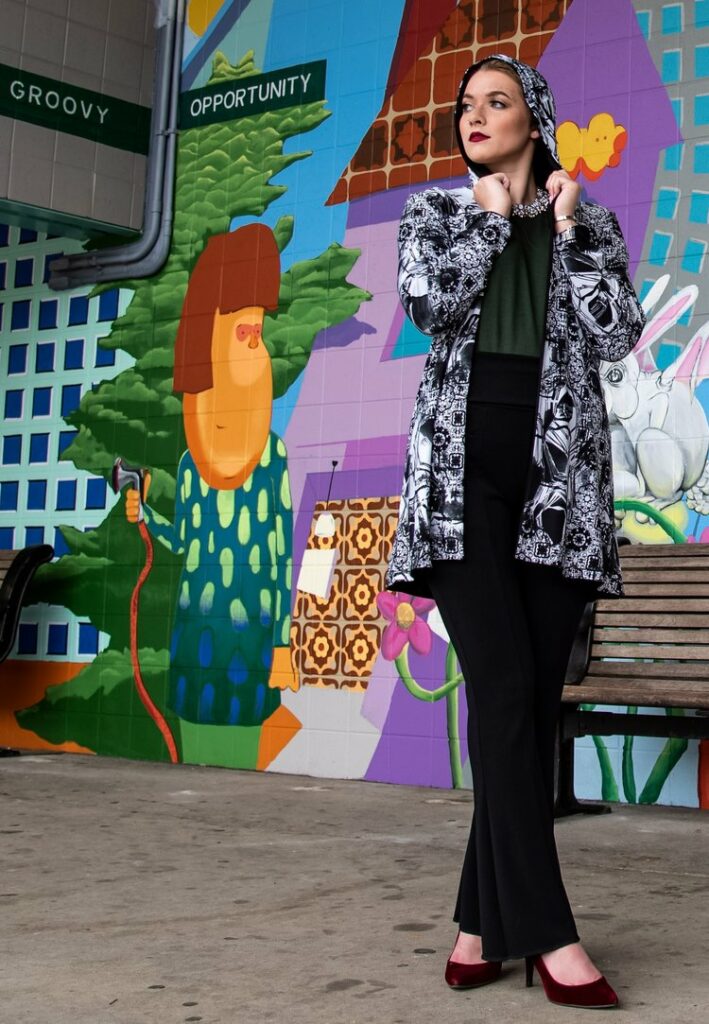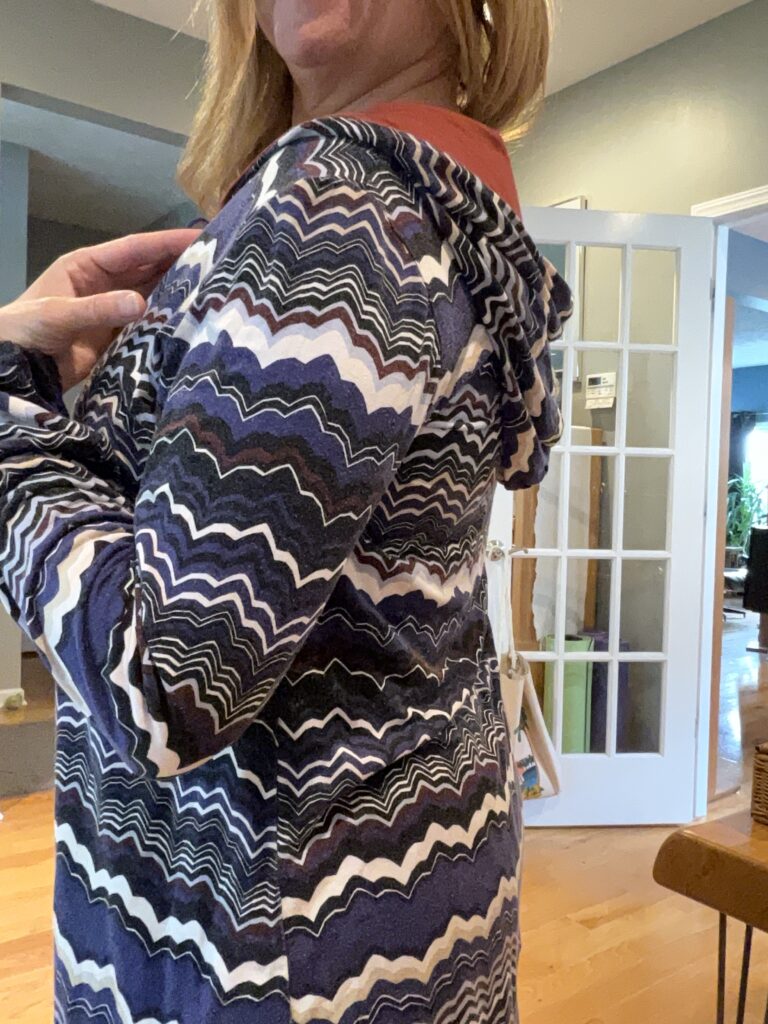 And, I review the hoodie and show you a few angles in the video below.
Fabric Selection for your reversible hoodie
Choose a solid and a print in the same fabric. Rayon Lycra is perfect but also poly-lycra, athletic brushed poly-lycra would be awesome too. Matte Jersey, and ITY fabric is also perfect, and in the winter a lightweight wool jersey would be fabulous.
Try a stripe and a solid, a print and a solid or two coordinating prints – just be sure one is a "speaking" print (bolder) and one is a "quiet" print (smaller/less bold). Here are some great options for this pattern from Gorgeous Fabrics. This Snake Print Rayon Jersey plus this striated or heathered jersey is exactly the kind of "speaking" and "quiet" print I mean.
You'll need just 1-3/4 of EACH side of the fabric for all sizes of this hoodie, and it's just FOUR pattern pieces! Easy! So, for about $35 you have a designer hoodie that you can wear, well, for years. I sewed this in 2013 and 10 years later I'm still wearing it. If you're loving the Missoni look, try this ITY knit from Fashion Fabrics Club.