The trend is the Super Oversized 80s Blazer look. I'll show you how to get this same vibe using easy to sew sewing patterns.
The look: super oversized – shoulders off yours by an inch or two, longer than wrist length, lots of room. Worn with classic white tee, slouchy jeans. If you saw a photo of me from 1988 or 1989, you'd see this: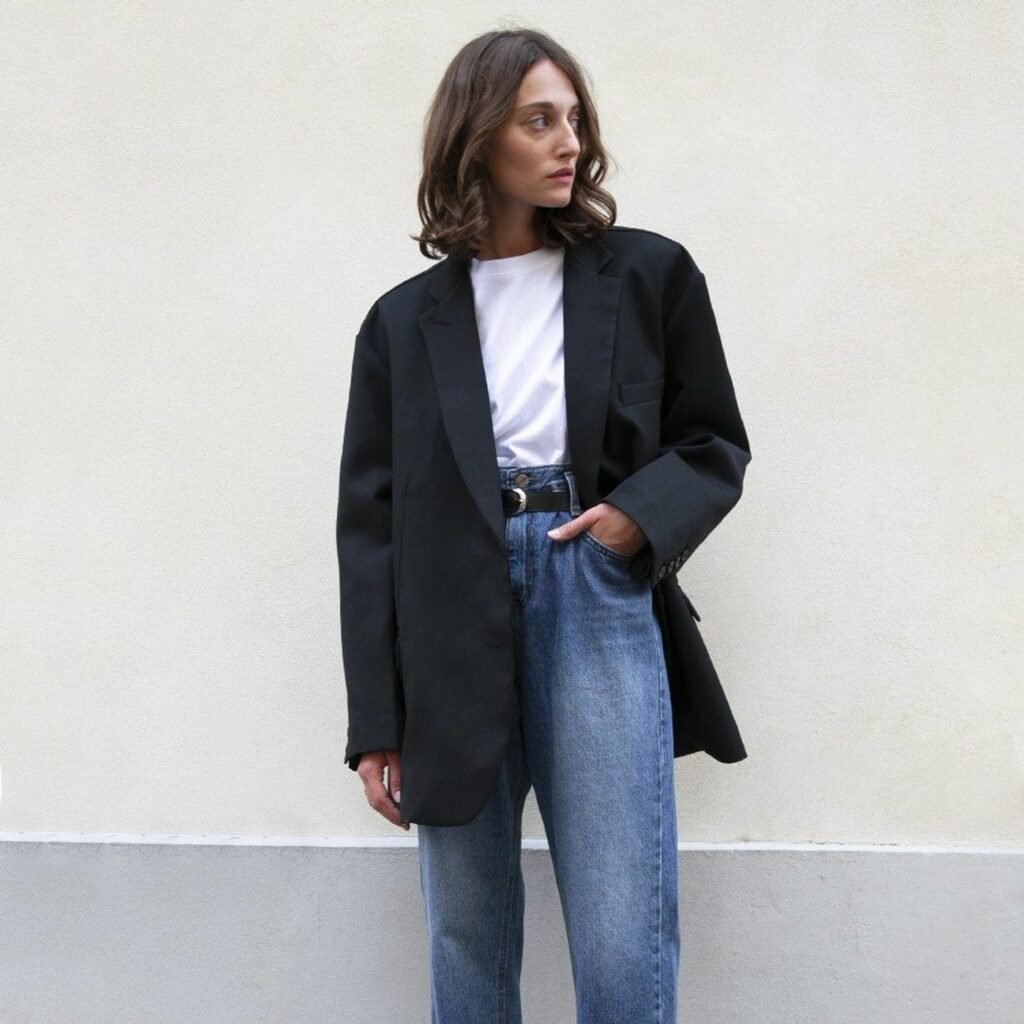 Oversized blazers have shoulder pads so the blazer designed for them (most of them are) is your best bet.
For knit fabrics like ponte: try the Christine Jonson Patterns Boyfriend Blazer. I usually size way down to a S in this but for the super oversized look, I'd go with my actual CJP size which is a M 10-12. For a really dramatic oversized, go up 2 sizes – but note at 14 and up there is a bust dart (you may or may not need this.)
For woven fabrics, you can actually use the same Christine Jonson Boyfriend blazer! Just check sleeve length AND width.
Simplicity has one too: 8697 – and not only is it oversized, but they run a little on the generous sizing side usually. https://simplicity.com/simplicity/s8697
Raid your mom's pattern stash for anything from the 1980s. Or in my case, since I'm 53, raid my own stash for blazer patterns! Here's my blazer stash!
Ooooh, look at that 1980s goodness! I have a number more of these types of patterns from the 1980s too. Here's my vintage boyfriend blazer sewing pattern collection (a small sample:)
From left, Simplicity 5 hour blazer. This has shawl neckline, a regular neckline, blanket stitching or not, as well as patch pockets. The middle blazer is Textile Studio/Loes Hinse and the white version is a great oversized blazer look, complete with dropped shoulders, shoulder pads, loose, relaxed fit. The last one is a classic unisex blazer. This is also easy and was probably during the Miami Vice era (circa 1985 I think.)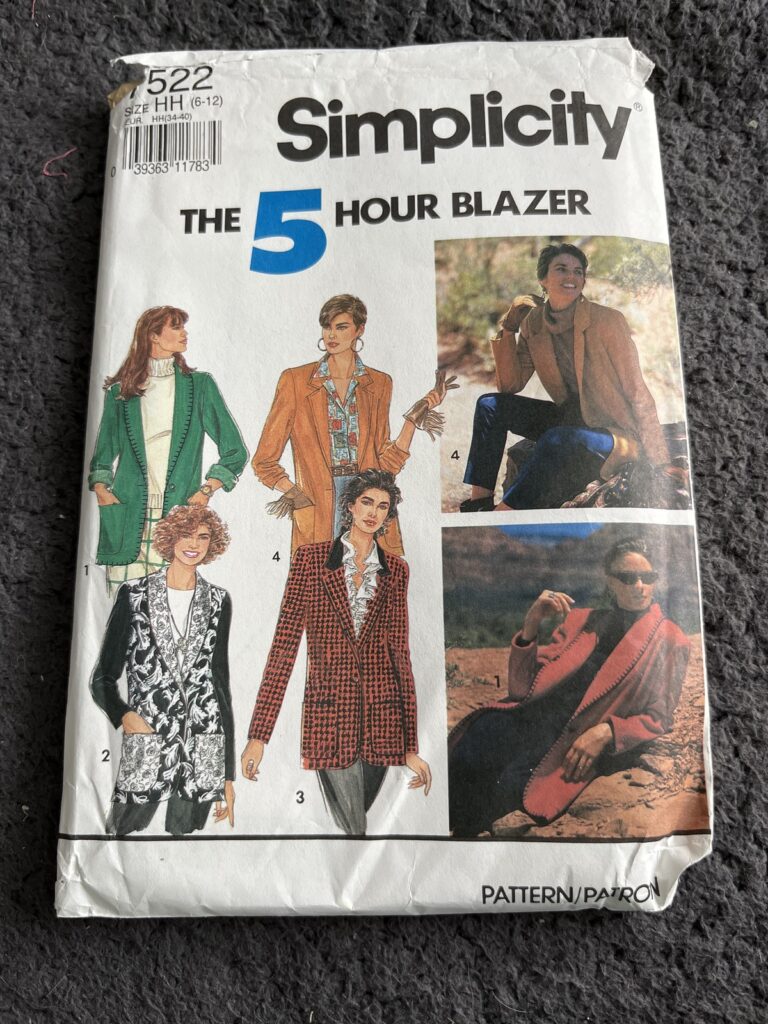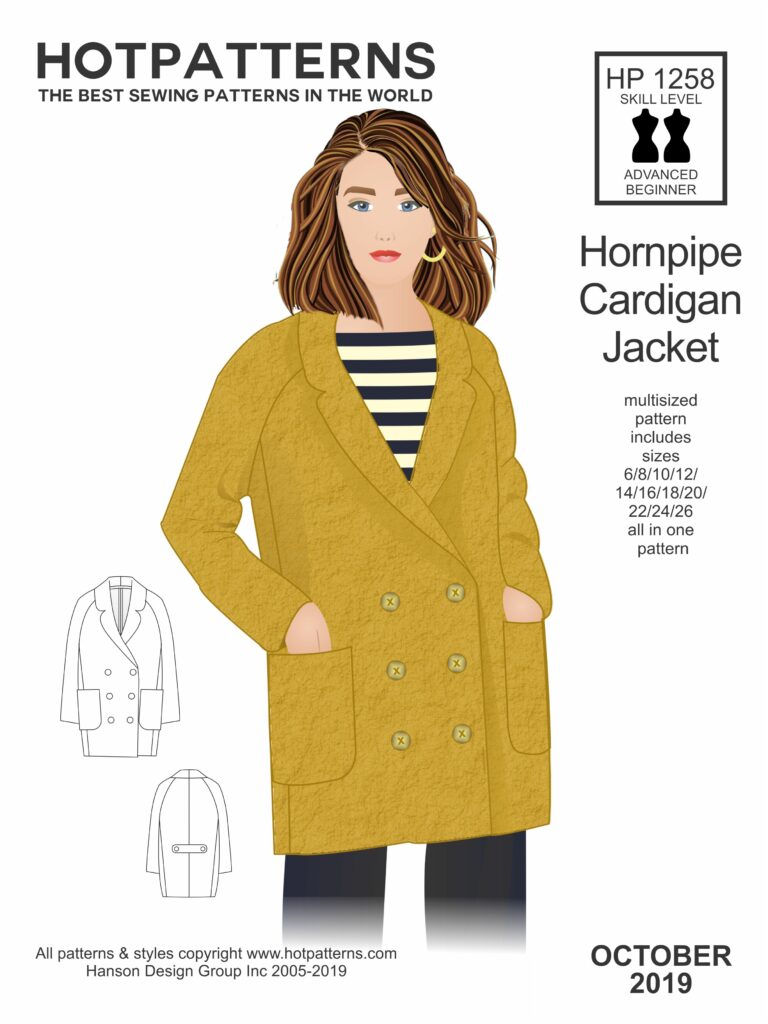 Where can you find oversized blazer sewing patterns?
At your local fabric store: try the Heather Blazer by Friday Pattern Company. Go up a size or two.
Online, my picks here are Christine Jonson Boyfriend Jacket (print) and the HotPatterns Hornpipe Cardigan (digital download)
Ebay / Etsy: You can find both new sewing patterns and vintage boyfriend blazer sewing patterns on both sites. There are a bunch on Ebay if you get past the illustrations, you can see the same style of oversized shoulders and slouchy shape.
You can also THRIFT a Ready to Wear men's blazer and make minor alterations.
Buy the blazer that fits you on your legs – this would be mid thigh length. If the sleeves are too long you can unpick the lining from the blazer, turn under the blazer and lining a little more and slipsitch a shorter sleeve hem. The look is long, but depending on your size, you may need to adjust the sleeve length a little bit.
Styling your Oversized Boyfriend Blazer Sewing Pattern
Boyfriend blazers are being styled with loose fit classic jeans, tee shirts, crew neck sweaters and sweatshirts, slim mock turtlenecks.