The perfect spring/summer cotton shoe is the espadrille. You can sew your own espadrilles shoes!
Years ago, there was a website called Espadrilles, Etc. and I mean years ago (1997 ish). You could buy them in every color. Guess what? I can MAKE them in every color and so can you!
I bought this kit on Etsy but sadly, the seller is getting out of the business to do a new job, so I'll share what you'll need in this blog post, and sources for it from my local fabric store (they ship everywhere! They are super nice!)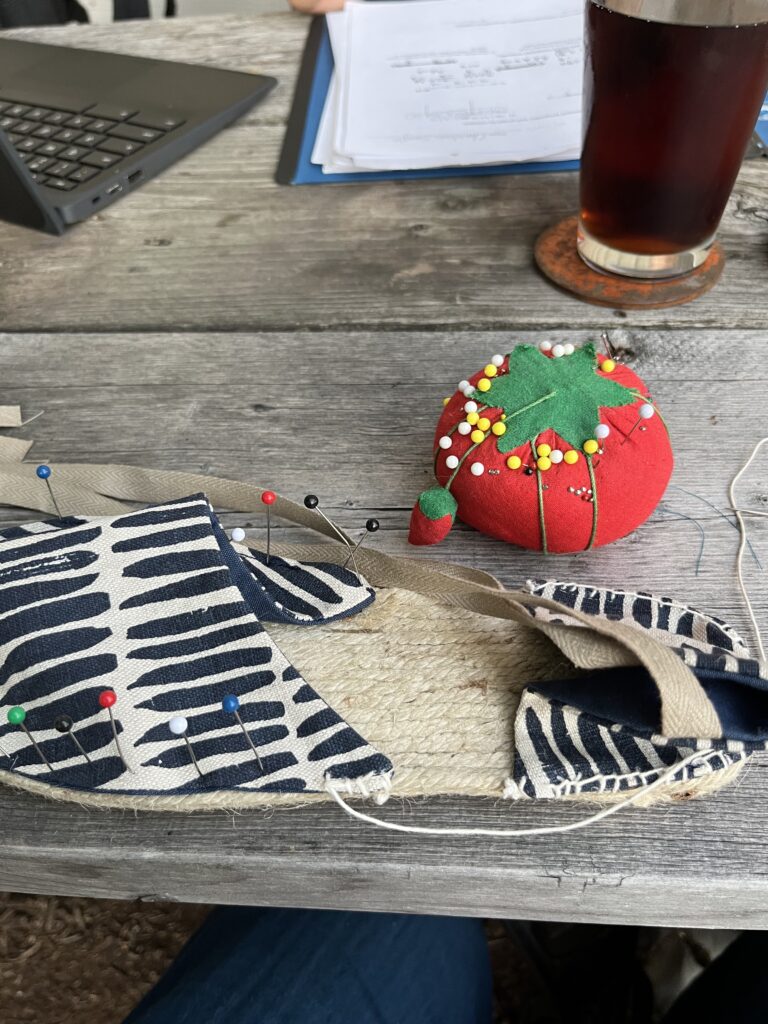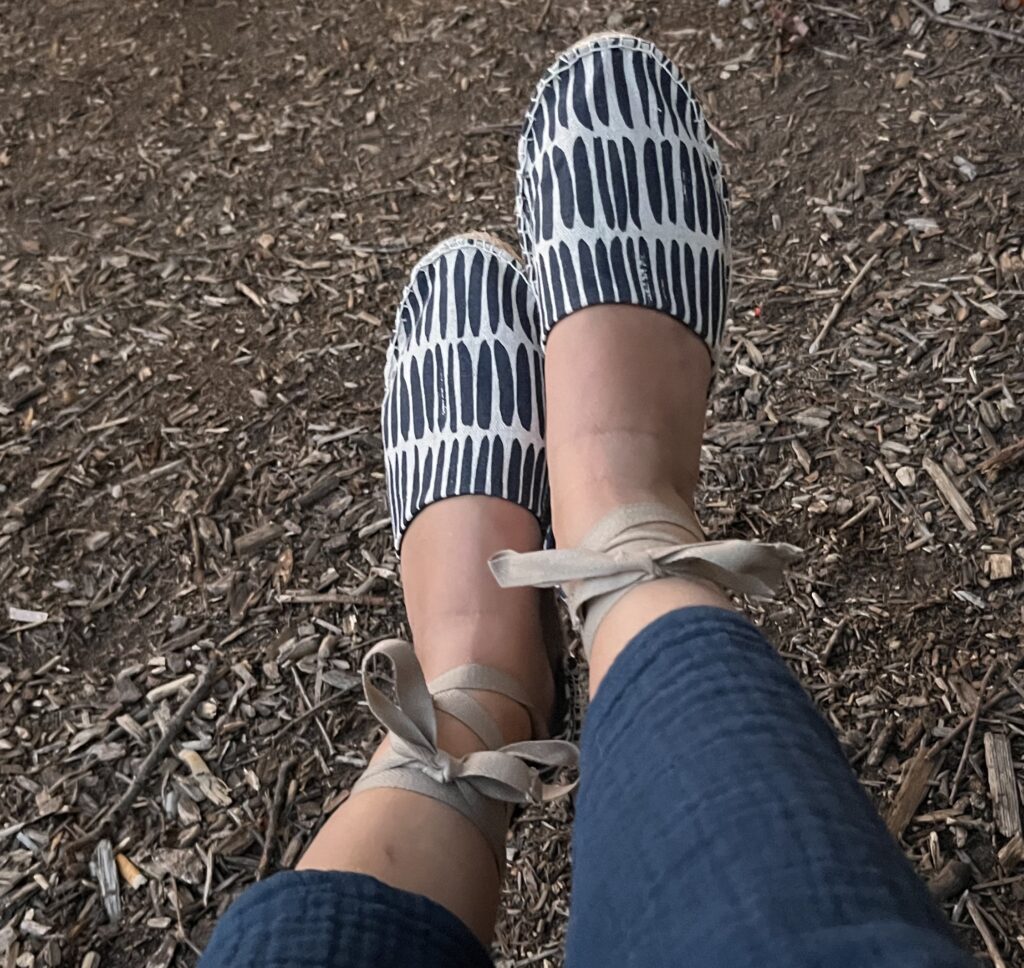 You'll need basic supplies: some sort of firm cotton/canvas heavier weight fabric for the outside, 1/4 yard (this will make shoes AND a small bag, or maybe a bag for your shoes!), same for lining, but you can use quilting cotton for that if you like. Medium weight interfacing (you'll be lining both sides). An espadrille pattern. Some of the soles come with the pattern (Diego does) Here's a pattern from Etsy if you get your soles elsewhere.
You'll need some thick cotton thread – it's multi ply and not embroidery thread, more like cotton sashiko, and a heavy hand sewing needle kit (available anywhere). You'll also need a basic straight stitch sewing machine, pins and regular thread for sewing the shoe uppers, plus 4 yards of 1/2″ wide twill tape. The jute soles you can get in a number of places. I've found them here for you on AMZN and another sole from a seller in Spain via Etsy. Here's a wedge sole version (low wedge) of that same base. These are superfancy with a thick platform sole. Dritz also makes them but I was unable to find this kit anywhere, so you might have luck or try my online sources. No affiliation for any of these, just looked them up to buy more myself.
Espadrilles can have solid full sides or the split side with the ankle straps. The former are worn by men and women, and the latter by women.
Go a little smaller in your shoe size for the sole, I chose a 39, but will likely go down one size for my next pair. I know some instructions say size up, but do not do that.
Styling your hand sewn espadrilles:
The ankle tie version is perfect with cropped pants, skirts and shorts – show them off! The full side version is perfect with jeans, pants and skirts. Both are a summer-y shoe (spring, summer, early fall), but wouldn't be warm enough for winter wear.
Here are my favorite sewing patterns to wear with your new Espadrilles:
For summer: The Pietra Short and the Emerson Short. Also try the Rose shorts too.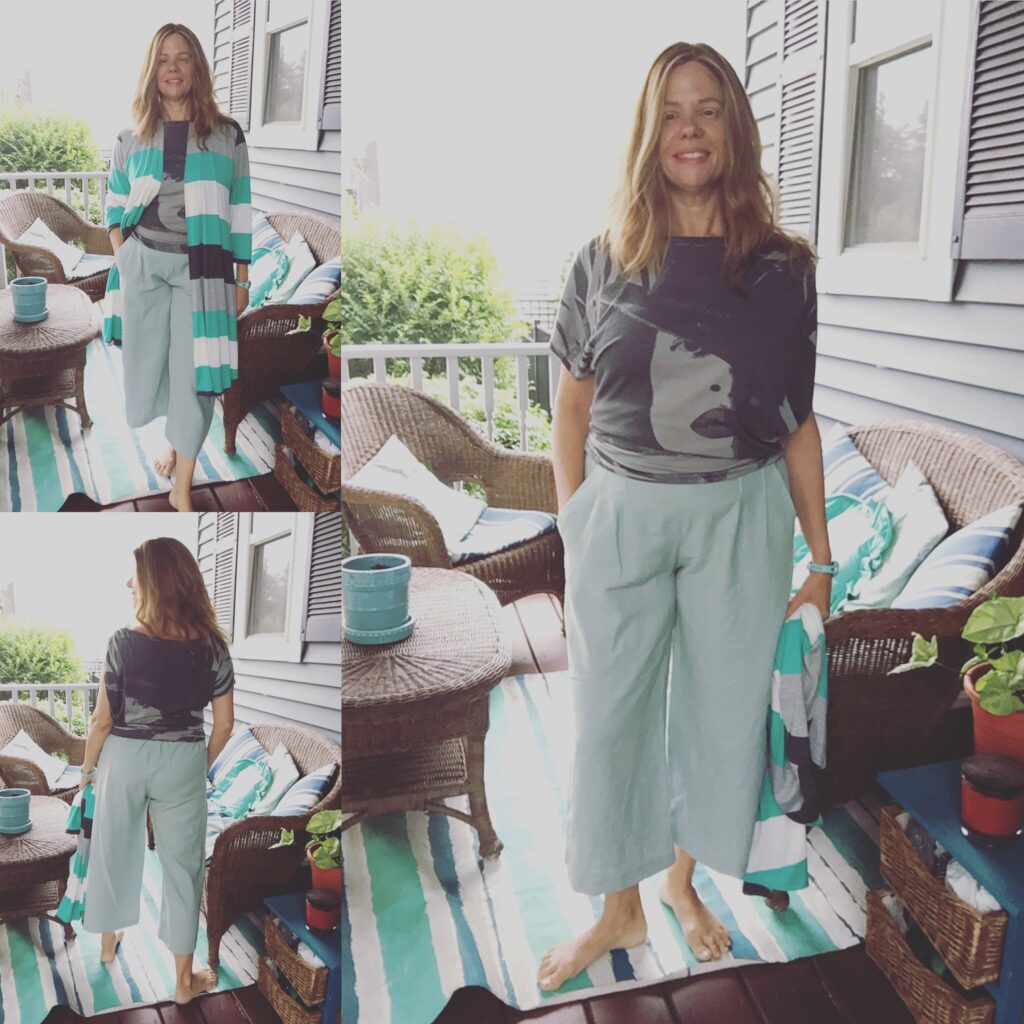 For spring and fall, add your favorite cozy sweater or cardigan over the top.