I've launched the August Bandeau Blouson Tube Top! This fun and fast to sew top for knit or woven fabrics is easy to sew, beginner-friendly and friendly to the midlife, midsize midsection!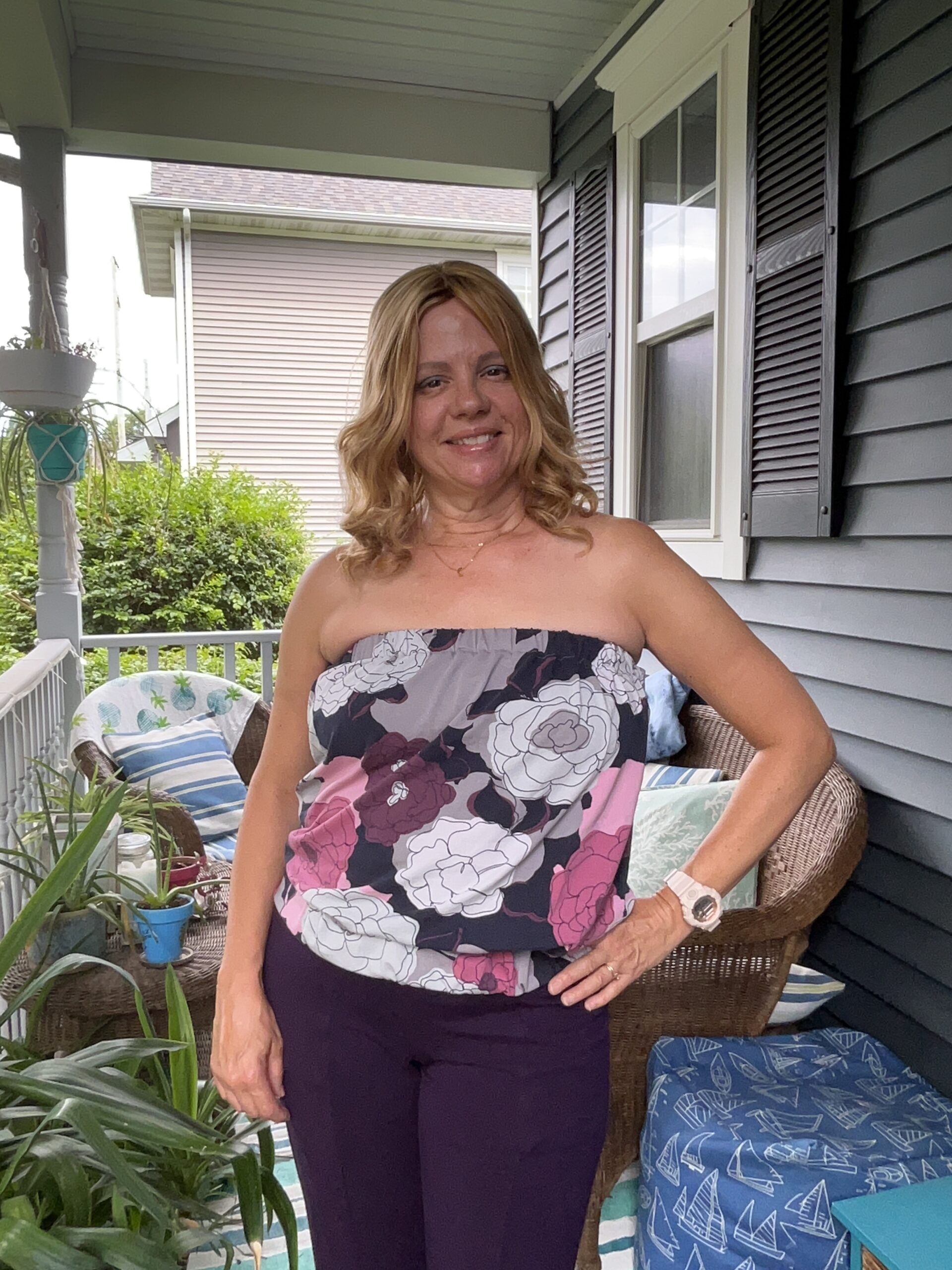 I'm planning a sewalong too – for now you can get the free downloadable pattern here!
This top can be made to hit at the waist, high or mid hip and is customized to fit YOU with some simple calculations (a calculator box is on the pattern.) It's beginner friendly and goes great with all your summer wide leg pants, floaty skirts, crops and shorts.
I've finally recreated a favorite top! Hope you enjoy it too. And, yes, I'm 54, a midlife, midsize mom and I'm wearing this. It's not your daughter's tube top for sure.
Styling your August Bandeau Blouson Tube Top
The Tube Top looks best with floaty bottom layers – think long skirts, wide leg cropped pants, palazzo pants, barrel leg pants, wide leg trouser style pants (with pleats/zippers/waistbands). It looks great under an oversized shirt.
NONE of your belly will show in this top. You can even hide everything down to your hips if you make a hip length version. If you WANT a belly baring one – and I've seen some cute blouson bandeau tube tops that are very cropped – you can simply measure over your bust to where you want the top to finish and do the same calculations from there.
Color combos to try for your August Bandeau Blouson Tube top
You can absolutely go matchy matchy with the same fabric or same color fabric or similar family of colors. But if you want more inspiration, here are some other color options:
Cream (August), with sky blue
Coral with teal
Cream with black (or gray)
Aubergine (August) with cream
Sky blue with deep navy
Purple floral with dark purple
Bright retro stripes with brown
Bright retro stripes with black
Fabrics for your August Bandeau Blouson Tube Top
The August bandeau blouson tube top can be made from knit fabrics with a little mechanical stretch (no lycra) or those with cotton lycra. For best results, do NOT use a really lightweight knit like haacci or rayon lycra (these tend to cling to the body.) You can even use a crochet sweater knit and line it with lightweight rayon lycra (cut two, put the lining inside and sew as one).
The August bandeau blouson tube top can also be made from woven fabrics too – try an Essex Linen Cotton (prewash this), lightweight cotton lawn prints, stripes and geometrics. Shirt weight, if it's not too stiff. You can even upcycle an oversized button down shirt and run the buttons up the front or back (you'll be cutting the shirt right under the armpit area.)
No matter what, your bandeau blouson tube top looks great on vacation, at your favorite "beach" bar, brunch, date night.
What to wear OVER your August Bandeau Blouson Tube top:
An oversized white shirt, or striped dress shirt. A short sleeve "tropical" shirt (I would have previously suggested you could wear this outfit as your Parrothead outfit to the next Jimmy Buffett concert, but Jimmy passed away on September 1, and I will forever be sad about this.) You can also wear it under a boyfriend blazer and over trousers as an edgy "suit"
Download the August Bandeau Blouson Tube Top here. It's FREE!