The two piece set is all the rage this summer- wide leg drawstring pants with a cropped deep V or wrapped front top. There are even some sewing patterns for this (most notably the Saguaro Top and Pants by Friday Pattern Co.). If you love this look and you're cool with belly baring, go for it! But for those of us where our days of crop midriff baring tops are over but we still want the deep V wrap top and wide leg pant look for summer, what do you do?
I've selected four patterns that I think would be perfect to create this look without showing your belly (and still wearing a 'cropped' top). If you've got a midlife midriff, these are your patterns!
Christine Jonson Wrap Top and Wide Leg Pants
This is my first choice for this summer set, owing to how well the patterns are drafted and how ridiculously easy they are to sew, even for beginners. The stable cotton/lycra recommended knits are forgiving to sew and wear with minimal fitting challenges. Christine drafts some of the best patterns in the business, especially with bust fit and armholes.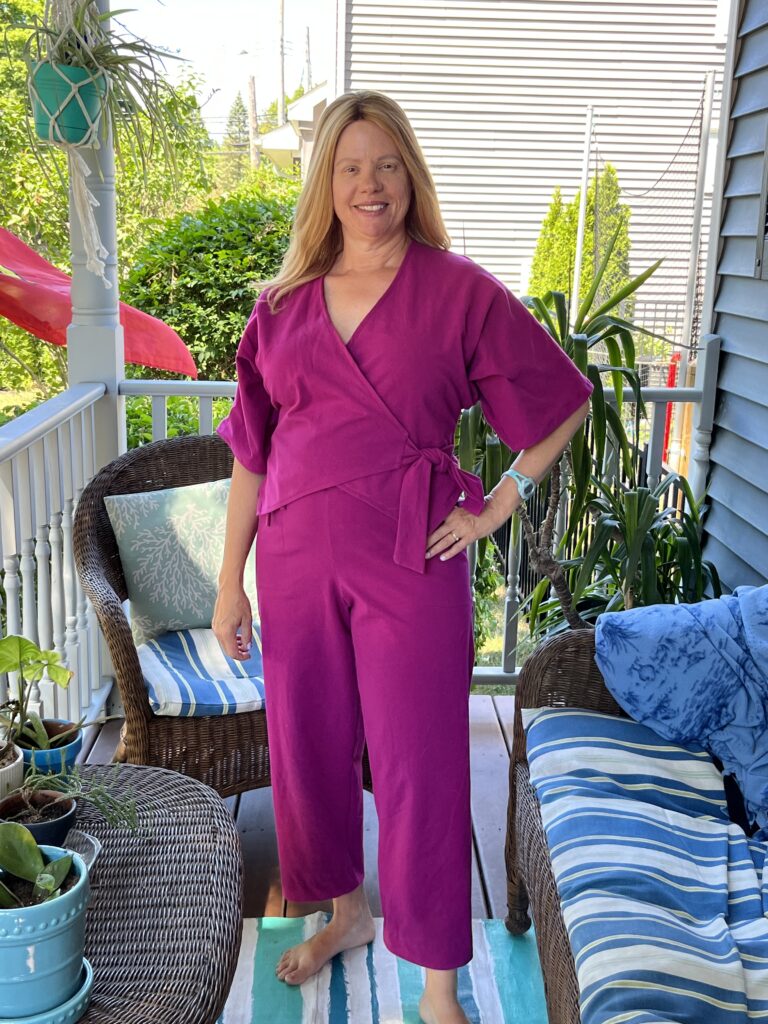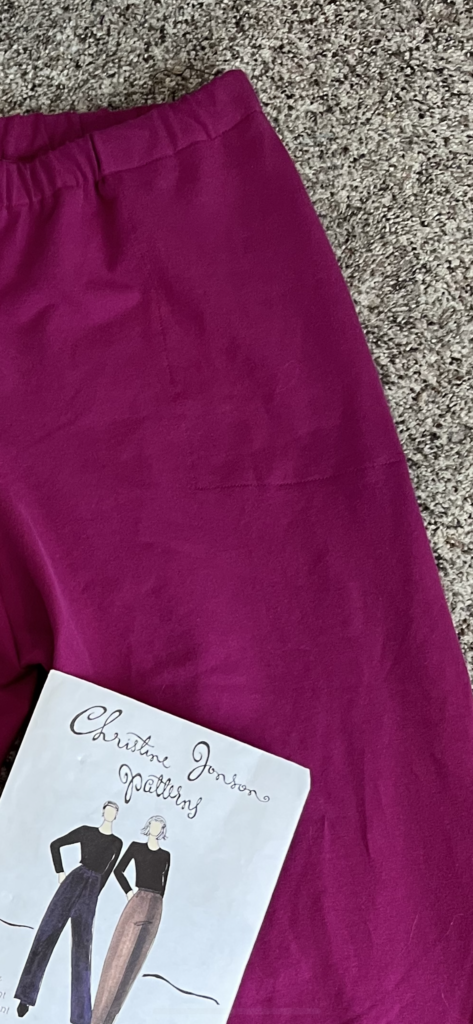 Designed for knits, these two patterns are perfect together. The wrap top has a at-the-waist length in the back and two points in the front along the wrap which add front belly coverage and a nice detail. The long single-piece (top seam attaches front to back) dolman sleeves can easily be chopped off for a cap sleeve look or widened for a kimono look. The Wide Leg Pants are no-side-seam elastic waist pants and can easily have a drawstring added if you want. You can make this set in a knit fabric in under two hours. I highly recommend either a soft drapey knit like bamboo lycra (stabilize the neckline seam with Steam a Seam before hemming) or a more stable cotton/lycra. The general rule is the less firm your body is, the more firm your fabric or pattern structure should be!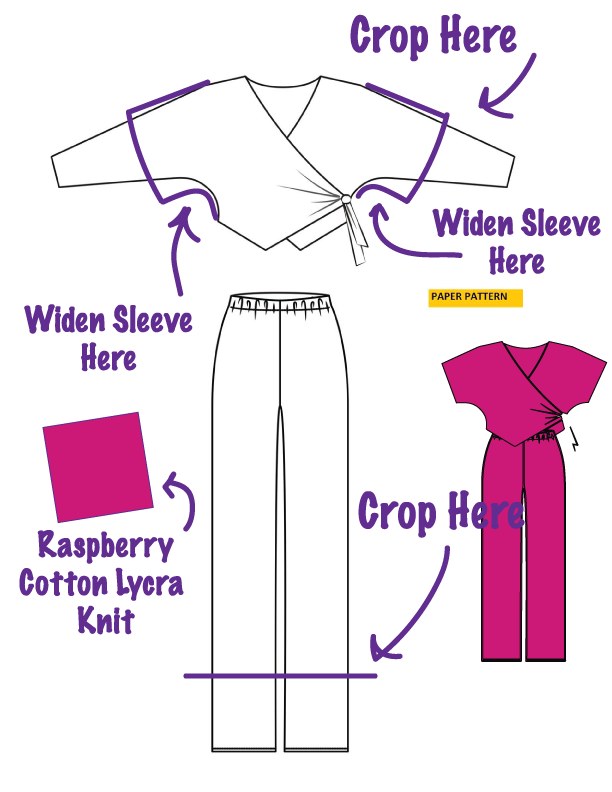 Hot Patterns Marrakkesch Xpress Pants and the Peppermint Magazine Wrap top
This set for woven fabrics is perfect for creating this two piece set look without all the belly baring. If you want this woven top to hit at the waist, crop it there and add the ties for a meet-and-greet with the pants.
HotPatterns does amazing things with their back crotch curve, giving you a really nice booty view, even in loose pants. A pro tip, use the selvedge you trim off your fabric as stabilizer for the crotch curve and sew it right in with the seam. Selvedges are tightly woven and won't stretch on the bias as woven fabrics at the crotch will tend to do. You'll get baggy bum otherwise!
Marrakkesch Pants by HotPatterns
Wrap Top by Peppermint Mag.
You can also choose the Bond Girl (knit) wrap top too, also from Hot Patterns. Omit the sleeves or cut it to a cap sleeve.
Sew a pocket into a dart in no-side-seam pants
https://www.cjpatterns.com/blog/2014/7/11/adding-pockets-with-a-dart-in-sewing-patterns-without-sideseams
Christine Jonson shows you how to do this in a downloadable guide. I'll be following a similar technique to sew the pockets.
She also has an excellent tutorial on how to add these pockets to the Tapered Pant and create joggers (with pictures!) https://www.cjpatterns.com/blog/2020/5/13/creative-options-taper-and-wide-leg-pant-824
This includes the drawstring, an attached waistband and jogger cuffs. While we won't be doing that to our two piece set, these are helpful to return to for more use out of your pattern.
Part 2: drawing wrap top alterations on your traced pattern (see part two)
Part 3: cropping the pants and adding a side dart pocket instruction (see above, part 3)
Try wrap pants!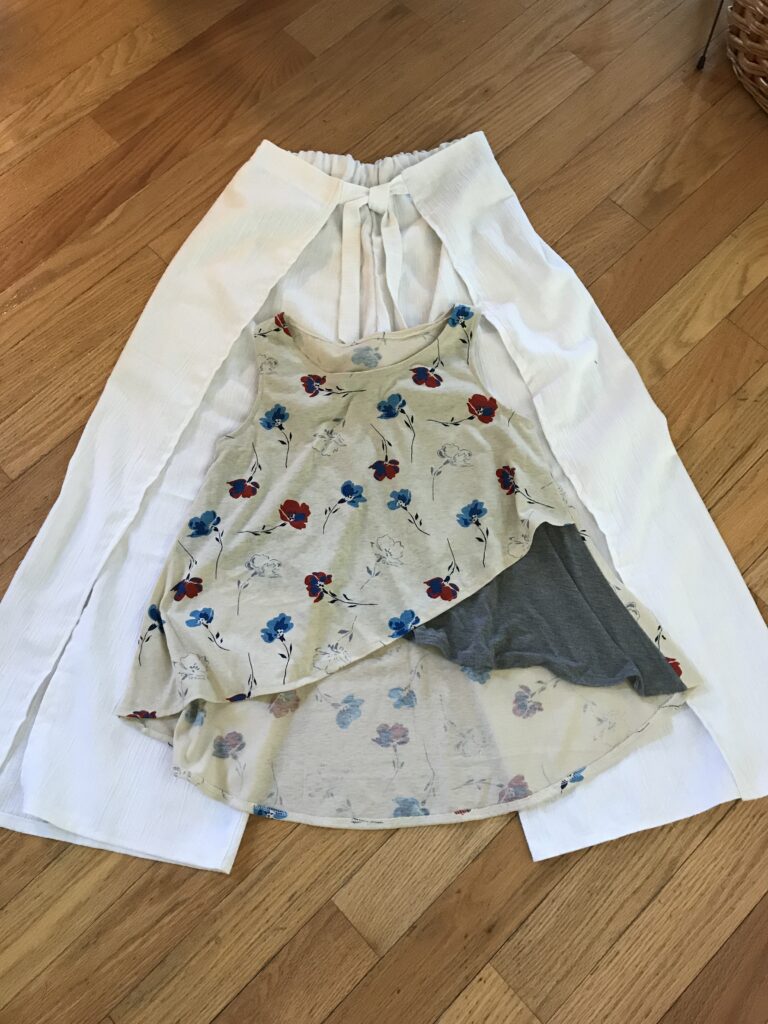 If you want to really go for the wrapped summery look, try these wrap pants – they are a full wrap pant but they remain wrapped and turn into a pull on pant once done sewing – so all the benefits of a full wrap pant with all the ease of a pull on pant! These can be made in a knit or a woven fabric, but choose a drapey fabric like double gauze, printed rayon, cotton lawn or light weight tencel or washed lightweight linen/rayon blend.
These would look great with the featured Flyaway top but they also would look fabulous with a cropped V-neck top such as the ruched/drawstring Bali top from Greenstyle Creations. The Ruched Bali Top allows you to customize the amount of belly you show (none, some or a lot).