Here's what I'm sewing for January 2023 in a little mini capsule wardrobe review! I've selected four patterns from my stash and four fabrics from stash to sew two pair of pants, a cozy top and a tee shirt dress for winter!
Here are the four patterns I've selected:
From top left the HotPatterns Superstar Dress and Top – a great dolman / cap sleeve knit dress, I'll be making the top version in a heart-print sweatshirting (gray/heather). I'll be making the Nexus Tee Shirt Dress (long sleeve, midi length) in cream ponte knit, a dead-ringer for one I saw at Ron Jon Surf Shop last winter, and the Princess Seamed Trackpants – wide leg, elastic waist, pocketsssss….and last but not least, the Pio pant in woven by Ready to Sew, in a cream babywale cord. Also with lots of pocketsssss! Front AND back ones.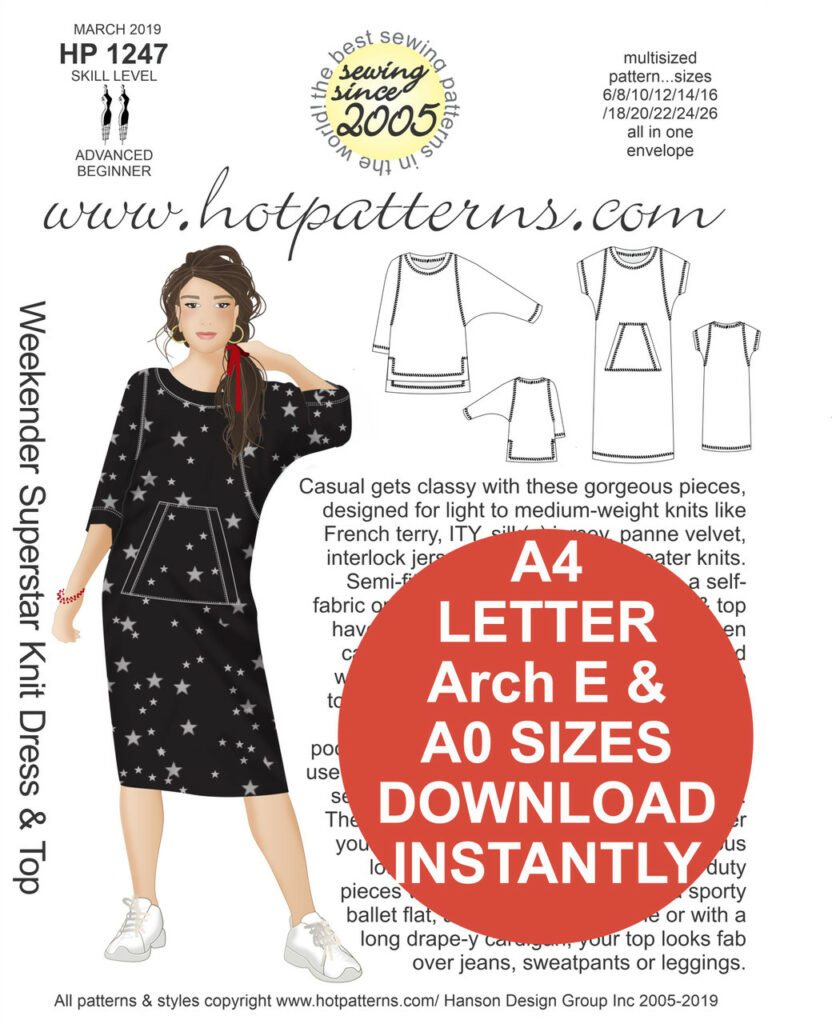 In the video below, I show you the fabrics I'm making, and I also mention a lot about those inset pockets. You see these same ones on the Closet Core Pietra, the Christine Jonson Perfect Knit Pant line (wide, skinny, flare) as well as the Christine Jonson A-line skirt. This pocket has been around a while, and who knows who first came up with it, but Christine Jonson has had it for at least 15 – 18 years – it first appeared on an A-line paneled skirt.
It's a clever construction that also gives you great seaming on the pants' front and deep pockets for your stuff! All I have to say is MARK WELL because keeping these straight (right/wrong side) and matching up notches and folds is always tricky. I use a combo of tape (right side/wrong side), notches cut and also folds drawn on with fabric marking pencil.
Besides being a little mini capsule – a top, pants and dress – these pieces are all sewn with one color of serger thread. Do you do this too? Batch sew a bunch with the same thread? LOL. I do!
Next up, some pieces for warm weather vacations – both things I've sewn before as well as NEW things, including swimsuits!