Put down the pumpkin spice until I finish my margarita! It's summery September – even in the cool, blue north* where I live, it's still warm (mid 80s) in September. Here's what to sew and wear in summery September.
Layers. Your first top layer should be short sleeved or sleeveless. I've been living in cotton voile Scout tees (Grainline Studio), and rayon knit Flyaway Tank tops (Christine Jonson.)
I also love a good tank top and I'm loving the Christine Jonson Bateau Neck tank that comes with the Boyfriend jacket pattern. This top is TOTALLY overlooked in this pattern envelope, but it's got a perfect bateau neckline, a slightly wider shape and a cropped hem length – measure on yourself to determine where you want this to hit on your body. The Boyfriend jacket in that pattern is *chef's kiss* for an unlined jacket – and it's suitable for knits, wovens and total beginners at sewing, so dive in and get this pattern for the top and sew a boyfriend blazer while you're at it.
Bottoms: You can go with a midi skirt or pants – especially flowy ones that look great with sandals – for this transitional season. I like the Pietra Wide Leg, the Emerson Wide Leg Cropped, the Rose pants and the Marrakkesch with the rolled up and tabbed legs. This time of year is perfect for midi skirts – your legs won't get cold and you can wear a slouchy tee on top for a cozy vibe while still sporting Tevas and Birks in the sun. I like the A-Line Skirt from Hot Patterns and the 365 Drawstring Skirts. Make 'em now in lightweight to mediumweight fabrics, and then sew that A-line in a Scuba for fall or winter, or in a fluid faux leather. If you want knits, try the Perfect Pant by Christine Jonson – same seamed front and clever pockets as the Pietra, but with a negative ease foldover banded waist that hugs you nicely, comes in skinny, wide and flare, so you can choose your leg.
Colors: I'm team margarita until noon on September 23rd, so you'll not get me cozying up to fall colors until October, really. But this is because I spent 7 years in South Florida, where it's hot in September and only really got "cold" in December (and there were some cold ones back in the early 90s there! Not so much anymore.) So I continue to wear my summer colors – lime green, aqua blue, cobalt blue, marine blue, coral, pink, lemon yellow.
If you're REALLY trying to usher in pumpkin spice season, sew a few basics in those pumpkin spice fall colors in short sleeved styles. I do have a cropped tee shirt in a color I'd describe as Pumpkin Spice, and it looks great over a cream and brown tropical print cotton skirt in September (see? I told you I am Team Summer over here.)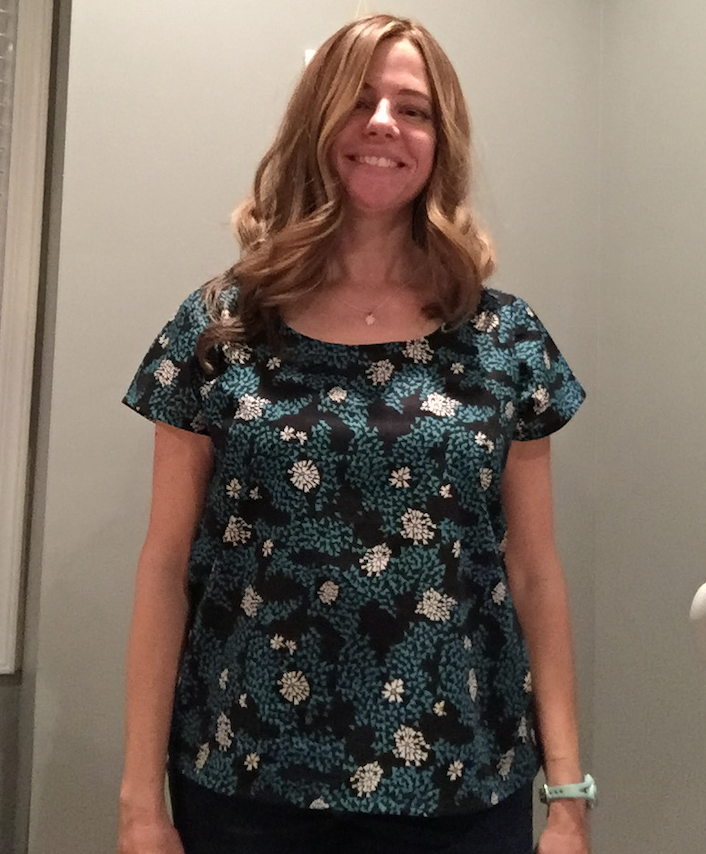 Wear something over all of it from 7-11am: I like to sit on my porch, my deck and walk my dog early in the morning, so I need something over. I'm loving my Cambria Duster in oatmeal with white windowpane check linen for a topper. It looks great over sleeveless outfits, especially over cropped pants and rolled jeans. I also keep the windows of my home office open, and it's chilly in there before 11am.
You can also try wearing a lightweight poncho or wrap on top of your outfit – I like a basic ruana in a lightweight sweater knit this time of year.
*I want to live with my flip flops in Dixie, and my head in the cool blue north. –Jimmy Buffett