Be cozy AND stylish in 5 pieces in a winter capsule to sew yourself. These are perfect for travel, with stretch fabrics, cozy knits and comfy booties to wear with them. They are super easy to sew even for beginners.
The video shows five pieces – you'll see images below of each of these five along with how I put them together. It packs up tiny in a small bag, if you're traveling, is comfortable for sitting in a car or plane and looks great!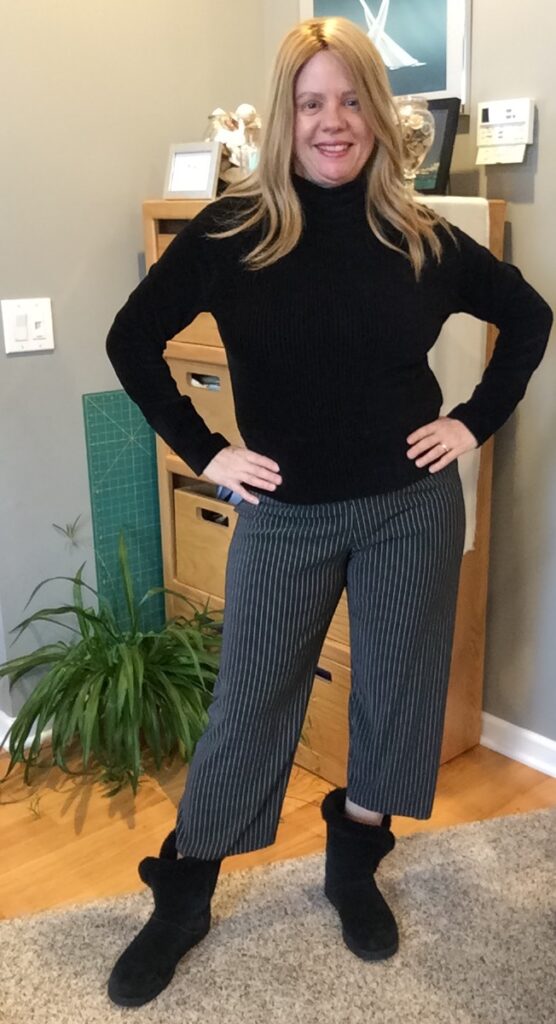 I selected the Toaster Sweaters (both Toaster 1 and Toaster 2) from Sew House Seven, plus a RTW sweater in a deep red from my closet. I also chose a great basic A-line midi skirt and a pair of pull on elastic waist cropped pants.
These are all beginner friendly! Start with the skirt, move to the pants, then sew the sweaters (Toaster 1, then Toaster 2) as your skills build in this 5 piece wardrobe. All are knits, but each of these pattern companies does a great job in teaching you HOW to sew knits, including things like seam finishes and hem finishes for knit fabrics. Don't be afraid of sewing knits – the fit is very forgiving (fit is probably the hardest thing in sewing your own clothes, so a forgiving fit is easier to master.)
The Toaster Sweaters are favorites of everyone – the Toaster 1 features no hemming of knits – everything is a band, from the sleeve bands, to the neckband to the hem band. This cropped raglan sleeve top is sewn in a velour rib knit from my local fabric store. Comes in plus and regular size ranges.
Toaster 2 is a funnel neck, long sleeve, swingy tee with side vents and a longer back hemline. This one has extra long arms (for that cozy feeling or for long armed people like me). It's a great basic, that is easy to sew with good instructions for hemming the split side vents for a great finish.
The two bottoms I chose are also easy to sew. The HotPatterns Fast & Fabulous A-line skirt is just that. Featuring what's known as a 'Hollywood" elastic waist, the skirt is a great shape and length. I sewed it in a heavier stretch poly crepe fabric in a winter white. Ponte or scuba are also excellent choices for this skirt, as would be a heavier double knit for winter wear. The waistband is awesome and flattering, besides being easy to sew. You stitch the tube of elastic to the edge of the skirt on the WRONG side with a zigzag, and then turn the waistband down to the inside and tack at the sideseams, that's it! Hotpatterns largest size is definitely fitting plus sizes, I usually sew a 10-12 but I'm a solid 12-16 in other patterns, so check the measurements and be prepared to size down (they go up to 26 usually).
The pants are the Christine Jonson Taper & Wide Leg pants in a fluid knit fabric, these are cropped to a mid – lower-calf length just by rotary cutting the knit pant leg straight across and securing the inner leg seam afterwards with a backstitch. There's only ONE inner leg seam, a crotch seam and an elastic waist (no pockets) in these pants so they're super fast (20 minutes) to sew. You can sew the elastic the exact same way (or follow the instructions in the pattern.) Again, pretty generous sizing, these are a 10-12. I cropped these by running a rotary cutter across the pantlegs at the length I wanted (the fabric doesn't ravel) then securing the inner leg seam with a backstitch.
The cropped length of the pants looks great with my Faux Uggs – Fuggs, I call them – from Target. Bought right before the pandemic in 2020, these are my most worn booties ever. I'll have to add an insole for comfort this year (arch support) but they are still going strong despite a lot of wearing!
Top these with either an asymmetrical jacket like the Tremont from Sewing Workshop in a flannel, a wool or a quilted / quadruple gauze fabric such as this one from Seams Fabric (they ship! My LFS.) OR you can wear a puffer jacket, or even cut down a thrifted quilted jacket into a capelet or basic poncho to wear over this outfit.