What's on your must-sew list?
Winter/Fall #makenine challenge
I set out to do a "simple more" resolution year – more dog walks, more vegetables, more knitting, more fun with family. And of course, more sewing. So my #MakeNine is really more like #MakeTwentySeven, but you have to plan things that are approachable, so #MakeNine it is
#MakeNine is the idea that you plan out a grid of 9 items to sew in the upcoming year. I sew way more than 9 (last year I sewed more than 27 garments). I will sew a lot of the patterns I already have. Why sew existing designers? You understand your sizing and can more closely predict how something will fit based on their descriptions. For instance, you might sew a pant from a designer in a 12 or 14, but a top in an 8, and you know this since you've made more than one of them. My goal is to sew THREE of any given pattern. Bonus if you can make even more than that. But, too, my Local Fabric Shop has great fabrics and patterns and I wish to try those, too.
Pants/#MakeNine
Pietra pants: I sewed a test pair in 2020, will shorten the front rise by 1″ and sew a smaller size (or two) and make at least two pair of the slim, one pair of the wide and at least one pair of shorts.
I will sew another pair of HotPatterns Tailored Trackpants for winter – in a camel snakeskin print poly. The camel snakeskin poly will have the cropped trouser cuff that the pattern is designed for. I'd made a pair with jogger banded cuffs in 2020.
Tops/#MakeNine
I will sew a HotPatterns Foursquare Tee (tie front version, long sleeve) for winter/spring.
I will sew a HotPatterns Milano Dolman tee with cuffed / banded edges in waffle weave knit (replacing a different shirt I sewed in the same fabric, but shrunk and gave to my teenager!)
Dresses/#MakeNine
I'll sew a long sleeve, turtleneck True/Bias Nikko dress for the winter, with colorblocked sleeves to accommodate the lack of fabric.
Skirts/#MakeNine
Sewed a HotPatterns 2-hour A-line midi skirt the first week in January in a random cream stretch crepe from my stash.
Outerwear/#MakeNine
HotPatterns Glamour Cape
Linen Cambria Duster (sewn in 2020 but not yet worn because it got too cold)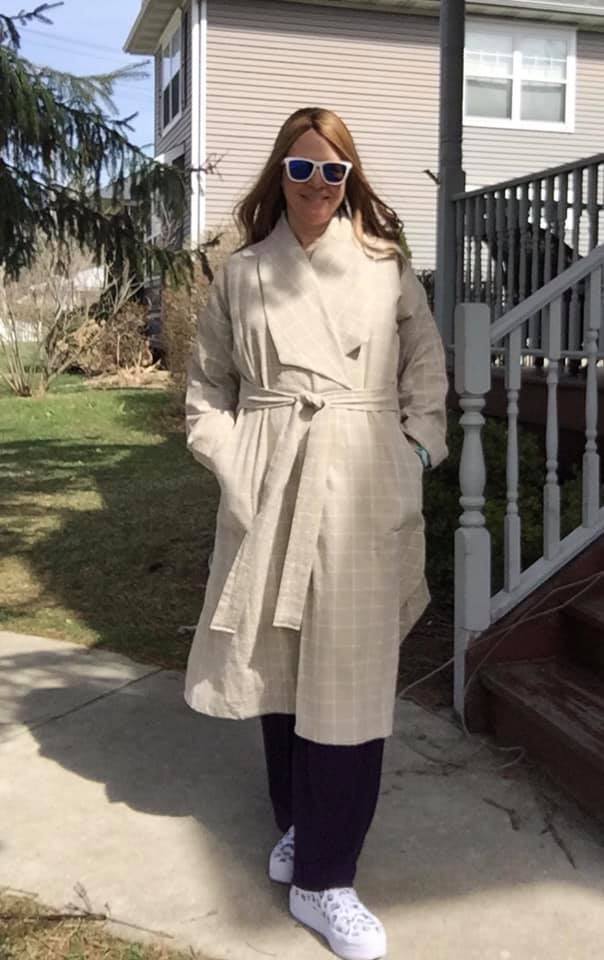 Spring/Summer/#MakeNine
With planning to be home with my kids half time this summer (again!), as well as working in my basement cutting vinyl, I anticipate a very casual summer of clothing. Most of my me-makes will be in anticipation of that.
Emerson Shorts from True/Bias
Pietra Shorts from Closet Core and Simone shorts from Jalie – I'm making the latter for my DD in her size as well.
Wide Leg linen pants from Christine Jonson with cargo pockets – think beach pant meets camping pant, which is precisely what I intend to do with them – camping at the beach! Although these are wide leg, they have a taper to the ankle – I generally alter this and chalk a new sideseam from the knee straight to the hem.
Cami/tanks – True/Bias Ogden Cami, Sew News Remmel Tank, Antero Shell, HotPatterns FourSquare Tee, Swingy Tank are all options I'll consider – I'll sew TWO tank top patterns this summer.
Dresses: HotPatterns Trilogy shift dress – a great, easy tee shirt dress for summer, in a blue tie dye knit.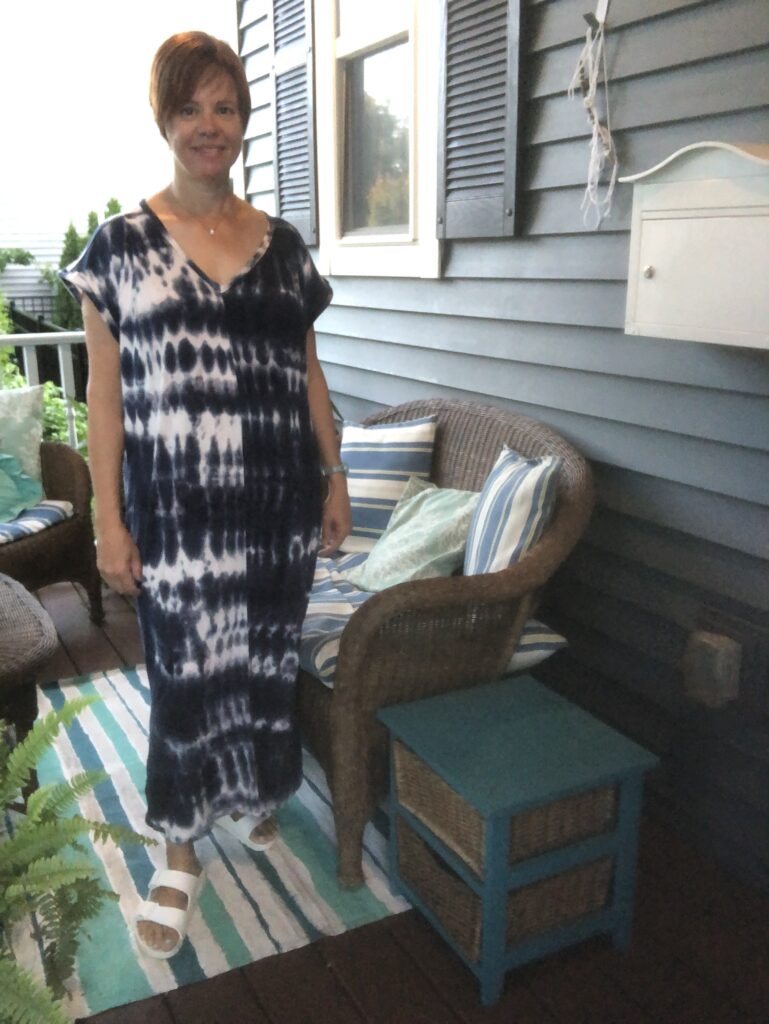 Short sleeve dress – Ann Normandy Sewing Patterns – a great simple dress with designer details from a favorite designer that is perfect for some linen I purchased from my Local Fabric Shop.
Outerwear: Cambria Duster (sewn in 2019,) in two colors, chambray blue with navy collar and camel windowpane linen
HP Glamour Poncho (see Winter/Fall)
For the kiddos/#MakeNine
Taylor Made Pajama pants and shorts, and an OOP/vintage pajama top from Simplicity, plus a robe from an OOP/vintage Simplicity pattern (that I made for myself, and still wear!)
My DD is getting more pajama shorts and top and a new bathrobe.
Jalie Simone shorts for my DD.
DS is getting a tie for his robe (a hoodie robe, handed down from a friend, missing the tie), and pajama shorts for spring/summer. He prefers to wear whatever tee shirt he wore the day before, to bed.