If you're going to sew a single summer dress, this should be it! I love the Ann Normandy Shift Dress, but I nearly threw away this project after a huge oops on my part. I'm blaming it on the seam ripper. It's not the seam ripper's fault, but seems as good of an excuse as any for my blunder.
Let's dive right in! This Ann Normandy Shift Dress is a classic shift dress pattern – the kind of dress your mom wore in the 1960s. It has a lovely fitted upper bodice above the bust, and flows gracefully into an A-line shape. This is super flattering on all body types. In the recommended heavy linen, the fabric has a heavy drape that folds softly around the body without being clingy or too loose. I sewed this in an underlined cotton poplin print I had made from Spoonflower Fabrics. Spoonflower prints any of their designs – or yours – on any number of fabric bases. I chose the cotton poplin. You can also choose Bahamas Handprint fabrics for even more tropical vibes.
I used the underlining instructions from the pattern, with some variations. I outline those steps in detail at the Ann Normandy Blog (designer Kim Collins asked me to guest-blog for her!) [link]
Remember when Target did a collaboration with Lilly Pulitzer? The craziness of that collab – people waiting in huge lines before the store opened, snapping up all the goods and reselling. I vowed I wouldn't participate. Instead, I bought this print design from an indie designer on Spoonflower and had them print this on their poplin fabric. This dress and THIS fabric, they were meant for each other. If you want a more Lilly-type fabric, try Bahamas Handprint Fabrics. They took up the mantle from the KeyWest Handprints and they have similar designs with a Bahamian flair.
When I started this pattern, it was summer. August, specifically. During construction, I have no idea what I did, I ripped the front V neckline. Not like ¼ of an inch – a FULL three quarters of an inch and slightly at an angle, so I couldn't even pass this off as "extreme decollete" – no, it was just a huge mistake. I am glad underlining this dress is an option because this fabric is lighter weight. I said I blame my seam ripper but I'm not even sure it was that. I think I was testing out the lining and dress matching up and tore it then. I don't exactly remember (I probably blocked it out, LOL) but I was so mad at myself. I've tried to tear it since and cannot, so I really don't know how I did it!
With that huge gash in the neck, I put the dress aside, thinking I might not even finish it. I pondered a lot of options – and opted for a placket over the top. I thought about a contrast fabric (common on the Lily Pulitzer dresses) for the neckline, but in the end, cut out an exact pattern match of the neckline shape and applied it to the top of the dress.
If you have kids, have they ever cut out something from a piece of fabric? They ALL do this same thing – they cut whatever shape it is out of some larger piece of fabric, so you have a perfect cutout left over! It's hilarious – giant fabric piece, big hole cut smack in the middle – and it's exactly how I had to match that neckline!
I first matched up the pattern and the dress piece by laying the dress on top of the fabric, marking the rough edges of the neck down to the waist with pins. Then, I removed the dress, cut a large shape in the middle of that fabric that I'd marked. I then laid the front of the dress under the larger square of fabric I'd cut, and then I matched the pattern printed on the poplin. I then drew on the top layer (the placket) the shape I wanted and cut with turn under allowances, making sure the pattern was matched underneath. In the end I laid the placket on the dress wrong side of placket to right side of dress, matching the raw neckline edges, turned under the outer edges of my placket, and stitched down. I used Steam a Seam to stabilize before I sewed it too. You can't see it!
The rest of the dress is pretty straightforward sew, following the directions. The inside of this dress is *chef's kiss* and that is saying a lot. You all know I sew fast and rely on the three foot rule for any mistakes I make.
It's a forever fun dress!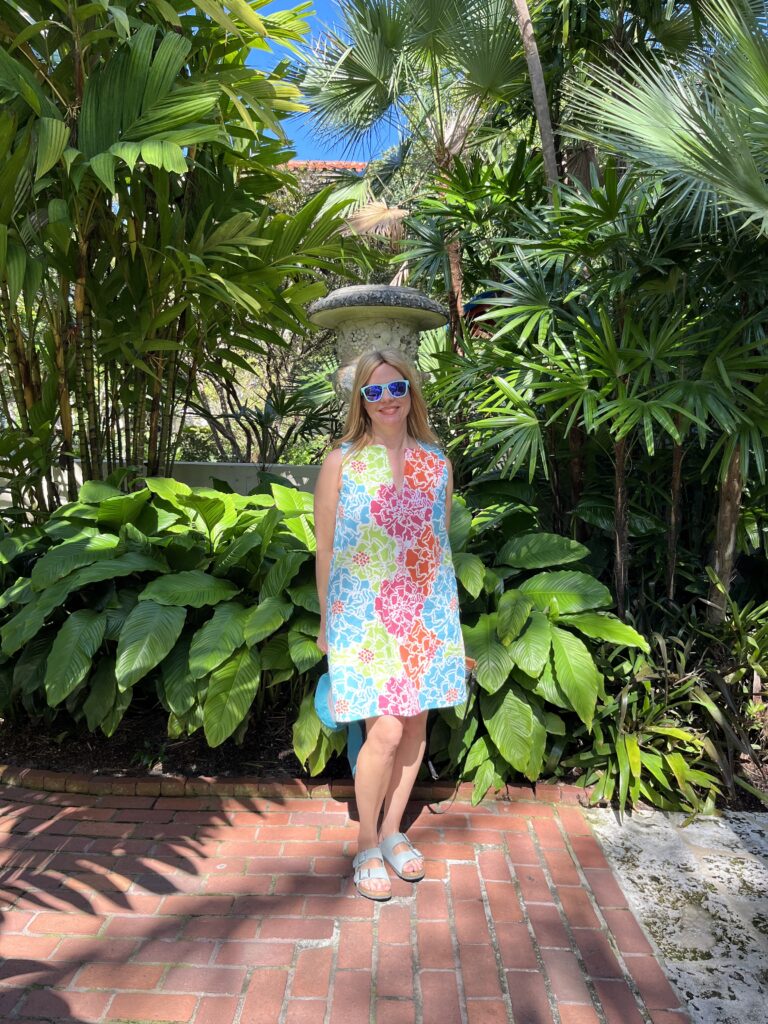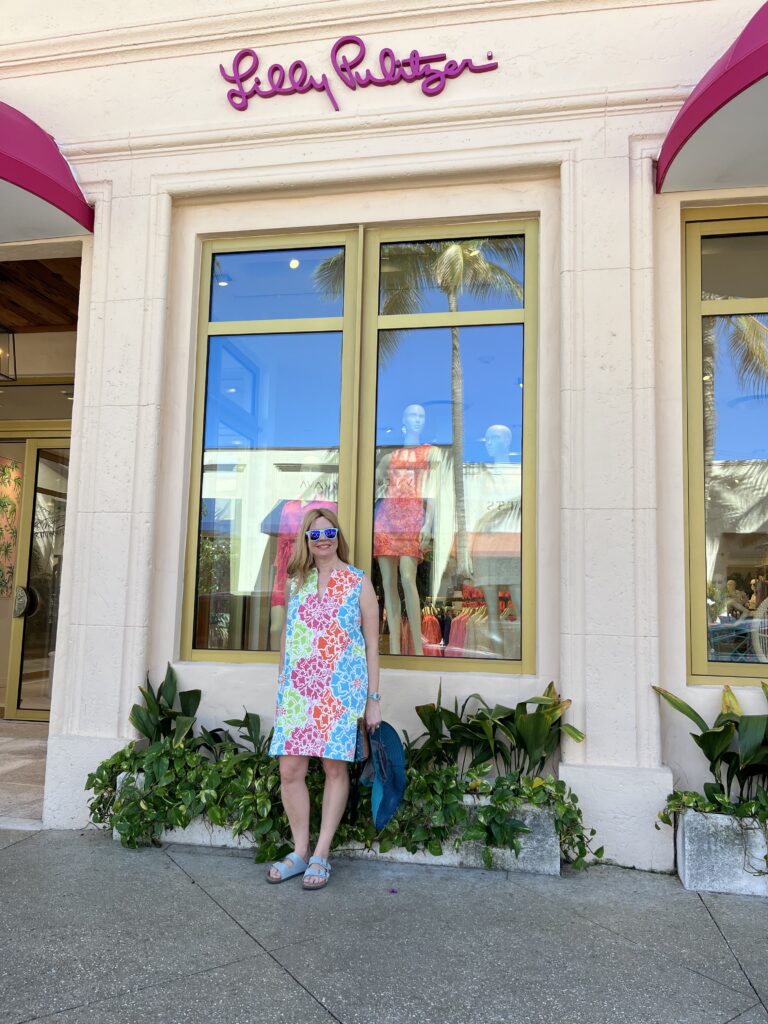 During construction I had a bunch of flashbacks to my grandmother wearing "house dresses" in the summer – you know, some sort of boxy printed sleeveless dress. And I was really worried I'd made myself a fancy house dress, but when I put it on, that melted away and I thought, this is just a Palm Beach Lilly dress.
This pattern (and the whole pattern line) is designed for heavyweight linen fabrics, and I will definitely make this dress in heavy linen next.
In my companion spring summer French Style wardrobe plan, I included a bunch of the Ann Normandy patterns. They embody a beautiful, classic look that is quintessentially French, I think. I'll link that blog post here when it's ready. You can see my fall and winter version featuring the Ann-Normandy pants sewn in dark denim!