I chose a fun, easy summer midi dress tunic and top pattern, the Fast & Fabulous Trilogy, from HotPatterns, as a late-summer dress to sew. Here's my review.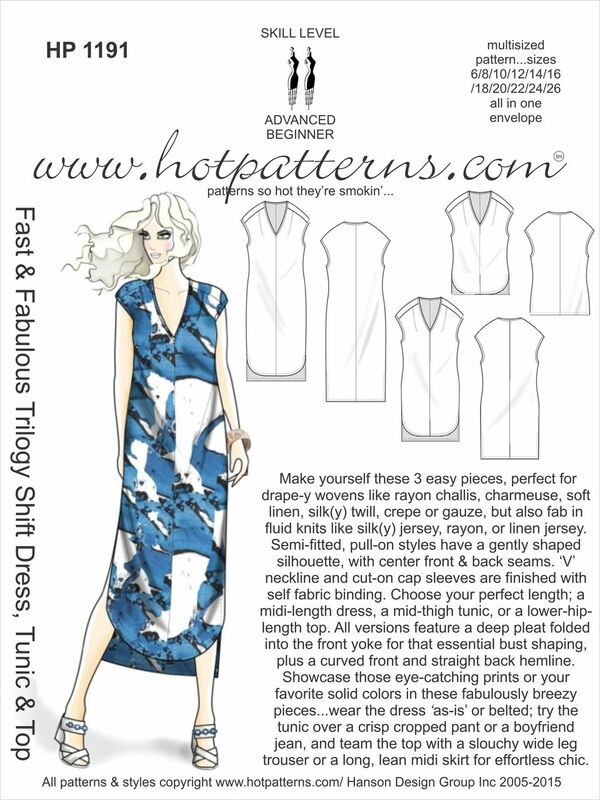 The Trilogy from HotPatterns is a fun top, dress and tunic pattern with some easy to sew and good finishing details. I made the dress version.
Note: If you are not tall (I am 5'3), look at the finished back length on the back of the pattern envelope and lengthen or shorten accordingly. I should have – was making a test garment – ended up with a fun maxi dress! Not a bad problem to have though.
This dress can be made in a knit or a woven – I chose a knit from stash in a blue tie dye. This rayon/lycra knit is drapey and soft. If making in a woven check your final finished measurements against your body measurements to ensure you have enough ease. If you DO make this in a woven, be sure to choose something drapey and light. In this knit, I could have gone down a size (I sewed a 12.)
This would also make a very excellent nightgown as well, given it's straight, easy shape. If you are considering making it for a nightgown, use a daytime fabric, and then get up and go! I won't judge!
The shoulders have a deep pleat – you can change this to gathers – along a yoke, and some who have chosen a not-as-drapey fabric, say that this doesn't lay well. If your fabric doesn't drape well, wash it a bunch more times or choose a different fabric – drapey is best for this dress.
It is a straight cut dress, so as such, it's going to hide a lot of that messy middle. It has only very gentle shaping at the waist, but you can feel free to shape it a bit more – it has a center front and back seam as well. You can use the side and center seams to add shaping, or you can add in long darts to the back (just pinch, measure and stitch after the dress is sewn.)
One of the clever things is the neck and sleeve bands! They are sewn reversed (attached to the wrong side) and the folded edge is then flipped to the right side, pressed and topstitched. PLUS, the V-neck is sewn AFTER the neckbands (no fussing over V-neckbands!) This results in a professional looking finish. I stretched this a little as I sewed, and had to press the life out of it to get it to lay flat (it did!) Next time, I will stabilize the neckline AND the neckband – or make it in a woven and dispense with all that fuss (it's designed for woven or knit.) The sleeve bands are sewn the same way – when the dress is still in four panels (left back, right back, right front, left front.) The pattern instructions detail these neckbands so you won't have to Google a YouTube tutorial on it (but I might show you one the next time I sew this.)
The hems are a curved, shorter front hem and a longer, straight cut back hem – I LOVE this detail, and think it makes the dress! In a midi length as designed, this will really show off the hems.
What I liked about it:
The straight, easy fit, the super easy to sew neckline and sleeve bindings, and the curved and boxed hems.
What I'd change:
It should be a midi dress, I'll shorten it on my traced copy for next time. I already made a note on my pattern about this.
What I'll make it in next:
I'll choose a lightweight cotton lawn or a rayon print.
What you can wear this with:
Great shoes! Sneakers for a casual vibe, Birks, Tevas for a trendy look. Wear a shorter jacket like a denim jacket or a moto jacket over it for cooler weather.
What fabrics to choose:
Soft fabrics with drape – rayon, light chambray, voile and lawn (woven) as well as rayon/lycra knit fabrics. Consider a diagonal stripe (printed) and connect the V of the stripes in the front and back (there are FOUR spots to match stripes, just so you are aware! It would be a good lesson in how to stripe-match! But don't plan to cut it on the bias, as you'll not be able to given the dress length. I think you could absolutely do this with the top version (and maybe the tunic, as well.) It would lend itself very well to color blocking too!