I've been wanting to make a zero waste/bog coat for a couple of years now. I picked up some lovely wools from my LFS this fall (and last year) for some fall / winter outerwear, including a lovely diagonal weave cream wool from Italy, a heavier boucle in black, and black and fuscia Buffalo plaid. The Bog Coat has been around for (centuries) a long time, and it's made with measurements and instructions only. I will use these from Threads Magazine.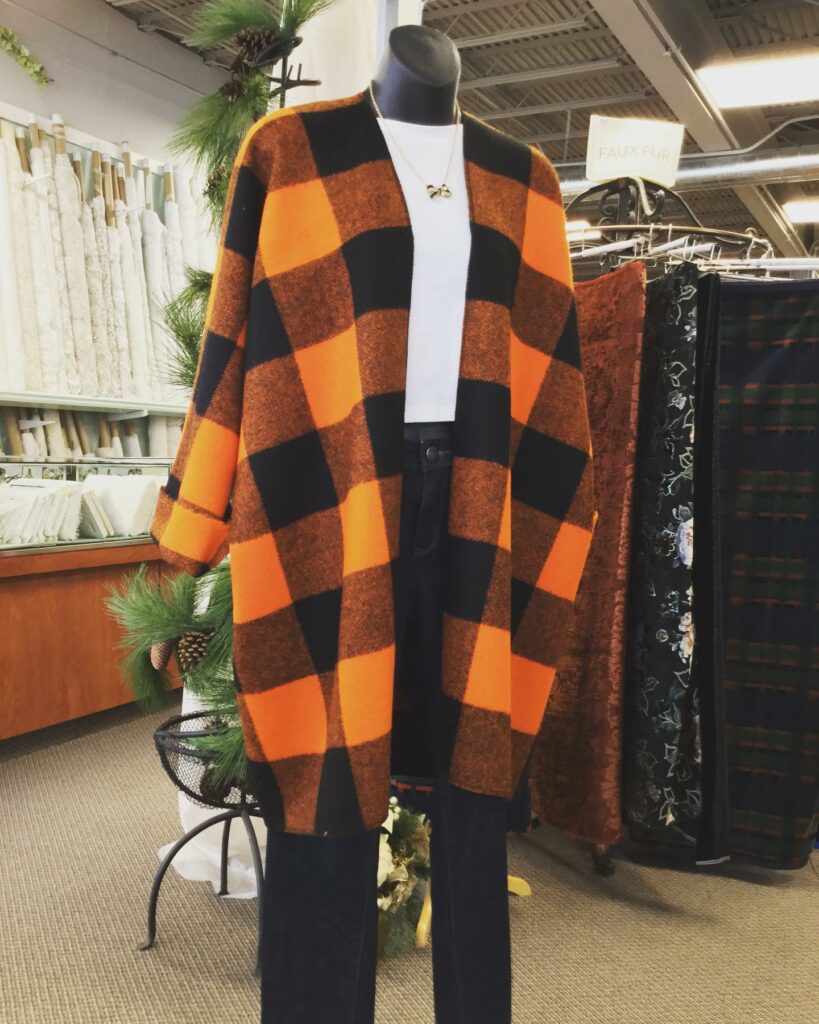 The basic principle is the coat is made from measured rectangles, and thus, it uses up most or all of the fabric (aka, zero waste). I'll be adding large pockets to mine as well.
This coat (orange and black version shown below, picture from Haberman Fabrics in Clawson, MI) is my inspiration. They aren't my LFS, but they are a metro Detroit LFS and I make a pilgrimage there every year or so. They hosted a workshop in 2020 just before the pandemic.
What I love about this coat: it's zero waste, uses up a good length of wool fabric that really showcases it's beauty.
A bog coat is a transitional coat. This is not a dead-of-winter-in-Michigan coat – it's more of a it's-45-degrees-in-December wool coat. And long enough/roomy enough to wear over a blazer.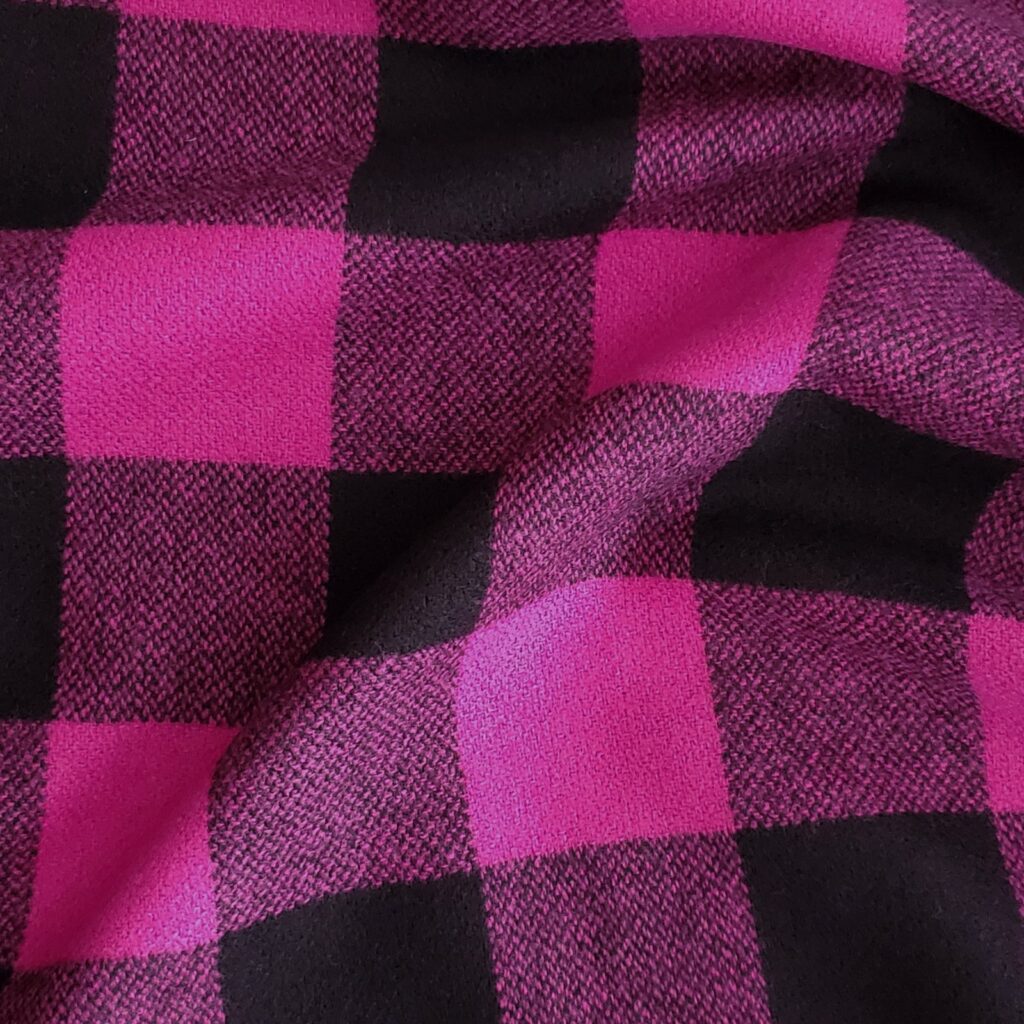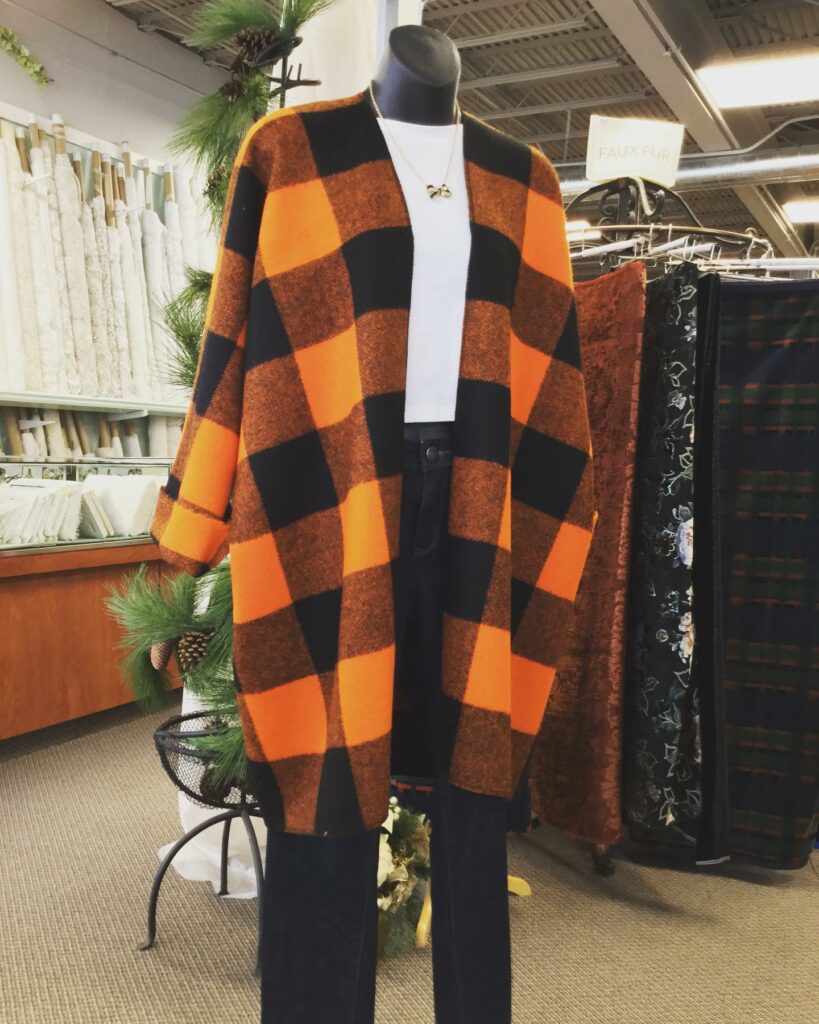 The above pics are both from Haberman Fabrics in Clawson, MI and they are a lovely local fabric store. Buy it from them if they have it, if not from my LFS here.
You can do all sorts of things with this coat – add large pockets (to the outside, and also one on the inside for my phone), add fringe or other surface embellishments. You can even take parts of other garments and sew some design element (applique) to the back.
It's perfect over jeans and a sweater, or jeans and a tee, or even leggings and a cozy sweatshirt. Or, how I'll wear it, over jeans, a sweater, a blazer and boots for fall/early winter and again early spring. I chose fuscia because I love the color and I think it's more transitional, not just fall or winter colors. I have a fuscia two piece wrap top and pants set, too. I can wear a black turtleneck, with fuscia pants and this coat!
Sewing process for this coat will be added to this blog post, including a series of YouTube videos on it too. I hope you'll enjoy the process as much as I do. Subscribe to my YouTube channel for more updates.