I saw a similar midi sweater knit wrap dress at Ron Jon Surf Shop a year ago November and loved it. It was, however, a full wrap dress and it was in a clingy acrylic knit. I decided to sew my own in a lovely 4-way stretch rayon/poly ponte knit. This is my review of the HotPatterns Nexxus Tee Shirt Dress – faux wrap midi knit dress sewing pattern.
First, could you make this in a full wrap dress? No, not really, but thought I'd answer that right off the bat. You'd have to extend the front panels out (they are sewn together at the center front) all the way across. But the whole point of this dress is that it's an easy to wear tee shirt dress with all the fun of a wrap and none of the drawbacks of one.
The dress is available in a midi, knee, long or short sleeve, so you can really wear it any season and for any reason. I'm making only comfortable chic clothes for my work from home and hockey mom life, and this fits the bill perfectly. I'll wear it over soft leggings and tall boots and under a fun knit sherpa bomber jacket.
In the spring, this would be perfect under a denim jacket and with sneakers – and it would be a perfect weekend brunch-walk-the-dog-farmer's market dress too!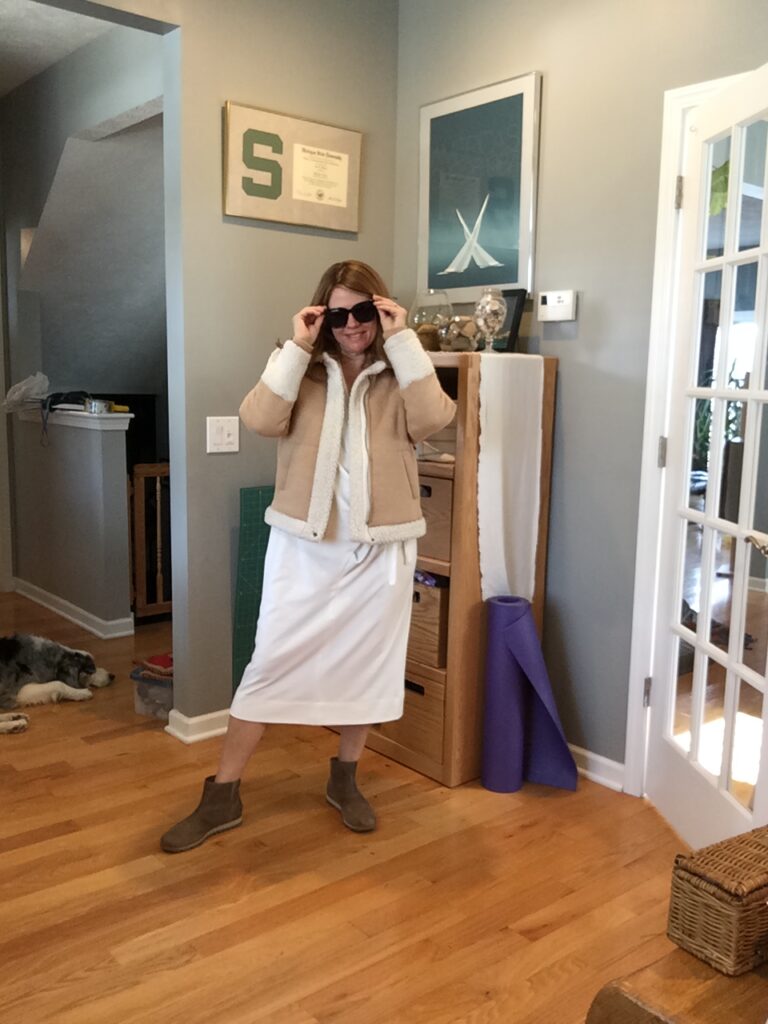 I love this dress for it's easy shape, its adjustable wrap tie and comfortable fit. I made it in a size 12 but used somewhat generous seam allowances when I was sewing it so it fits more like a 10. Hot Patterns is true to size for your ready to wear size, typically.
What I love about this dress:
You can wrap it loose or wrap it snug to create more shape. I love the HP banded neckline, so lovely to sew and also beautiful on the inside (more pics below.)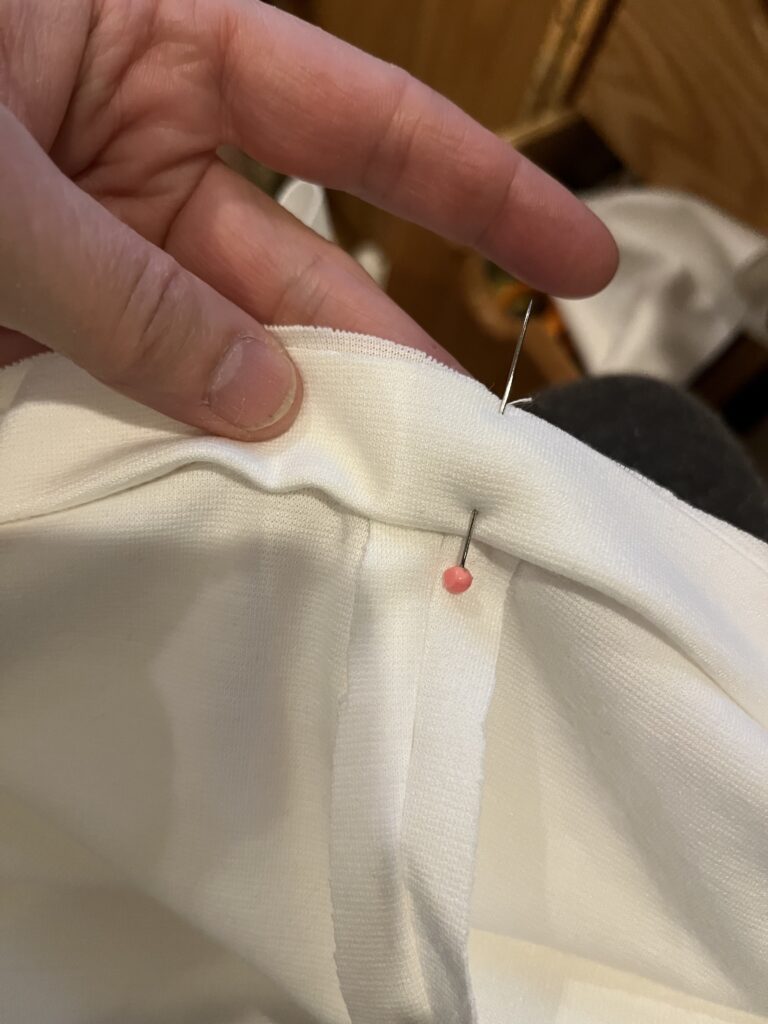 You fold the neckband and attach raw edges WRONG side, yes, indeed. Then stitch it down along the raw edges and fold it to the right side, stitching along the folded edge. Beautiful inside andout.
This is part of my Make Nine capsule wardrobe for 2023. I'm three garments in to 2023 and it's only mid February! That's typical, as I sew more than 9 garments a year.
Now, those faux wrap fronts, how does this work?
When you cut the front halves you have both of them with long ties sticking out (cut on ties) ONE side you finish the raw edges of the tie from notch to notch. The other, you don't need to finish. Then you also have one tie part only that you finish separately.
The left front comes across UNDER the right and pulls out the right side and is secured as you sew the side seam. The right front, which has a hemmed tie section, comes across and ties at your left. There is a separate tie piece that you sew into the left side seam that comes out and ties (it is also hemmed).
This video below shows all three and where they go/how they are captured in the seams and then how it's worn.
Once sewn, the wrap dress cannot come open or unwrapped.
Styling the midi faux wrap knit dress
Imagine sitting at an outdoor table in the sun. It's cool out but the sun is nice. You're in a comfy dress, chic with your platform sneakers and black sunglasses. Sip that bloody mary and gaze out at your love across from you. THAT is what this dress is! But it's also picking up your kids from school with sneakers and a denim jacket (and having all the other moms look at you like "well, well, well, SHE is put together today, love that outfit!")
I'm showing this in a faux sherpa knit bomber jacket (saw a real sherpa one from JCrew that's coming for fall 2023, so be on the lookout for that to return) but it also looks fabulous on it's own, with a denim jacket.
There are a couple of tricky bits in the sewing and I've put those in a separate video for you above. Just follow the instructions closely, pin or baste.
But WORD OF WARNING. Use safety pins! Otherwise it's really hard to pull the dress on if you have used straight pins AND you might stab yourself, begin bleeding, and have to clean spots off the dress before you've even worn it. Not like I did that or anything, LOL. ;D
This is a satisfying sew that ,once sewn, so seamlessly becomes part of your favorite wardrobe.
Highly recommend.