It's time for sewists everywhere to start their Make Nine for 2023. But it's also a time when many beginning sewists (maybe those that got a sewing machine for a holiday gift!) want to learn to sew a wardrobe for the very first time. I'm the queen of easy to sew over here at SewParadise, so I'll share with you the sewing patterns for beginners that I love and why I love them. I'll also share my own Make Nine for 2023
I'll share three approaches to wardrobe building using beginning sewing patterns and sewing skills. These can guide you in your "what 9 should I sew this next year!"
Sew what you need in your closet
Expand your skillset with each sewing project
Sewing Your Stash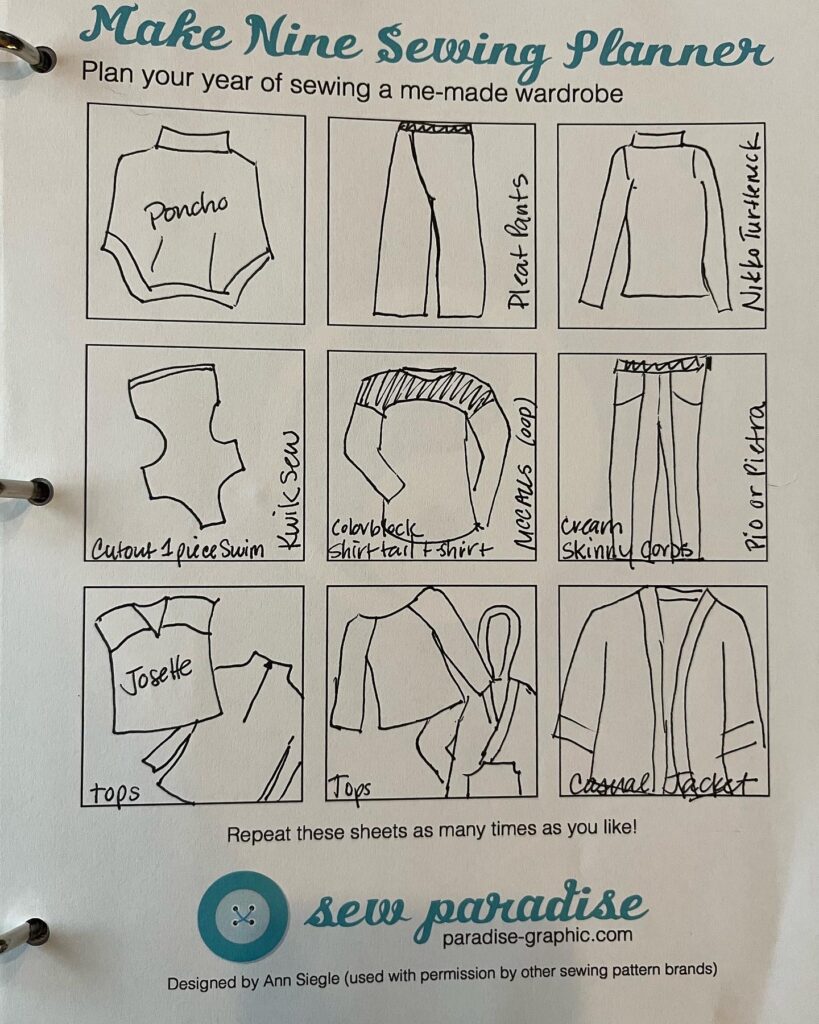 Sew what you need in your closet:
Ever go in your closet and say "I'd love to wear X but I have nothing that I like that goes with it. Either the things that go with it aren't suitable or they don't fit." That is a perfect opportunity to sew something that makes that other garment work in your wardrobe. Use this planner to make that process easy!
Many sewists (especially new ones) see a new pattern on Instagram or Pinterest and think, yes! I want that! But does THAT work in your wardrobe? Sew what you need to wear for the lifestyle you have.
If you need basics (we ALL need basics, pro tip, sew these!) like tee shirts, skirts, pants or a blazer or casual jacket, a knit tee or sweater, identifying what gaps you have in your wardrobe will help you choose your upcoming projects.
I've identified that I mainly need casual basics with a little bit more style.
If you want to just start with a basic wardrobe, try your local indie fabric store. My local indie fabric store is Seams Fabric (they ship!) and each month, they've had a pattern of the month. If you started sewing with them in January of 2019, you'd have a complete wardrobe with the following items: Woven tee shirt (Scout), knit turtleneck (Nikko), knit tee shirt (Linden), woven long sleeve and short sleeve shirt (Remy Raglan), knit sweater in turtleneck or funnelneck (Toaster Sweaters), knit sweatshirt (Wardrobe by Me, MileEnd), skirts (Gypsum), pants (Pants No 1, Wardrobe by Me), dresses (Trillium, Ruby), duster or coat (Ilford, Cambria), casual jackets (Tremont), Shorts (Pietra). And more that I can't even remember! Wouldn't that be awesome to have all that right now in your wardrobe that goes with everything else you have? Yes! I can say, YES, it's been awesome to do this over the last three years.
While my local indie fabric store has done this and offered discounts on both pattern and fabric for these, but you can still get all these same patterns and fabrics at regular price (or on sale, depending on what you choose.) Your fabric store (or mine) will do this too so check out their social media for details.
Expand Your Skillset
My Make Nine for 2023 includes some skill expansion. I've decided to level up my sewing and use my sewing specialty feet this year, so I'll be making things that force me to use them.
Bias Binding Foot learning – HotPatterns Winter is Coming Wrap (or any bound-edge ruana/capelet) A whole lotta bias binding on that project.
Elastic foot learning – Bandeau cutout swimsuit Kwik Sew 3608 (OOP but widely available on Ebay/Etsy) with a short-waist-adjustment alteration. I bought myself an elastic insertion foot for my Viking sewing machine.
Walking foot: anything with knit fabric can benefit from a walking foot and I intend to try mine for hemming knits this year. Mine is the kind that you attach onto your machine (you with Berninas have built in walking feet.)
Sewing Your Stash
My other goal is to sew my stash. I have a LOT of patterns and fabric. My goal is 1 new for every 3 stash this year. That means I have to sew a lot more before I buy more! What better way to make nine than choosing things you already have to sew and getting excited about them anew.
Odds are you have the perfect capsule wardrobe waiting in your fabric and pattern stash. You already bought it, you should sew it!
Getting inspired by your stash depends on how you see or visualize it. I use a Trello board for sewing patterns and I organize my fabric in cubby organizers, rolled by COLOR (yep!)
My other goal is to go through a couple of boxes of fabric, get them rolled in to my cubbies so I can see them with the rest of the stash. And to make a pouf (ottoman/seat) for my front porch using a lot of boxes of random scraps for the inside to clear up my scrap bins.
Here are some of my Make Nine contenders for 2023:
Closet Core Pouf (a home dec item) or the Sew News square pouf from the December/Winter 2022-23 issue. Both are free until January 31. 2023(I think the CC pouf is always free.)
Quince Day Robe (short and long). I plan to make this for an outside robe/duster. – Note, after sewing a test garment, I decided to switch this to the Hovea by Megan Nielsen for better fit/look. I will buy this pattern from my LFS once they have the regular size range back in stock.
Winter is Coming Wrap from HotPatterns – this is my bias binder project.
Bandeau cutout swimsuit from Kwik Sew 3608 – now OOP, but widely available on Etsy and Ebay – this is my elastic attachment project
Pleat Pants by Ready to Sew – this is my FIRST finished garment of 2023!
Pio Pants by Ready to Sew – dead ringer for a pair of Jcrew summer linen joggers from the summer of 2022.
Josette Top and dress by Ready to Sew – love that curved yoke that extends across the back panel.
Rose pants and shorts by Made by Rae
Ruby top by Made by Rae
Trillium Dress
Nexxus T Shirt Dress by HotPatterns – saw a version of this at RonJon Surf Shop and loved it. Midi length, in cream knit, long sleeves
Tremont Jacket by Sewing Workshop
Nikko Top by True/Bias – this is my SECOND sew of 2023!
Weekender Superstar Knit Top & Dress by HotPatterns
Hovea coat by Meghan Nielsen* (only new pattern on the list here) or the Ilford Jacket in a flannel (for a "flardigan")
Bonus projects: hats, double-layer mittens for coat/winter gear charity and dog bandannas for charity. These I'm hoping to make my "when I need to get motivated to sew" projects this year.
Where should you start with your Make 9 for 2023?
Need a little inspiration? Sewing pattern companies usually offer a complete line of patterns for your wardrobe – and you can pick from your favorites to sew a wardrobe – my favorite sewing pattern companies are listed below. I only chose ones with good instructions and a wide following by other sewists (meaning that you can see what the garments look like on a wide variety of people by searching their site and hashtags on Instagram) AND those that I've sewn; I've linked what I've made from them.
Closet Core (used to be closet case) I've sewn the Pietras six or seven times.
Christine Jonson (wanna learn to sew knits? Christine's patterns make it fearless!) I've sewn everything in this line (I used to do marketing for Christine Jonson from 2015 – 2019)
HotPatterns (for the advanced beginner or courageous newbie)
Ann Normandy (for the advanced beginner or courageous newbie)
Ready to Sew (from France!) Pleat pants
Jalie (for the advanced beginner or courageous newbie)
True Bias – Nikko and Emerson
Helen's Closet
Seamwork
100 Acts of Sewing (there's a book and patterns that come separately)
Each of these pattern companies has a full line or nearly full line of patterns to sew that you can make your entire wardrobe. The advantage of choosing one pattern company is that once you make one of their patterns (of a garment), your alterations for all similar garments, say, pants, are the same across all their other pants.
If you want the BEST of the best, here are my recommendations for total beginner sewing patterns that you should try:
Basic tee shirt in a woven fabric: Try the Shirt No 1 from 100 Acts of Sewing or the Wiksten Shift (if still available). Cut on cap sleeve means you won't (yet) have to learn how to install sleeves.
A perfect knit turtleneck: True Bias's Nikko mock neck (with dress and top versions) is nice. It fits well, and is super easy to sew. The Monroe Turtleneck (free, Tessuti) is a relaxed style turtle with dropped shoulders and a looser fit. This is your learn to attach a sleeve pattern, and how to add a band at the neck pattern.
A better than basic turtleneck: The shirred (and raglan) turtleneck from Christine Jonson Patterns really elevates a basic turtleneck. This probably has the best fit of all of the turtleneck patterns I've tried.
Easy elastic waist pants.
Pants No. 1 from 100 Acts of Sewing. Totally basic pants, these are cropped with an elastic waist and no pockets, but you can add pockets easily, I'll link to some pocket videos my LFS did.
Tailored Trackpants from Hot Patterns. A full video sew along is available on their YouTube channel. In fact, I lost my instructions somewhere and so I always sew with the video instead.
The Taper/Wide Leg pant from Christine Jonson is a 20-minute no-side-seam pant (it does not have pockets.) It is designed for knits
Casual jacket:
Sew your first casual jacket by first sewing a duster/robe style. I like the Moss from Helen's Closet or the Quince from Seamwork, but if you do the latter, please follow my review and instructions on how to construct a better front band. Both offer this in a cropped or mid hip cardigan length too.
Want to move up a little in skill? Try the Boyfriend Blazer by Christine Jonson in a knit fabric – don't be worried, this is a beginner blazer sewn unlined with an easy and successful shawl collar and it is cozy in ponte, stable sweatshirt fabric or even Scuba. I'm the star in the sew along, so check it out!
Skirt:
A basic a-line skirt is probably your BEST first project ever, and you can get a great one in the Gypsum Skirt (the view without the side panels), or in the A-Line Skirt from HotPatterns (knit), If you want to level up, try the 365 Skirts from HotPatterns with two variations on the hem style. You can make these mini, midi or maxi length just by drawing out a longer hemline or using lengthen-shorten lines. Even easier (and in print) is the basic BaseWear Two by Christine Jonson.
Dress:
Wiksten has a great basic pullover shift dress, but if you want a little more shaping or visual interest, try the Sleeveless Dress by Ann Normandy patterns – this one has some advanced beginner skills but certainly has great instructions, so make this as your second dress project.
I added a swimsuit to this year's lineup. This is an OOP but widely available on Ebay or Etsy Kwik Sew pattern from the early 00s. It's available as a bandeau tankini or a one piece with cutouts. I have made the bandeau a few times already. I sewed the cutout one without measuring my torso and it was too long (and too difficult to recut) so I gave that away. I plan to re make that in MY torso size this time! I might even have enough of the fabric I used last time (aqua green rayon lycra 4-way swim.) I also have enough fabric to make another bandeau tankini as well.