Sew a boyfriend blazer and boyfriend jeans to match with these sewing pattern recommendations.
Women have been borrowing from menswear for centuries – both to hide/conform, but also in recognition of their easy silhouettes and comfortable wearing. The Boyfriend Blazer and the Boyfriend Jeans are no exception. These two garments are staples in our everyday wardrobe.
I love a great Boyfriend blazer, even BETTER if it's made in a knit so it feels like a sweater blazer. My hands-down favorite for it's construction and instructions is the Christine Jonson Boyfriend Jacket (that link includes a whole sew along of the blazer!) and a close second (VERRRRY close) for it's shaping is the HotPatterns Chimera blazer cardigan. Both of these blazers have a shawl collar, so you don't need to learn to make a notched collar. Use the patch pockets on the Chimera (or the Boyfriend Jacket) not the welt ones, so it's more of a beginner and casual style.
For jeans, while I don't (yet) sew most of my jeans, I have heard great things about the following boyfriend jeans patterns: The ones in my pic are the Cabi boyfriend (I own these in gray and cream, I wear them at least twice a week.)
The Morgan Jean by Closet Core, the HotPatterns Boyfriend Jean and the MN Dawn jeans are well reviewed. Once I sew a pair of these jeans, you'll find a review here too, but for now, you'll have to take the recommendation of others on boyfriend jeans. If you need more help, there are tons of jeans sew-alongs on YouTube to help you. Definitely purchase a Jeanamajig or hump jumper if your machine didn't come with one (they almost always do), and use the denim topstitching thread in the top and regular thread in the bobbin for your topstitching. It's worth swapping threads to do it, it looks great and wears well.
:My own take on jeans are the Ann-Normandy wide leg pants, which may as well be jeans, with all the topstitching.
Now, as for the boyfriends that won't let you down, I married my best friend and boyfriend and we had a son (and a daughter) together, so I have a lot of boys in my life and for the most part, they don't let me down.
I also have a boy dog (who is 7 now.) If you don't have a boy (friend) in your life, get a dog, because that's one boyfriend that will love you no matter what! They only care that you put ON those boyfriend jeans and blazer and take them for a walk! I have had both boy and girl dogs and I think my boy dogs are more cuddly. But that could just be the individual dog!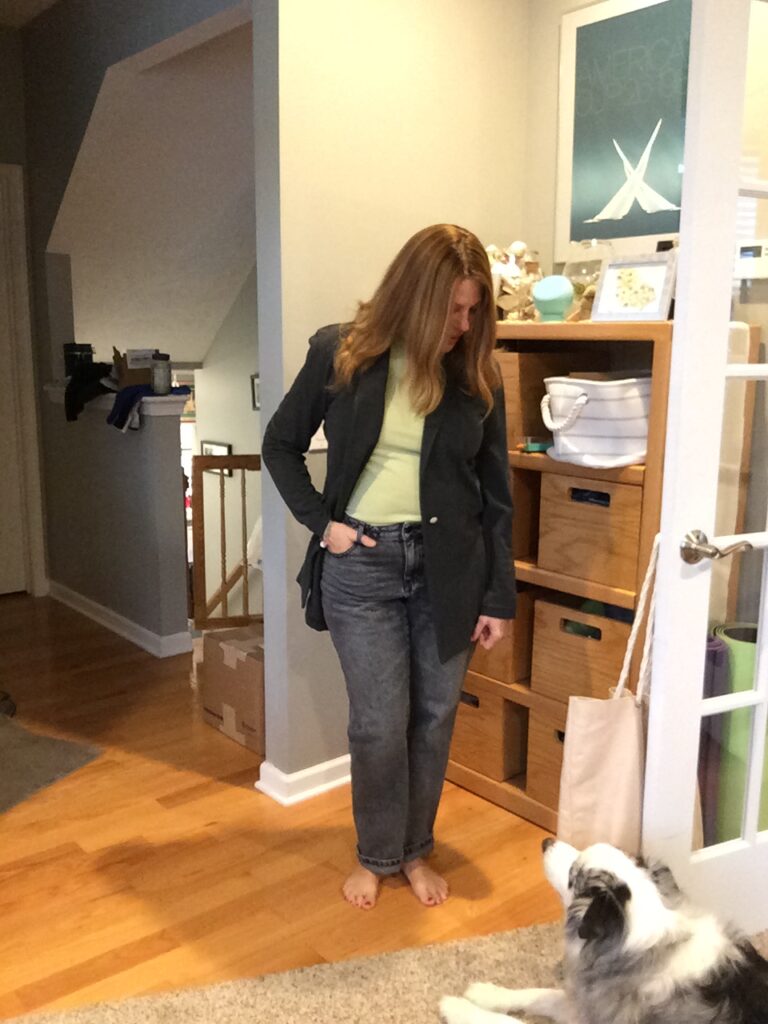 In this, I'm wearing RTW boyfriend jeans – a Boyfriend is a straight cut jean – it's not a Mom jean, in that it's not overly tapered, it's usually a just below belly button or at belly button rise, and it's almost always made in non-stretch denim (but feel free to break that rule, just be sure to interface the waistband well so it doesn't stretch too much.)
I also have on the Nikko top by True Bias patterns, a great slim fitting layering mock turtleneck. It's so trendy, my teenager wants one!