There are a fair number of posts from others about using project management tools like Trello to organize sewing patterns and fabric, and I'll share those here too, but I use Trello to organize sewing patterns and fabric for inspiration. I use Trello to get excited about sewing my STASH! Tools like Airtable are similar to Trello. You can get free versions of these for mobile or laptop and see which ones you like before committing. Many sewists use it. Here's a YouTube from Sew Daily on how they organize.
We all want to sew our stash, and it comes up especially at the New Year when we set our goals for the next up year (2023, we are ready for sewing!) You can even use it for your Make Nine by devoting a list to it, and then dragging the 9 patterns you want to sew to that list!
How I use Trello for inspiration for sewing my next projects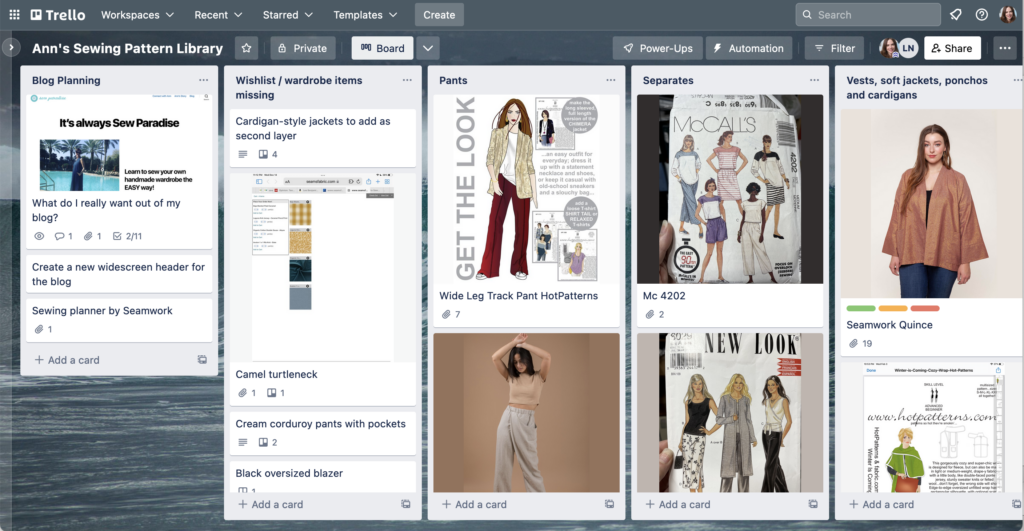 The first task is to get your patterns AND fabric (or just patterns if the fabric part is overwhelming) into Trello. Trello makes this super easy. Download their mobile app to your phone. You can set up a new board, add a new list and then add to that list a new card, take a pic right into that card and boom, done! Each new pattern gets a card, and you can walk through your pattern stash really easily. Bonus, it often gets you to reacquainted to your pattern stash! This works especially well for organizing printed paper patterns. For digital patterns, you might find it easier to use an iPad or your computer where your digital files are stored to load those in later. If you use cloud storage like Google Drive or Dropbox or whatever, you can link to those files from either desktop or mobile app.
I prefer to put patterns on my board, but not fabric – and I'll share why. My fabric is organized in a large cube organizer (wall-sized) bookshelf like knitting stores do. Rolled, stored on end, I organize by color, not by type of fabric, and I prefer to gaze/browse my fabric store at home this way. However, I do plan my sewing with swatches and I do use Trello (and photos of fabric too) to do that.
Once your patterns are in Trello, the process for inspiration is easy
I use lists to organize patterns by category – so I have pants, tops, dresses, skirts, separates, swim, accessories, etc. as lists and then each card under it is an individual pattern. If it's digital, I link the files to it. All have photos of the patterns in it so I can see them like a pattern catalog.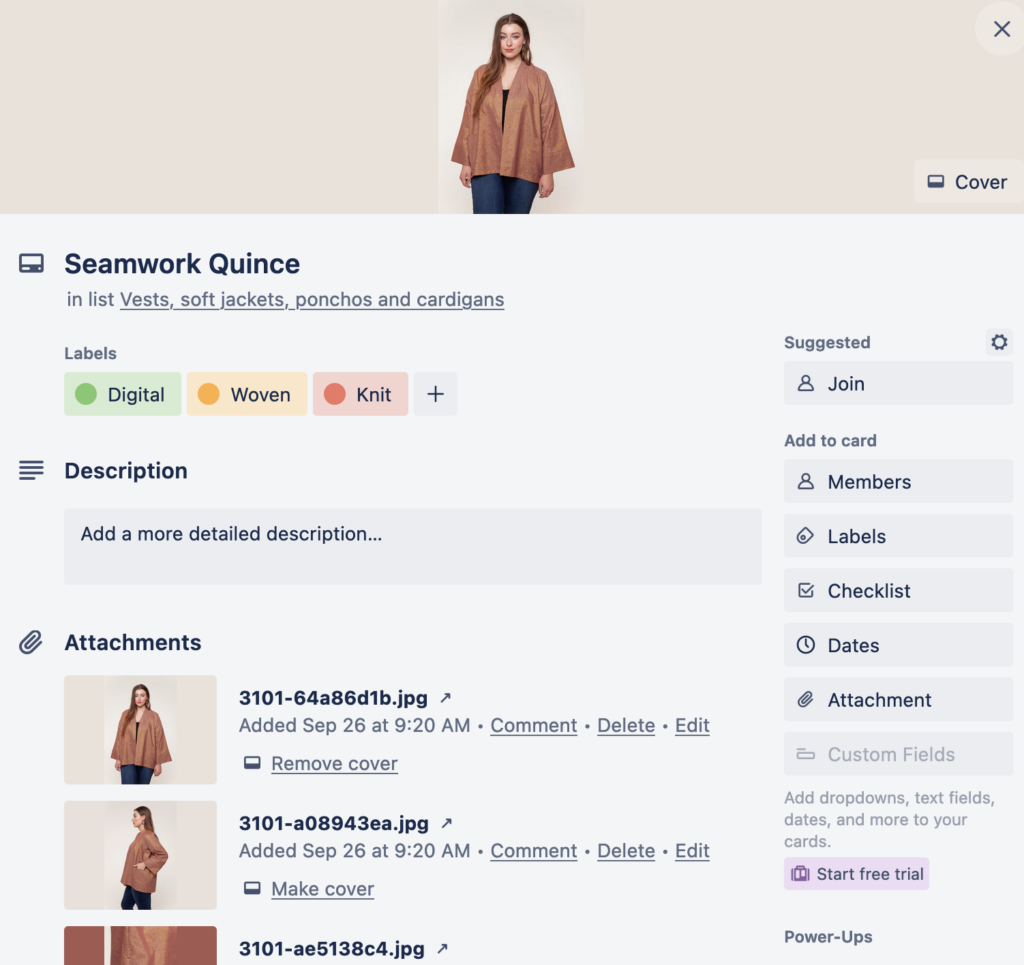 When I plan, for inspiration, I drag the items I'm looking to make EITHER to a single list called, say, Winter Capsule OR (preferred) I drag them to the top of their lists – so the entire top row of things I see in Trello in each list (on desktop) is my curated next-up. This is when I might add a pic of a swatch to a pattern (I make them at least three times, so there may be more than one swatch pic).
My mobile board is a little different, If you primarily use Trello on mobile, you may find that having a single list where you've dragged your selected cards (garments to sew) off of their list categories and over onto your special "capsule or next up" list. If you don't want to move them, you can create a separate card (a new one) with a link to the existing pattern card. I have one called "wishlist wardrobe gaps" It has things on it that I've identified as necessary for my wardrobe to fill in some gaps. I used the linked card method rather than moving the whole card.
I also use and love printed planners for sewing planning and there are a couple kinds – elaborate detailed ones with lots of writing, inspiration and such, or quick planners for 2-3 items to sew. You can use either or both depending on your preferences. Sometimes, it's nice to sit on the couch without a device and write things down. Other times, you're at your local fabric store and don't want to get side tracked by all the amazing goodies there, and a Trello board will help you stay focused on what you want to sew and what you already have to sew. You can upload (take a pic) of your printed planner or attach a scanned PDF if you want to have the planner on the go for when fabric or pattern shopping.
In my planner, I also leave enough flexibility to be inspired by fabric or pattern shopping, by making sure I have catalogued everything – and asking myself, clearly, if a new piece of fabric fits this pattern I have or if existing fabric fits this new pattern I'm looking at. I regularly take a pic of my fabric "wall" to remind me what I have (since I prefer not to catalogue my stash.) That's stored in Trello too.
In shopping sometimes you'll change your mind once you see a fabric, but you can use that Trello inspiration board to guide you. I've had "camel turtleneck" on my wish list for some time. But I realized when I went to my LFS, that camel doesn't look good on me up near my face. I'm more of a "caramel", and so when I was at my LFS, I allowed myself to browse (and buy) a print knit fabric with caramel as it's base. While not quite as versatile as a solid, I'm planning on wearing this with solid color, jeans or corduroys and there's really no reason not to sew a print if it's the better color for me. I did, however, consult my "fabric wall pic"on my mobile device, to determine if the caramel would look good with some wool fabric I already had! I also am using a pattern I already own for the turtleneck, so that's a win – using either a stash fabric or a stash pattern is my goal.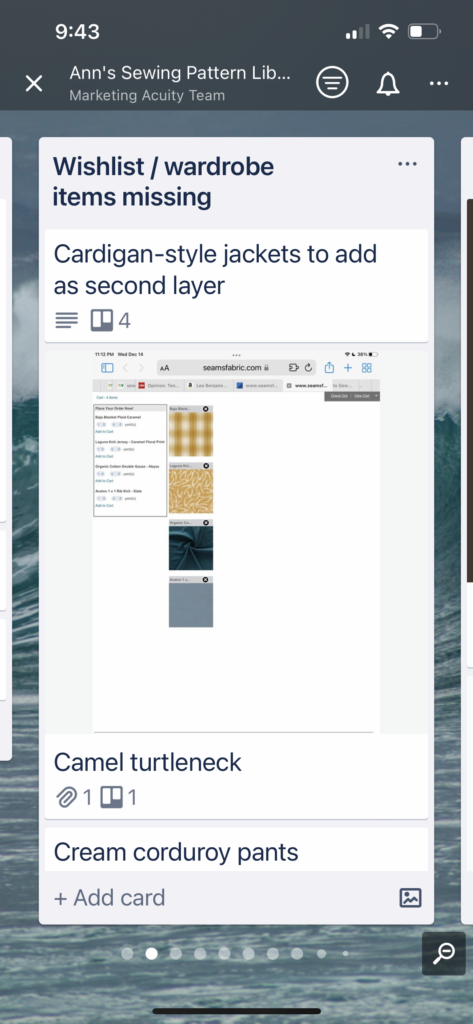 You can also begin to see patterns (pun intended) in what you like to buy, and not overbuy or by sewing patterns you already have. For instance, in my stash, I have a vintage pattern that has an extended drop cap sleeve with contrast yoke tee shirt pattern (with a shirt tail hem or cropped straight hem). I had been looking at a very similar pattern when I realized that the 1980s vibe of this is right in my stash already! It also has cropped pants and a skirt, and I can use those too. Looking at our pattern stash in new light by dragging things around on a Trello board really helps you see what you already have, and what you can use. I know I have sewing patterns I may never sew, but I'd sure like to sew as many of them as I can! (The vintage pattern appears as the top item in the Separates list in the photo of the board above.)
Using Trello is not hard, and it's free, so it's an easy to manage way to organize sewing patterns and fabric. But it's an even better tool to help you dynamically plan your sewing projects, using your stash patterns and your stash fabrics. If you can SEE what you have already and be inspired by it, you're more likely to use it than staring at a box or filing cabinet and expecting inspiration to jump out at you.