Faux snakeskin tailored trackpants / joggers? Yes please! Here's my review of a 'straight outta the envelope' sew of the Hot Patterns Fast and Fabulous Tailored Trackpant sewing pattern.
I sewed these in 2021, during the pandemic, thinking that if the world turned right side up, I could wear these to meetings. Truth is, I rarely go to in person meetings any more, I gave up my "third place" coffee shop to work at, and I just work from my desk or standing up at home, but turns out, these are perfect for that too!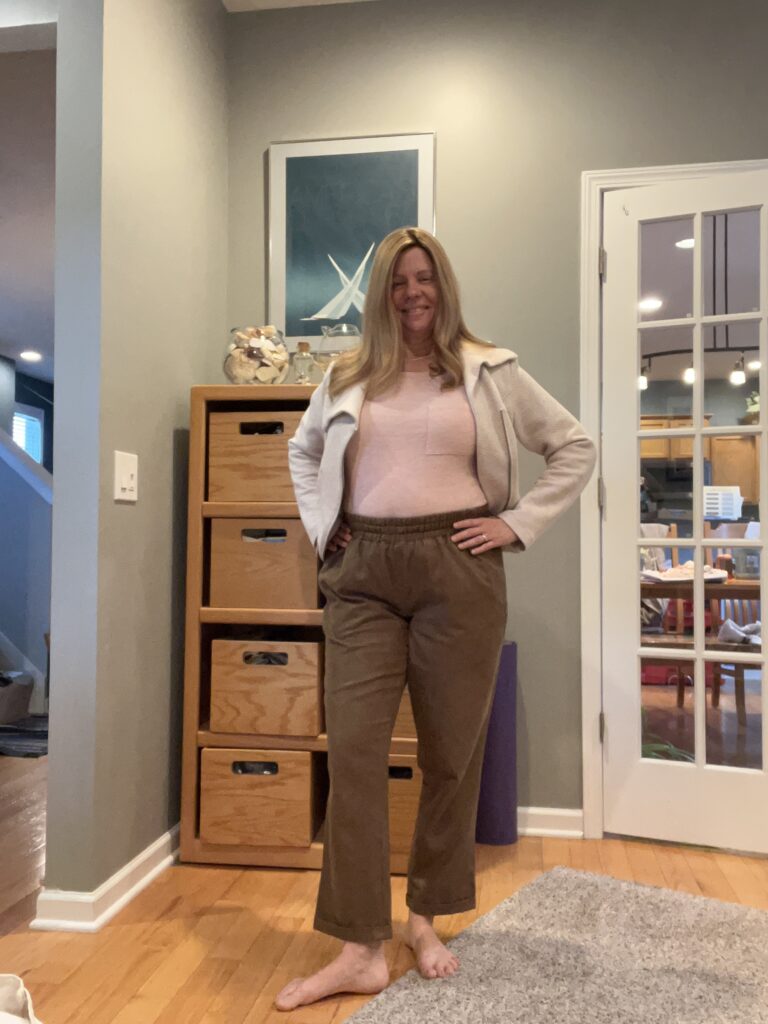 The Tailored Trackpant is just that – designed before joggers were our uniform – these are slim fitting pants with a full 3 channel elastic waist, deep front sideseam pockets, and turn-up cuffs at the hem. They can easily be converted to elastic channel cuffs by unfolding the turn up and making a casing out of it. Or you can add a knit banded cuff to the bottom (but do use rib knit for stretch!)
The fabric is a rather nice polyester with a smooth face on the inside and a faux snakeskin/slightly shiny embossed print on top. I like that the fabric is slightly edgy and they are surprisingly comfortable and not very hot to wear.
These are shown (see pics from HotPatterns) in a pleather as an option, and I've seen this option on Gen Z and on Pinterest (on genZ) but go ahead, Gen Xers, rock this look too!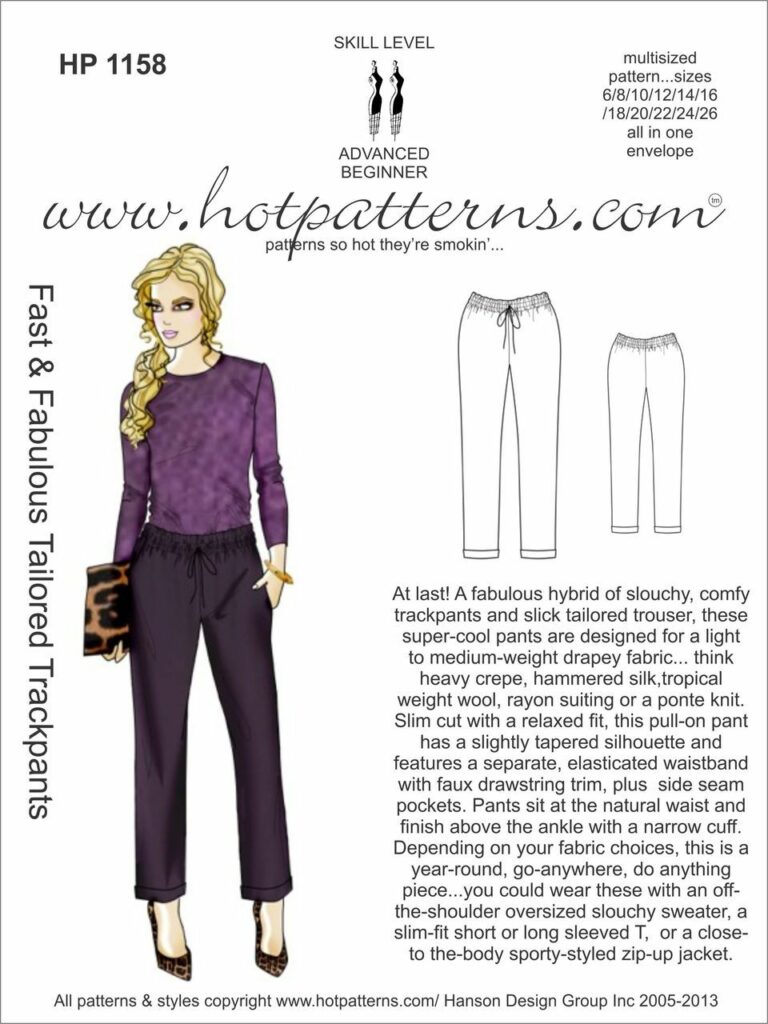 There's a great video sew along on YouTube on this! I actually use this as the instructions because I somehow misplaced mine and the instructions are well done by Trudy.
I've reviewed these here, here and here. And probably a few more times too. But I"m not the only one – these are some of the most sewn pants in HotPatterns land on their FB group and some members have made dozens!
Yes, joggers abound, and you should go make some! Why these? The L-shaped back crotch curve, the instructions to stabilize the crotch curve using a strip of selvedge, the 3-channel waist (as opposed to sew-over elastic) allow for GREAT fitting and altering. If I have to go smaller in the waist on these later, I can do so without taking out two rows of topstitching.
The pant has a generous shaped hip curve, seen in the line drawing on the model. I actually straightened out the curve, drawing a more or less straight-across top of the pant leg pieces (from a 10 to a 6 from center front to sideseam). If you are curvy in the hip, you will LOVE these.
Would I make more? Yep! I have a black and gray "grunge" print in Essex Linen/Cotton Warehouse District print already cut and waiting to sew, which I think will be perfect summer pants with a graphic tee. I'm gonna pair that with a woven fabric Marina Hoodie from Hot Patterns in another Warehouse District print linen (Similar to this, in a gray/cream colorway.)