A roundup of my favorite easy to sew elastic waist pants sewing patterns.
I'll admit, I've sewn and loved elastic waist pants for DECADES, not just now, with the pandemic, and post-pandemic fervor over 'soft pants' – and I'll share my favorite tips for making choices for flattering elastic waist pants. But I also haven't made a full elastic waist pant recently (other than joggers.) I'm gonna change that!
And I'll list my favorites – some you know, some you will not have ever heard of but should.
My most favorite and most worn pair of pants are a pair of wider leg (but still ever so slightly tapered at the ankle) in a cream slub faux linen (probably linen/poly blend) that I made in 1991. They have a taller paperbag waist and I've worn them literally decades. The fabric is impervious to wear or stains. I sewed these from a long OOP Butterick pattern shown here. I made them before I owned a serger so I straight stitched them and used a zigzag on the seam edges. They've lasted almost thirty years.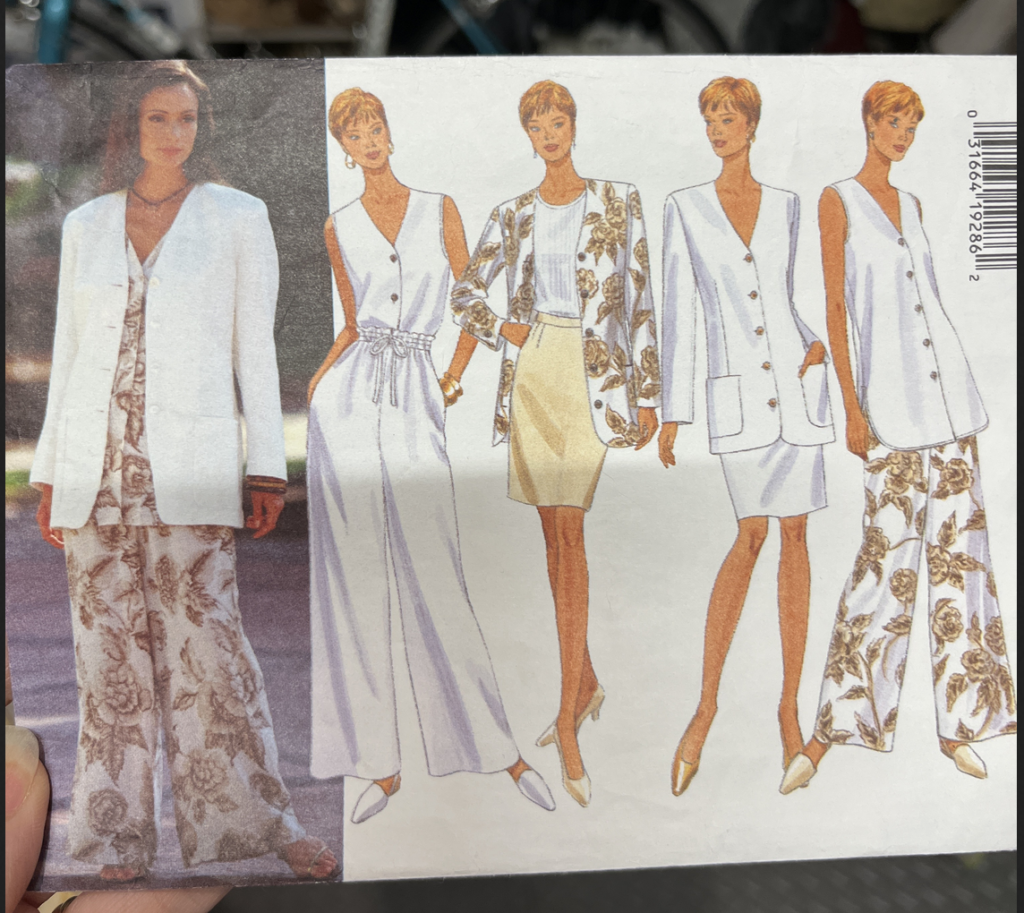 My second most favorite ones I must have given away at some point, because they are nowhere to be found. I sewed them in a medium-heavy wool doubleknit (like ponte but softer) in a straight leg silhouette. I used a drawstring in the waistband and a round cord lock. They were wonderful – like cozy dress pants. I haven't the foggiest why I'd have given them up, but they're not here (must have been a mistake.)
But I haven't sewn any recently, why? I think it's because I felt that elastic waist pants aren't that flattering. What's flattering? On me, right now, that's a very high pant with a wide elastic waist, so the elastic is above my waist, at the more narrow part of me. But it's also a pant with narrower elastic that sits AT the waist (belly button) and isn't too tight or too loose.
Here are my current favorite elastic waist pants:
The silhouette right now is higher waist, with legs cropped and wide, narrow with jogger cuffs or tapered and rolled. I'll share my favorite three. These are all full elastic waist pants, with elastic all around.
If you're looking for a flat front/elastic back pant, I share my favorite hybrid elastic waist pants the Emerson and the Pietra here and here and here.
My favorite jogger styles are here, here and here.
Elastic waist pants for knit fabrics:
Christine Jonson taper/wide leg pants. Hands down, these fit well. If you're a shorter rise, adjust accordingly, or make a paperbag waist as these run long in the rise. The wide leg pant tapers at the hem, and is designed for knits. I've cropped these at mid calf, and I've made them long and longer and wider with 1.5″ added from knee to hem. I've made a jumpsuit out of them! Sew these in a medium weight ponte knit or a linen knit. I've made them in a fluid stable poly knit and not even hemmed them, just cut them with a rotary cutter and secured the seams at the ends with some backstitching. They have no sideseam so you'll want to add a patch pocket – front, sides or back. You can sew 'em without pockets in about 20 minutes. That's faster than laundry!
And, looking to support Ukranian designers, I picked up these awesome wide leg knit pants (with pleats and a paper bag waist!) along with a funnelneck top.
Elastic waist pants for woven fabrics:
I love these basic elastic waist pants from Sew News – The Shavano pant ticks all the boxes for me: high waist, wider waist, loose hip fit and slightly tapered legs that can be rolled. It's the 1990s and I'm all here for it again. Plus, I love what they did with the pocket. Here's a better view of the pants. I have the perfect fabric for this. I'm going to check that front rise because even on this model it looks long. I'll need all the inches of the back rise for my booty though (gotta love a booty!)

My local fabric store did a sewalong with these pants, the Pants No. 1 from 100 Acts of Sewing. They said they're cropped and check the (low) rise first and adjust as you need them.
A lot of sewists like the Free Range Slacks from Sew House 7, though, I've not tried these yet.
A wide leg version here, a narrow leg version here, a cropped version here.
A perfect beach or lounge pant is here: the Hot Patterns Marrakkesch Xpress pants pattern. I have the original which had a front zip and rolled up legs with tabs on the sides to hold them, but everyone hacked these to no front zip and they made a version. These have a narrower elastic waist. They are for knits OR wovens, bonus!
Add-ons to your elastic waist pants you should add:
No matter what pants you choose, you should have pockets in the front and consider pockets on the side or back. I've added patch pockets to the back and they're perfect for my phone or even just to create a flattering rear view. Side cargo pockets (even if not cargo style) are fun in striped fabric (run the pocket stripe horizontal and the pants vertical.)
You should consider adding leg tabs to wide leg pants to roll them and hold them in place. The tabs are inside, the button outside and you roll them up and pull the tab out secure with the button. This is especially great for bicycling in the spring, summer & fall to keep your pantlegs out of hungry chains.
The kind of elastic you prefer is up to you – softer elastic, firmer elastic, wider elastic, narrower elastic – it's all up to you and you can change this depending on your pant style.