Sew yourself a beach vacation mini capsule wardrobe for a getaway vacation! Add in some favorite ready-to-wear and catalog styles to round out your ideal vacation wardrobe.
An ideal capsule wardrobe for the potential 71-78 degree weather includes shorts, tees, long pants and a sweater for cooler nights by the water.
Shorts sewing patterns:
I like the Closet Core Pietra shorts and pants. Deep pockets for your stuff, fit well, don't bunch up. They go well with every tee shirt you have!
Emerson Shorts by True Bias. I like these as well – but they do bunch up between my legs, and I think a wider leg / slightly longer hem may solve this problem.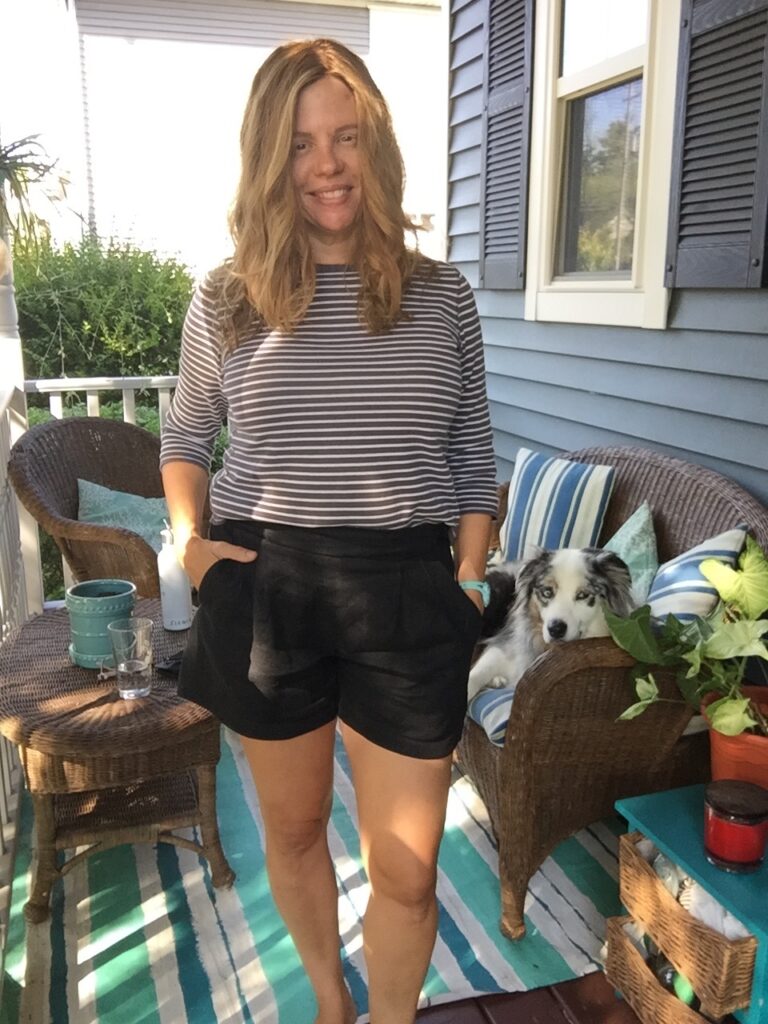 Pants sewing patterns
I love a wide leg beach pant and am making a flax colored version of the Pietra wide leg as my beach pants for this trip. They are the same as the spring green ones shown above. Just a different color of the same fabric, I liked it so much!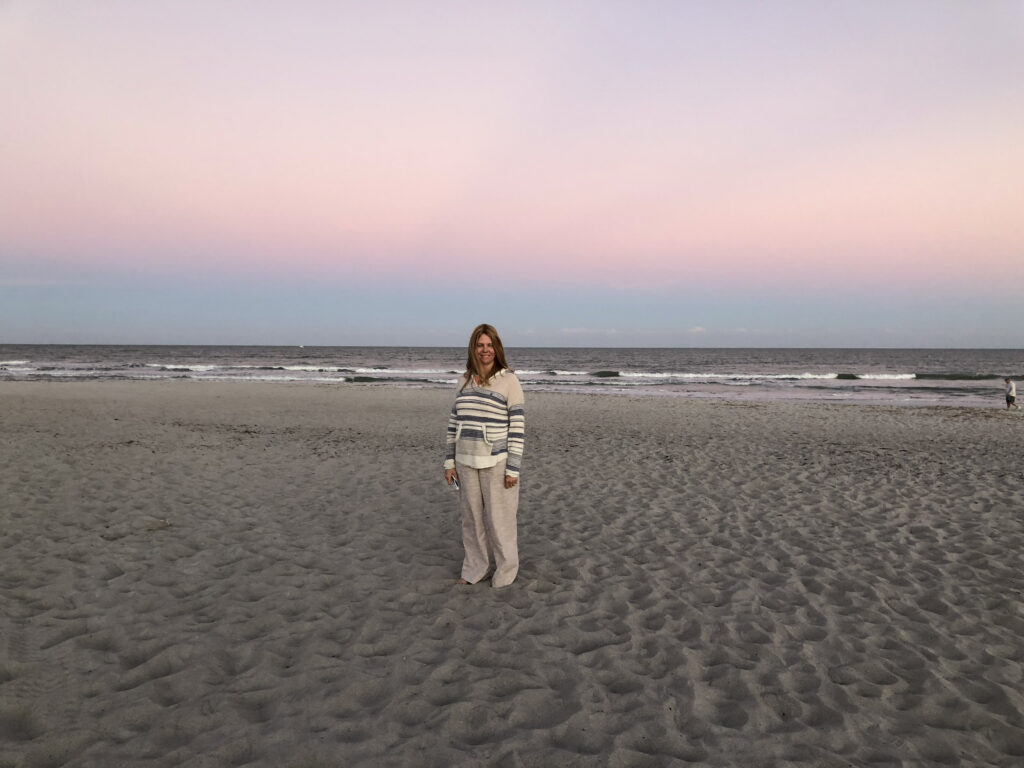 For travel, I like joggers – try the Luna from Made by Rae or the Tailored Trackpant by HotPatterns. HP has a higher rise with an attached waistband. The Luna accommodates a booty pretty nicely but is not as high in the front rise, and there's no separate waistband.
Tee sewing patterns
A basic scoop neck, shirt-tail hem tee that I love is the HotPatterns Shirt Tail Tee. There are a couple of nice variations including a pieced version and one with a diagonal ruffle sewn in.
Sew News Antero shell is a go-to for me for a cropped, boxy V-neck tee. Make this in a voile or gauze.
Grainline Studio Scout Tee – a basic cap sleeve, scoop neck tee but in a woven fabric!
Sweater/sweatshirt sewing patterns
Madison Cardigan by Style Sew Me – a tip here, from others, it runs long so be sure to measure the finished length and shorten accordingly. Very dramatic, and looks good over just a swimsuit or over shorts and a tee, or those wide leg pants with a swimsuit under it.
I'm also loving the Closet Core Mile End sweatshirt with it's seaming details.
You're gonna need a hoodie! Trust me.
Olivia Hoodie by Sonia Estep Designs – has a great scoop neck, a high-low hem with band or no band option and dropped dolman-sleeves (you can make this short sleeved too!)
Woven hoodie: Marina hoodie by HotPatterns. HP retires their patterns often, so get this one while you can. It's a classic "west coast beach surf hoodie" style, and you can sew it in a woven fabric.
Swim sewing patterns
I've sewn the Jalie Gigi bikinis a couple of times, as well as the Greenstyle North Shore, but I'm loving a strapless bandeau swimsuit this time, and Kwik Sew 3608 is awesome. It's actually a tankini – so if you want a one-piece look, just make the top slightly longer and the bottoms slightly higher. OR you can piece these together as a one piece, or wear the cut out one piece. I've sewn this several times and it's an easy sew that fits well. Just check your torso length before sewing the cut out one, as the cut outs on short / petite won't look good if the suit is too long in the torso.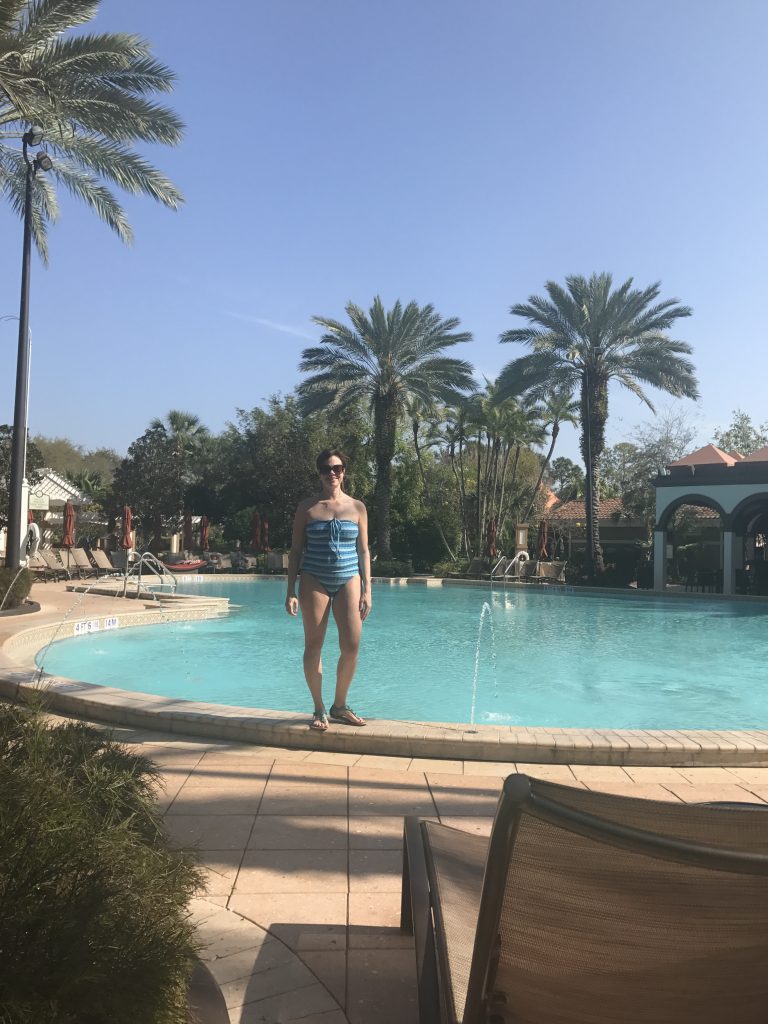 I'm bringing some RTW suits including this by Mare Blu and this by O'Neill, and this by LandsEnd. The LandsEnd should be noted the straps are widely set apart, and they dug into my skin, so I sewed new loops on the top to narrow up the strap attachments there for more comfort.
And kudos to Mare Blue for putting a normal size person on their swim pages as a model!
You CAN sew a beach vacation capsule wardrobe without sewing a ton of new stuff. Here's what I put together:
Two shorts
Two pants
Four tees
Three swimsuits
One hoodie, one sweater
This will take you through cool nights and warm days. If you're headed really far south (the Caribbean), remove the sweater (only one for travel there and back) and add in one additional pair of shorts and one additional tee. If you have a favorite garment or two, grab that and go into your stash and coordinate fabric to make a few of these garments.
Look for other capsule wardrobe ideas here and here and here.