There's a new term out there – midsize style and midsize fashion. It often goes with midlife style and midlife fashion. And all of it, in my opinion, can be stylishly navigated by sewing a handmade wardrobe.
We are told by outside forces what to buy, when to buy it, and why we need it. We're told that aging is bad (it's not!), that youthful looks are the only thing that sells, that being anything BUT petite is not good.
Sewing changes all that for you. You can be whatever size you want, whatever age you want, whatever look you like and it can be yours. Fit challenges like a rounded tummy (those beautiful babies, now teenagers, they got here somehow), or sloping shoulders – these are easily managed with sewing pattern alterations. Full bustline? Got you there, too. You control the fit, the color, the shape, the style you LOVE and that looks good on you – you can make anything you want from any era, whether the stores are showing it or not.
I love this. My style runs to arty classic – I mix classic pieces like striped tees and boyfriend jeans and blazers with punchy colors, ponchos and wraps, and lately, color, texture and pattern.
My favorite garment this week is a pair of wider leg pants with a side wrap front. These are nowhere to be found in any store or website. I'm pairing it with a printed mock turtleneck (everywhere in stores, but not in a caramel leaf print.) I'm wearing it under a black wool capelet, also nowhere in stores right now. But it looks arty and cool and I love it. It fits, it is flattering on me and I'm happy in it.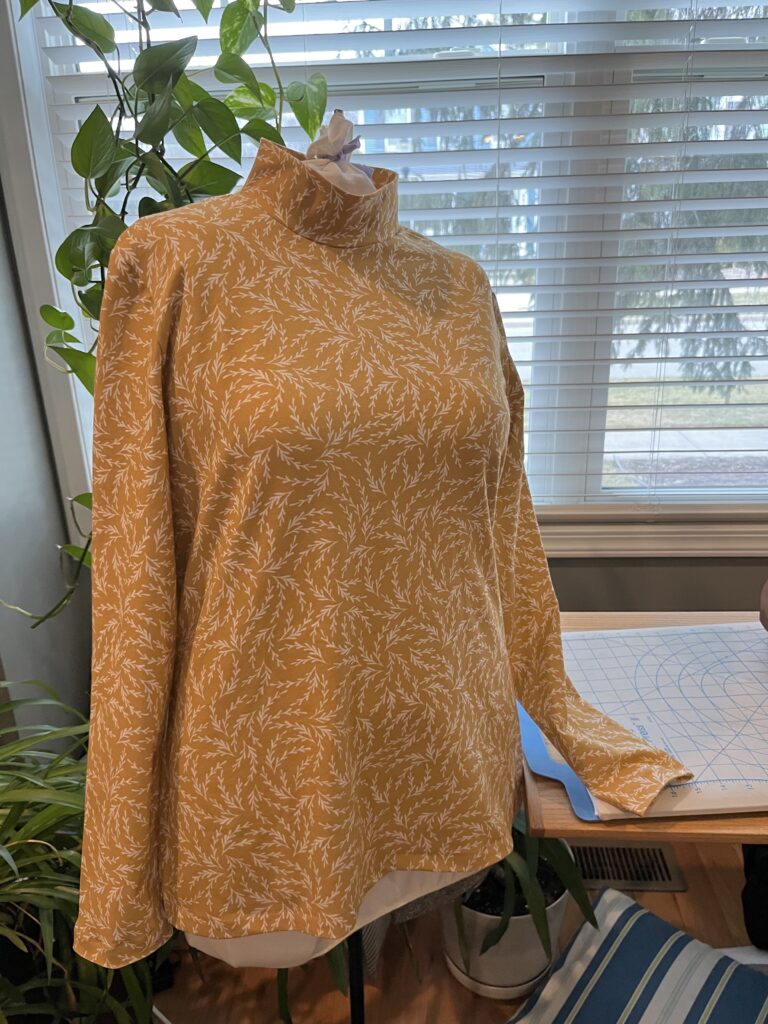 Sewing your own wardrobe gives you complete creative control – plus, it slows you down from acquiring whatever the "latest" thing is – you can buy that pattern, but you'll still need to take the time to sew it. And when you do, you're going to want that to last, hence slow fashion.
Right now, the wide leg trouser is trending. GREAT! I have some of those too! I have the gorgeous wide leg Ann-Normandy pants pattern, I can add back (jeans) pockets to this for some really awesome wide leg denim. And even better, I can wear it with tops that are flattering on my body.
I'm smack in the middle of middle age (53), and midsize (I sew a 12-16 in sewing patterns, I wear a 10 in RTW, a 12 in swimwear.) I'm at that "invisible" point of middle aged moms, where women are overlooked. I'm ok with being unnoticed, that means I can wear even more arty clothing because I like it, and no one will notice (or care.)
So many women are told in midlife that they have to stop wearing something or other. Crop tops, mini skirts, whatever. You can wear whatever you please – love a crop top? Go for it! Want a short skirt, lady, you make whatever you WANT to wear.
Sewing FREES you from the obligation of society to be something you are not. If you follow sewists, your instagram feed will change too and you won't see twenty-something skinny models splashing your entire life, mocking you with their shiny hair and taut bellies. I don't WANT to look like my teenager (she's gorgeous, with long, long hair and an athlete's physique.) I want to be ME.
Whatever your midlife fashion style is and your lifestyle goal, sewing can help you navigate midlife and midsize with grace, comfort and beauty. You are perfectly you; let what you wear, what you see and how you live reflect that.