I've made these before, but never for myself. This is my Jalie Simone Shorts Pattern Review.
In short? Make these! Pun, intended! True to Jalie, the fit is good (Jalie runs "narrow" – that is, I find there's not a lot of excess ease in your size – I sewed a size V from selecting my measurements.
I've sewed these before in both pants (wide leg pants) and shorts for my teen daughter, once for black orchestra pants and once for shorts in a striped linen. I have more of the striped linen to make my own, and those are my next pair of shorts.
I modified these only to cut on the pants cut line but make them into longer shorts (about 2″ longer on the wider pants cutting line) because I wanted a pair of tailored shorts to wear with a blazer.
Now, let me tell you that everything old is new again, and I made a similar tailored short, tee shirt, blazer combo and WORE THEM TO WORK in the late 1980s/ 1989. I wore them (like everyone else did) only on Fridays, and only with panty hose and high heels. It was a thing. I moved to Florida in the summer of 1991, and we wore the same thing (also with stockings/pantyhose) to the office. I may have also made the pants in this sewing pattern (I know I made the top, the jacket and the shorts.)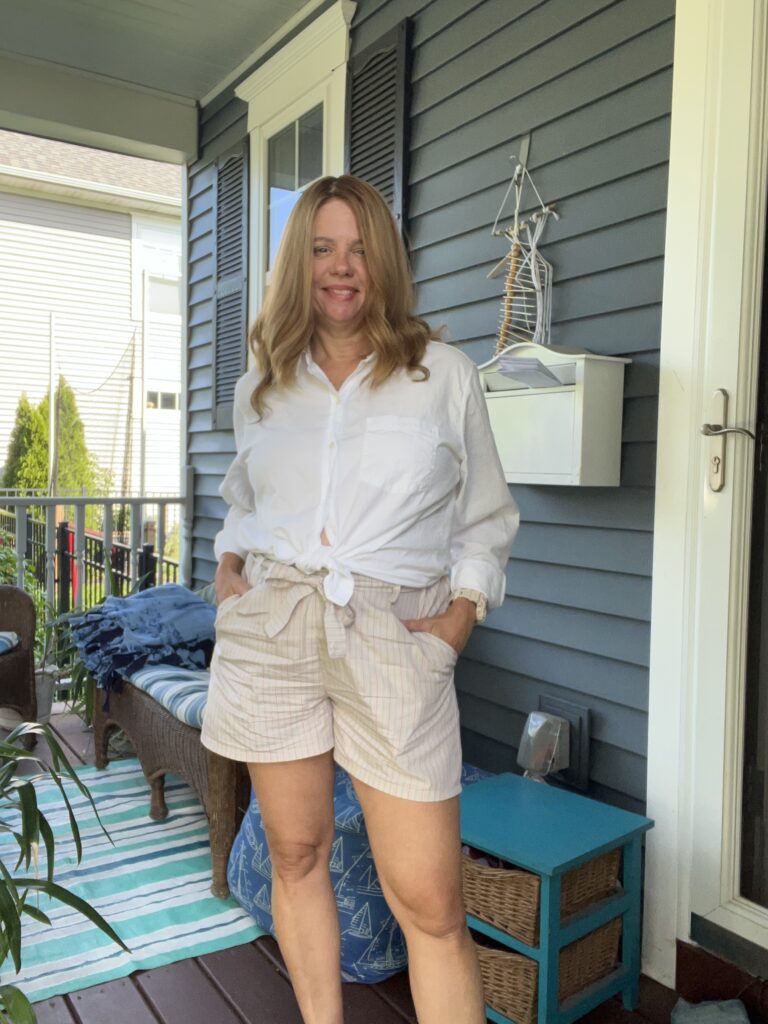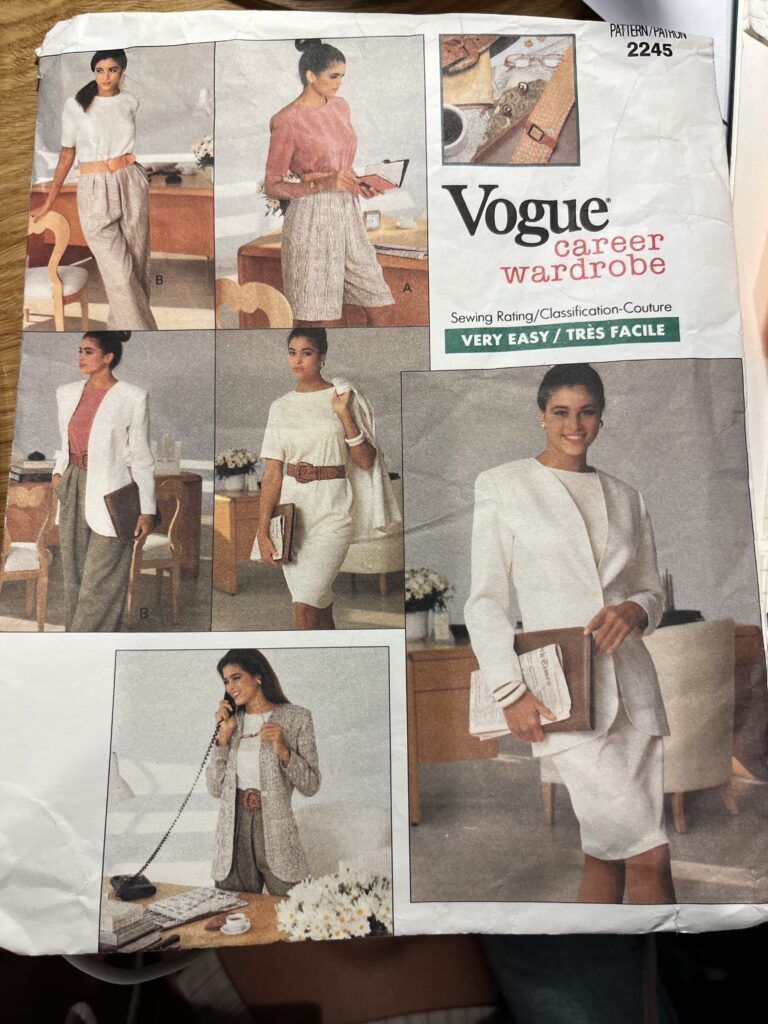 The Simone, like all Jalie Patterns comes in French and English instructions with illustrations in the middle. Because of this, the pictures are not too detailed, but in this pattern, it's fine, and you'll have no trouble making them. True to form, Jalie has excellent construction methods with good finishing details. I did only one thing – I folded under and stitched the top waistband facing AND the back waistband facing. You could serge these raw edges and be OK too.
In short (there I go again!) you should put these shorts on your pattern rotation because they fit well, the construction methods are spot on and solid instructions round out the pattern. They are also great casual shorts (not just with a blazer), and you'll wear them a lot. They show them matched with a tank top or tee for a jumpsuit look and I like that too.
Fabric: I used a cotton shirting in my stash. I'm sure it's got poly in it, it's fairly good at shedding wrinkles. As for the shorts ride up thing, as per the video, it's a function of the width of the shorts (and remember, I used the wider pant inseam), the length of them, and the weight of the fabric/composition of it. Linen crinkles up like mad but is divine in the heat – my tip for that, a panel of interfacing and linen on the inner leg – make a U-shaped panel the length of the inseam x 3″ wide, press and stitch in place before you finish the hem. Make sure the interfacing goes down INTO the hem and you fold and stitch, that weight and stiffness really helps keep the inner legs down. Nobody will see the U-shaped panel stitching in the center crotch area.
Next ones: gray pinstripe linen!
Style with: your favorite tee shirts, hoodies and sweaters, but ALSO, your favorite boyfriend blazers for a casual summer work or after work look.