It's Me Made May and the only garment I've actually made so far in May 2023 is this Megan Nielsen Hovea Jacket & Coat. Here's my pattern review of it!
The Hovea (shown below, from Megan Nielsen Patterns) is a casual jacket and coat that is available in 3 lengths, lined, unlined, quilted, bound or banded. It's so many jackets in one pattern! The quilted coat trend hit this fall/winter and it's a luscious one. Warm and cozy. But also, this casual jacket is a perfect indoor jacket/blazer-ish garment.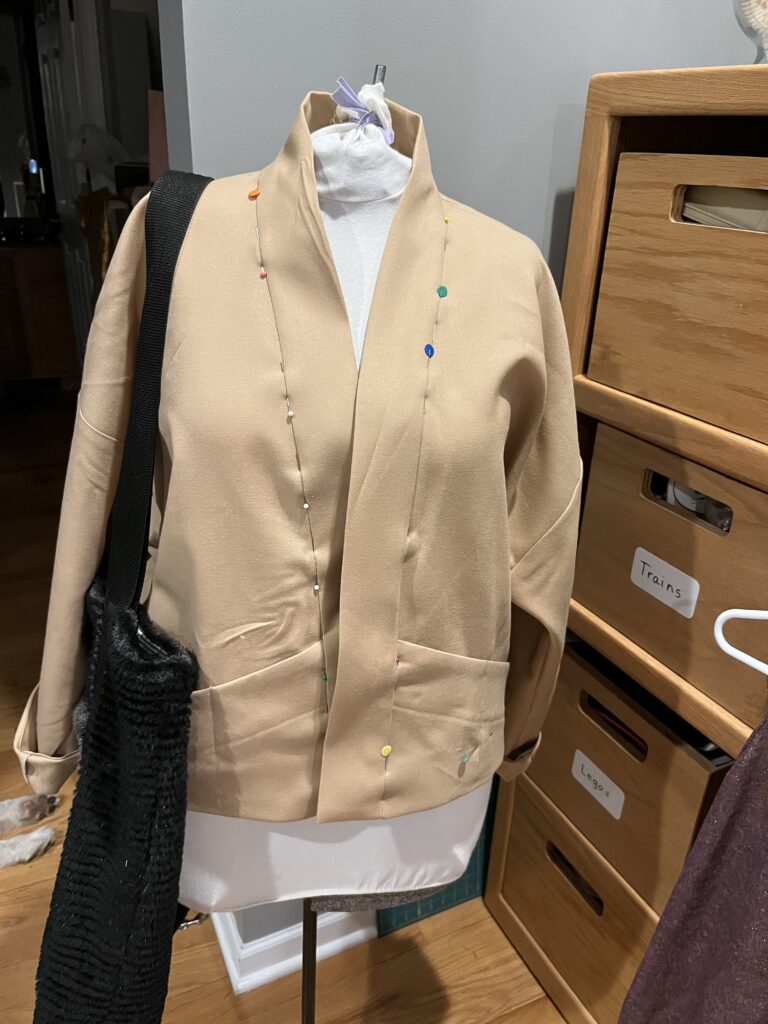 Jacket suitable for beginner sewists
This is an easy to sew jacket suitable for beginners to jackets. I sewed view E, in a size 14. I used a wool from my stash that's probably been there since the early 1990s. I may have even moved this 1200 miles, TWICE. It might pre-date my marriage, but it surely was very early in it. Your stash gives forever! I've been looking for a pattern to make a cropped jacket in Italian gray windowpane check wool, and this might be the one! It will surely be my next Hovea jacket.
Yes, It's me made made, but a chilly day today and I sew what I want, even if not totally seasonal. I'll wear this a lot in the fall and winter.
When I looked at the sleeve pattern piece, I thought, these look short! So I lengthened them, forgetting entirely that this is a dropped sleeve cap coat and then I ended up shortening them back up after I tried the jacket on.
It was a FUN and FAST sew, about 2.5 hours from cut to finish. Minus doing the sleeves, AND best part of all: I won bobbin chicken! (this is where you try to outrun the remaining one or two loops in your bobbin thread before you finish your project – so you don't have to wind another one.) Four inches 😉
I'm a midsize sewist, midsize middle aged mom of 2 and this is a fun sew that's attractive, and right now, since it's cold in my house, cozy.
Add some fun labels!
I got these Katie and the Machine Labels from my local fabric store and I love them! They say "quality sh*t" and I love the pink accent on the inside back neckline. I'd also sew this into the sideseam as well for a different and more subtle external placement.
A couple of clever details on the pockets:
These pockets feature a vertical seam about halfway across and sized for my mobile phone. This is a detail explained and added in the instructions to maximize the smaller pocket. Also a pro tip included is to hand stitch the front hems since you need all that pocket length. This is only on the cropped view E version though. So I did that. I have a pocket for my phone on either side, and then my keys in the shallower side to the sideseams of the garment.
Underneath, I have on the Nikko Top. in a camel print that goes really nicely with this jacket. If you want to make the Hovea in linen (great choice), make a Nikko for summer in the sleeveless version.
That was my uniform for a lot of the 1990s for work. I wore pants, I wore a top, frequently a sleeveless turtleneck, and a blazer or casual jacket over that. We could wear jeans on Friday, friends, allowed only on Friday, because I was in marketing/media/advertising/tech. People in banking did NOT have casual Friday back then! I'm happy to revisit it now in the 2020s.
Fabric choices for the Hovea:
Pre-quilted fabrics, quilts (upcycled), cotton, lightweight denim, wool, linen – any jacket weight fabric. Lining on three of the views. I chose the unlined one because I was testing and this coupled with the cropped length made this a 2.5 hour sew once I had it cut out.
Well worth your time to sew, I plan to make at least 2 more this year. A great way to use up those wools in your stash that you might not use for formal business attire any longer.