I'm sewing an arty Trenont Jacket (The Sewing Workshop) out of fabric scraps from previous projects. Our Local Fabric Store is hosting a fashion show alongside an art show called ScrapFest (where people make things out of discarded items like old cars or concrete). The idea is to use reclaimed fabrics or fabric / scraps that would otherwise be landfilled. Although I don't typically landfill my scraps (see my recent pouf project that used up five boxes and twenty years of scraps), I have thrown them away in the past.
I went to a "construction" event at our LFS to work on our projects, and while there, the owner of the LFS, Jessy, suggested I use the black interfacing as the base for my project, as I was going to fuse down the strips of scraps onto it before stitching them down. This black base means I won't really need to line the jacket (it's a fabric base of woven fabric with interfacing "glue" on top).
This really started me onto a project that I'm enjoying – and hardly overthinking at all – I'm randomly applying strips, randomly selecting all those stitches on my sewing machine that I never use and applying them to the jacket.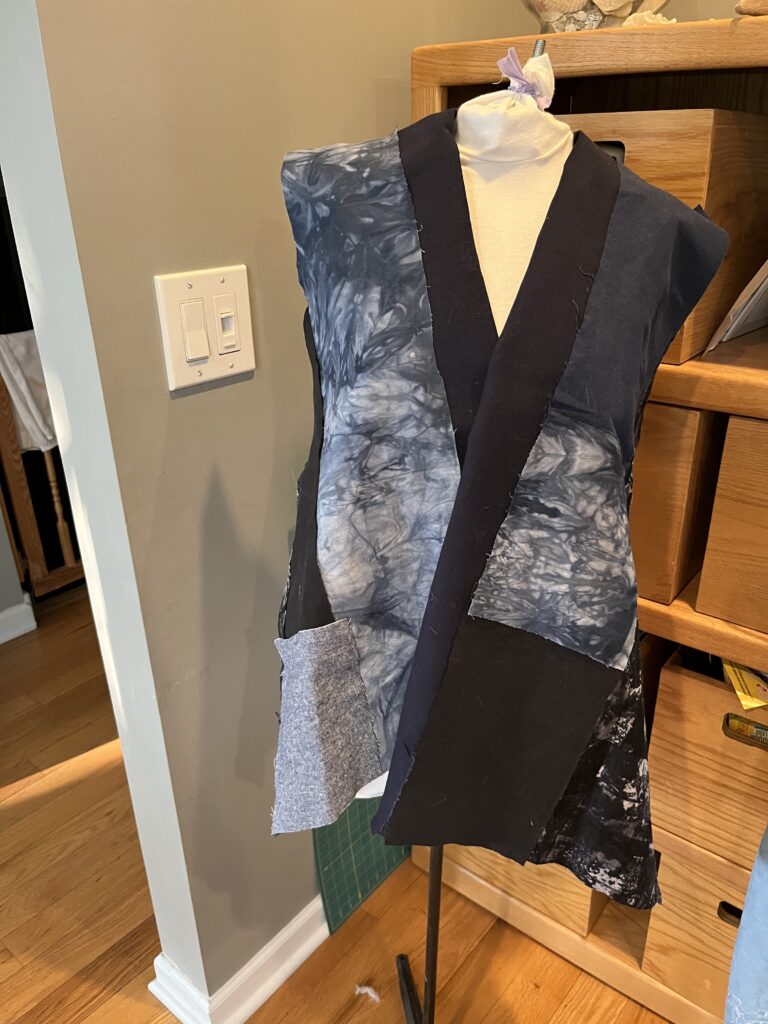 After piecing and pressing to the base interfacing shape, I'll stitch down each panel. I have instructions from the Threads Magazine from last year, for this project. My LFS had the perfect black woven interfacing to do this with.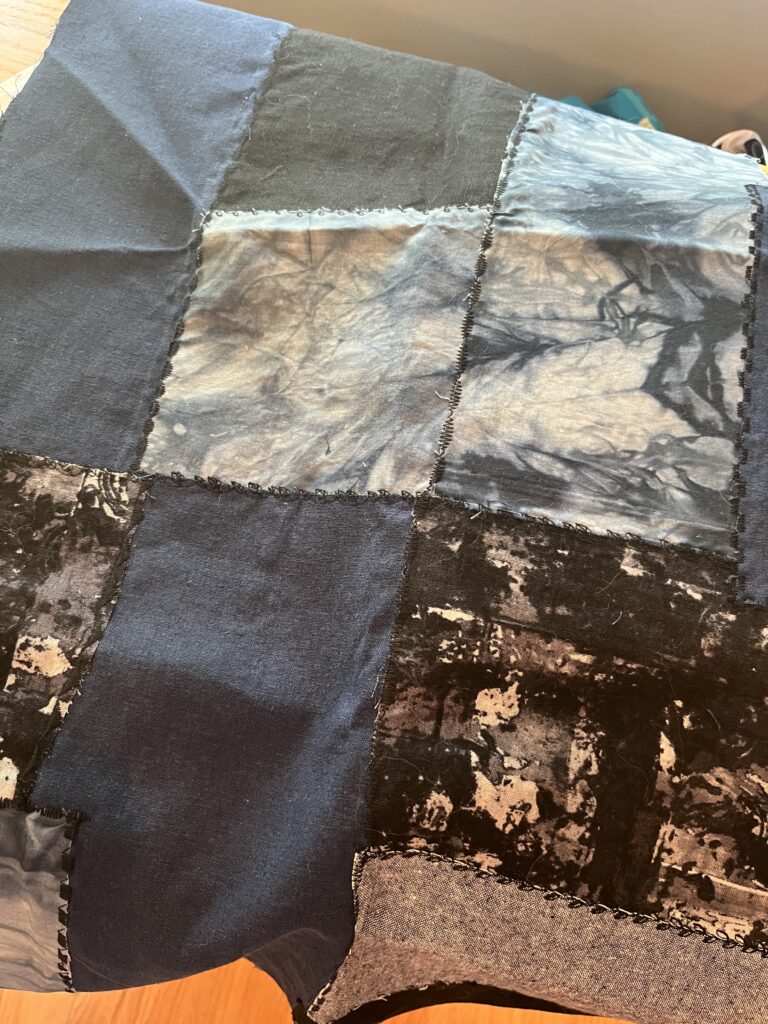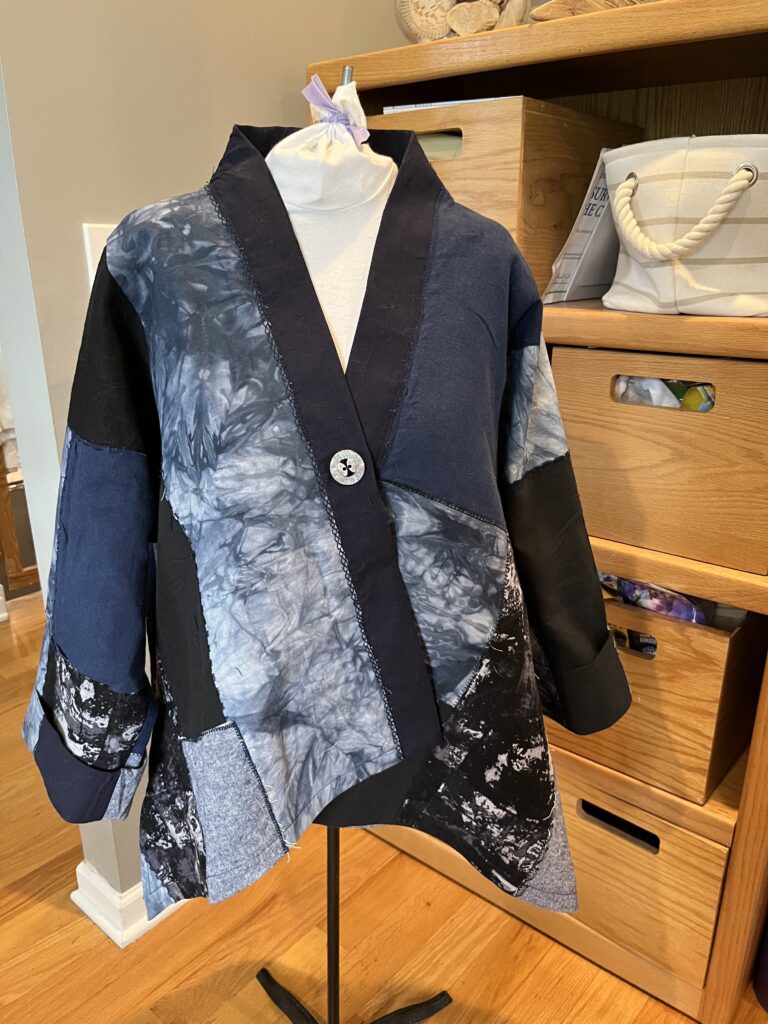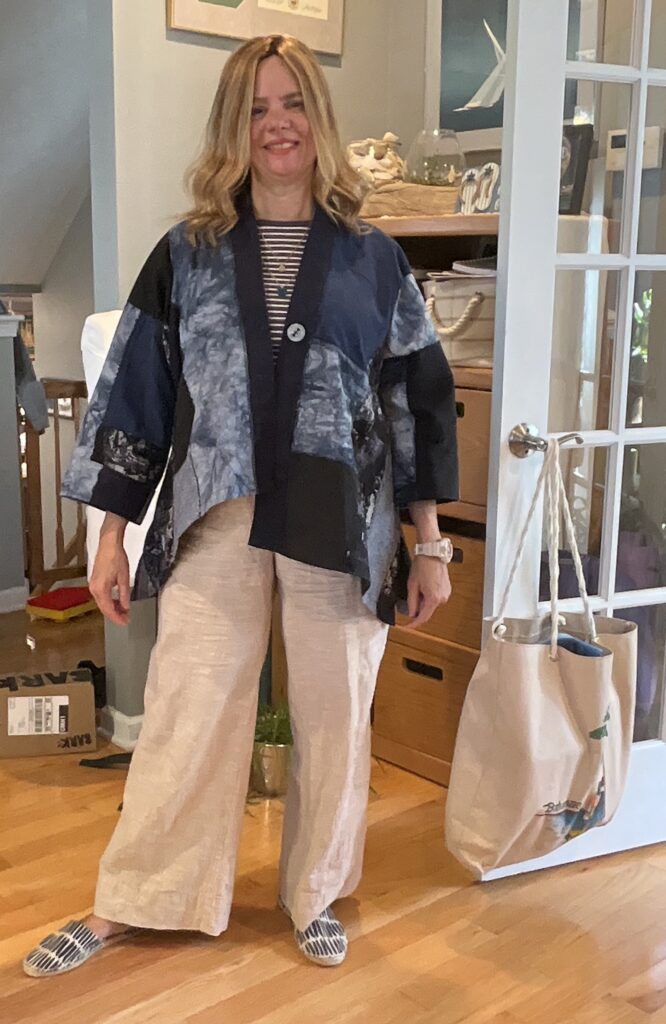 I like this jacket's vibe – it's a little Japanese-workwear style, and the colors go with everything I have made from the fabrics before, which is a bonus, or the things I'm showing here. You CAN wear stripe with print – the key is making ONE garment the "speaking" fabric as I've done here with the jacket. It's not too oversized, and it has shape so it works over wide leg pants or slimmer boyfriend jeans.
I wear this jacket a lot – I have solid blue linen pants, I have pants in the medium blue linen, and of course, in black. I also have pants in the black print but I found that this was way too busy to wear with this jacket – only one garment should speak at a time. So I don't wear those together.
I previously sewed this jacket out of the envelope in a midweight wool.