Me Made May Day 1 2023 kicks off with…a seat? What? Yes, I'm sitting in my pics, with my feet on my me made may fabric scrap storage ottoman wearing a knit blazer that I also made.
I know most MeMadeMay is clothing, but I have to share this ottoman! It's actually a pouf (whatever that means) and it's in minky faux fur in the Sew News magazine winter 2023 edition. Let me wax poetic about SN for a minute. Yes, I subscribe to other sewing magazines. Yes, they have better photography than Sew News, but Sew News consistently has a mix of trendy items and tips that are relevent. I mean, I do NOT need to know how to sew a couture wedding gown with lace and corset loops, boning and 17th century styling, or some such thing, and Sew News NEVER covers that. But I do love the velvet-and-twill knockoff West Elm pillow covers, and the super glam minky faux fur ottoman, the pattern instructions for which I got out of the winter Sew News. They ALSO had a cute quilted jacket (long and cropped) that's a dead ringer for the Wiksten Unfolding which is out of print, and you should nab that too. PLUS they had this cute pullover hood thing that I saw all over trendy European sites for winter, and I sewed that too. It was a winner of an issue, but most of them are that way. Anyway, subscribe. It's $23/year and I have both print/digital versions (Zinnio is the digital version app if you want that.) If your library doesn't have it, ask them to carry it, if you'd prefer not to get a tree-based version.
The ottoman/pouf is sewn in outdoor fabric – and this fabric was gifted to me – I filled it with twenty YEARS worth of fabric scraps. In fact, I made this project solely so I could use those scraps and the pouf for my covered front porch will be fun too, as we don't have a place to put our feet up and it'll double as extra seating.
I added a zipper in the bottom (a blog post and video will come about that part) to fill it with fabric scraps. In case I need a scrap or want to add more to it as it compresses, I can do that. This was an entirely zero-cost, zero waste project for me! My friend gifted me the blue fabric with sailboats (which fits the colors and vibe of our front porch decor), I have leftover fabric and I plan to make some pillow / covers for the front porch couch and chair (the existing pillows are flat and meh and I need to add more stuffing/batting around them.) You can see the fabrics for my porch to my left in one of my project baskets. I cleaned out project baskets so I only have two, and this one normally hides behind my sewing workstation.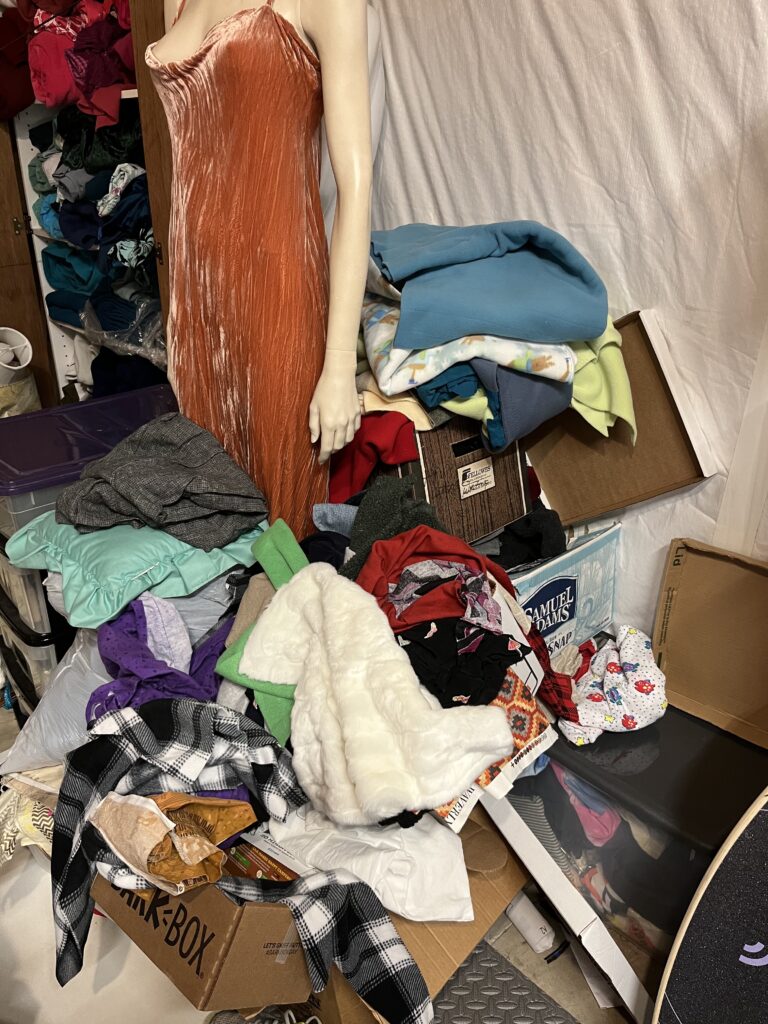 The second project I'm wearing is a knit Christine Jonson Boyfriend Jacket. I've waxed poetic about this jacket like 1,767,000 times on this blog so go here, here, here, and here or use the search bar and find an entire page of search results on this jacket, LOL. I love it – it's easy to sew even for an absolute beginner, the knit fabric feels like a cardigan and it's got that JCrew sweater blazer vibe. Plus, I've paired it with a Jcrew striped tee, a scarf from my closet and dark gray heather jeans for a complete French girl outfit for a gray and cold Monday on the first day of Mar- er, I mean May. Add ballet flats and I'm good to go! Or, you know, waterproof booties because it's gonna snow tonight (eyeroll).
Me Made May guidance here, and my take on MeMadeMay is here. Whatever you do in May, celebrate your me-mades! Even if you're sitting on them.