Scrolling social media this AM I saw a ready to wear skirt from a store/catalog/online company Marine Layer in a black heavy rib. Midi length, slim fit, no waistband (except hidden elastic) and a back slit. Model has it on under a cream turtleneck and her favorite camel cowboy boots.
You can sew this exact skirt in under 30 minutes!
I highly recommend the Christine Jonson Pencil and Slit Skirt. The Slit skirt version has a yoga waist, the pencil has a darted, shaped waist, neither need elastic and are incredibly comfortable.
Choose a rib or smooth snappy ponte knit for best results. If you add in hidden elastic for a "hollywood" waist – you can also go with a sweater or sweatshirt knit (provided it has lycra in it for recovery, otherwise the butt will bag out and you won't want a baggy butt!) This looks good on slim people AND especially on curvy ones! Trust me, this skirt shape will make you look amazing regardless of your size or shape! An oversized sweater layer is great for hiding a multitude of past snacks. Life's too short to not eat tacos.
Pencil skirt sewing pattern basics: The skirt pattern contains a back and front, clear directions for a well-sewn serged back slit on both. Christine sells fabric (again!) on her website, and the Super Snappy ponte would be perfect, as would the everyday ponte. I have ribbed ponte in my stash, so I'll sew that.
Why skirts? Because they are insanely comfortable. I wear them especially driving (and I drive a LOT – about 500 miles a week on average to and from hockey, which is a six-day-a-week thing for our family.
In the winter, I layer them over comfortable leggings, base layers, even silk long underwear bottoms (yes! super comfy).
How to style this midi pencil skirt:
As in this photo, a slouchy sweater – try the Toaster Sweater by Sew House Seven for a turtleneck look, or the Hosta Sweatshirt by Fancy Tiger Crafts. You can also get the wide turtleneck look with the La Megeve Top from Naughty Bobbin Patterns (see mine for examples in a sweater knit.)
For a non-turtleneck slouchy sweater, try the oversized V-neck Art School Sweater by Hot Patterns, or go totally casual with the Olivia Hoodie by Sonia Estep Designs.
Skirt, necklace, slouchy oversized top/sweater and your favorite suede boots. In the deep winter, you can wear it with your favorite warm furry boots too.
Colors: go beyond black: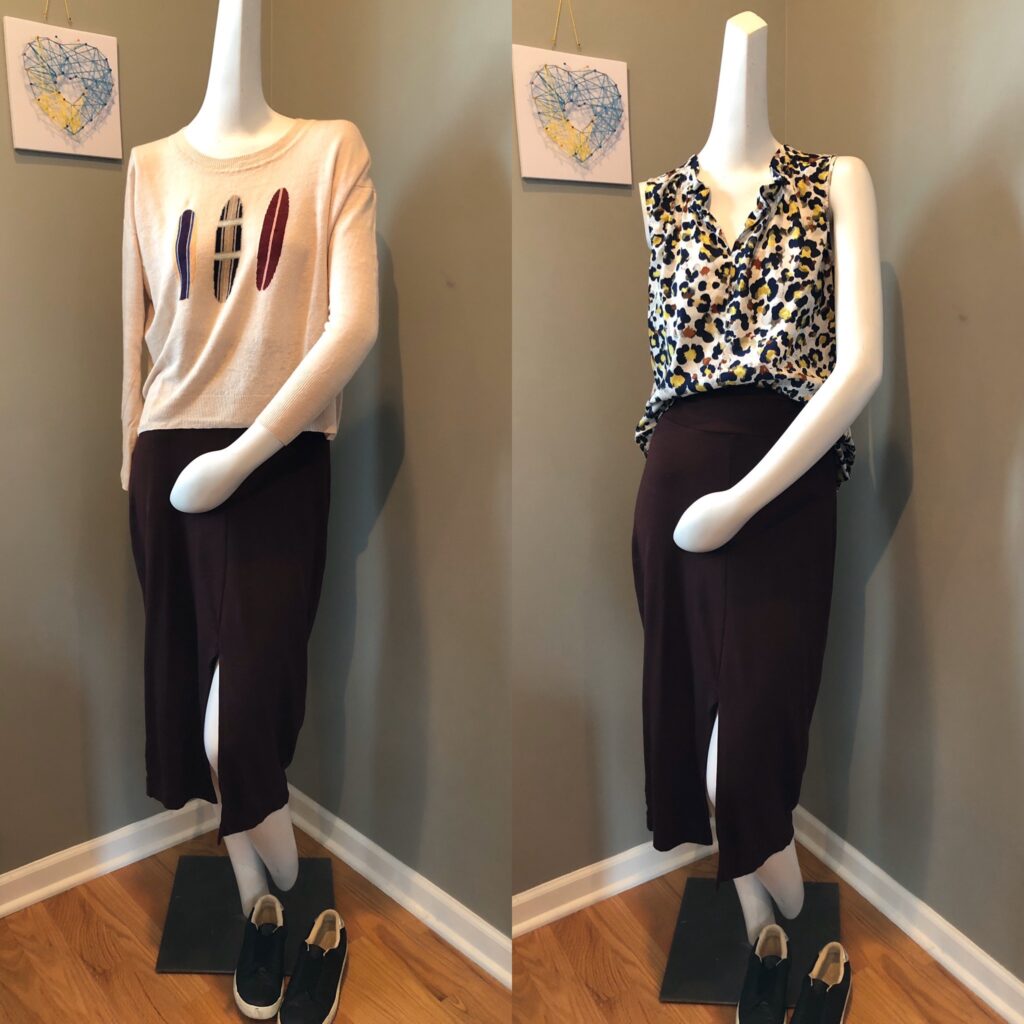 Of course they show this in black and a blue color too, but I've made the skirt in aubergine doubleknit, in cream heavy ponte, and in gray houndstooth ponte. All of these heavier weight knits will work great with this skirt, and unlike the one from the store, will actually last many washings and wearings. You might just become a skirt person!