If you're looking for both chic AND cozy for fall, sew a cozy midi slit skirt for fall! This skirt is a midi length, slim fitting, with a yoga style fabric waistband. It's like a hug! I have it paired with a freecycled waffle weave top (see my recommendations for a substitute you can sew.)
I reviewed this skirt hack before. But showing it for fall with this sweater (freecycled, y'all!) is new.
This outfit, worn with my Sorel ankle booties is cozy and chic for fall. You can wear tights or leggings in the colder weather with this look. The skirt is super comfortable!
I hacked this skirt (which normally has a back slit) to a front slit, and it already comes with the yoga waistband and longer length. But I've also been obsessed with this Simplicity and McCalls skirt/set from JoAnn fabrics too. The top is McCalls M8144 and the skirt is Simplicity 9237.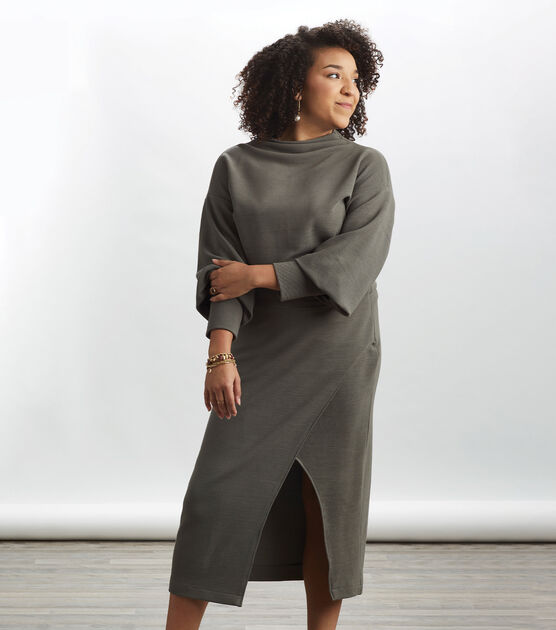 If the slim skirt isn't for you, try these two looser fit but still chic A-line skirts – the HotPatterns Fast & Fabulous Two Hour Skirt (reviewed that too, here.) and the Hot Patterns Fast & Fabulous 365 Drawstring skirts (I like the curved hem one but with a knit, you can raw-edge rotary-cut the waterfall hem one for a speedy finish.)
This cozy chic outfit is perfect for fall. I work from home, but this is often a travel outfit for me, because knit skirts are so comfortable to wear when you are sitting/driving or sitting/flying somewhere. The flat sporty booties are comfortable and decent for my feet. So, off you go! Sew a cozy midi slit skirt for fall! You will be happy you did. This skirt is on repeat for me. Want a slightly sexier version? Try the Ruched Pencil Skirt from Christine Jonson Patterns.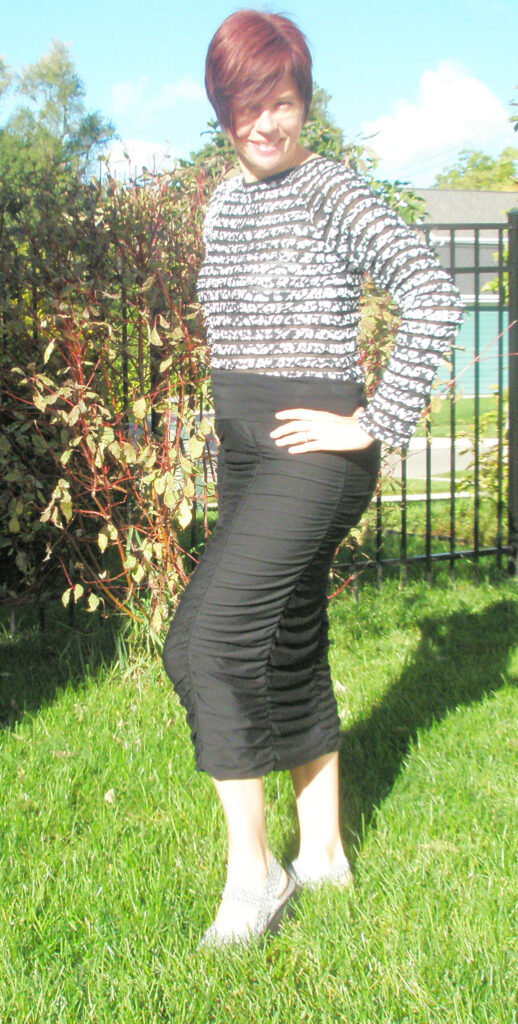 Tops to go with this fall midi knit skirt:
I have on a freecycled waffle-weave knit top, but for a very similar top, you can try the Hot Patterns Foursquare Tee – long sleeve version. Use the straight side slit hem option (rather than the tie front version) for the same vibe as the sweater I have on in the top photos. You can add a ribbed neck band at the neckline or leave it off. I'm doing the "French tuck" in the front.
Any oversized slouchy sweater type top looks great with this slim skirt – try the Sew House Seven Toaster Sweaters, or try the Hosta Sweater Tee. Both of these are available in a slightly cropped length – the skirt is high-waisted.