You have a lot more fabric than you think you do! And for those of you with big stashes, you also have that scrap stash that can be turned into really great garments!
I've been working on scrap busting projects all spring, and currently in the works is a scrappy Tremont Jacket and at least two more of these tops. This top is the Antero Shell by Sew News and I love this pattern. You can sew any woven boxy tee the same way, using scraps.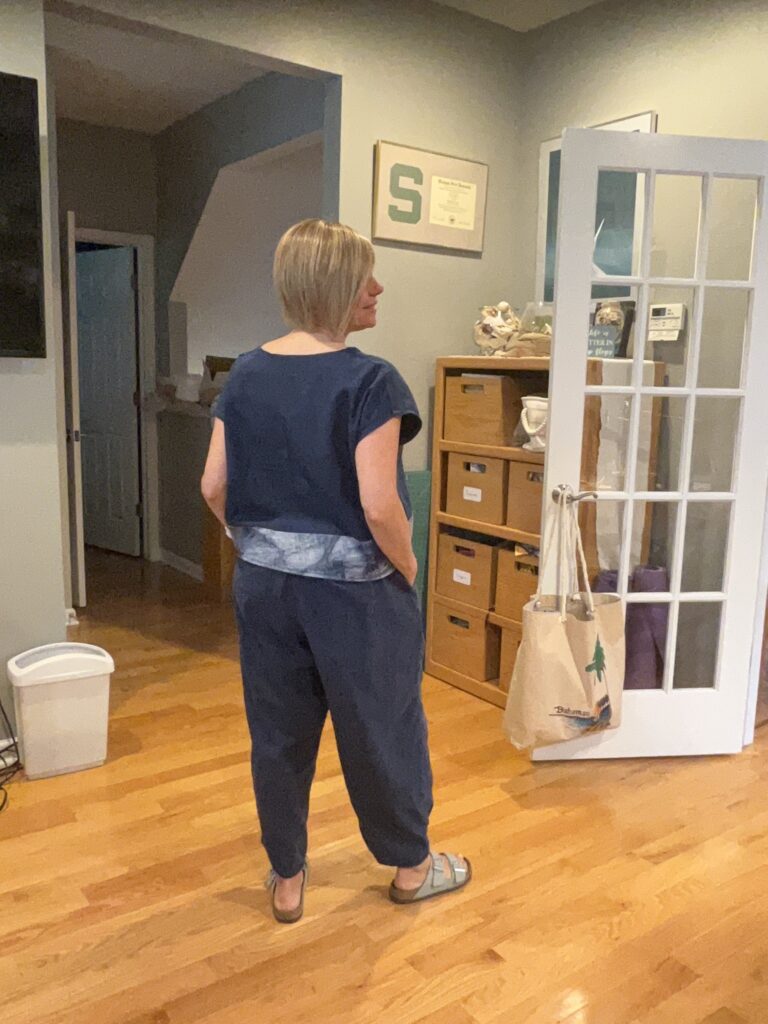 I used three different fabrics – the dark blue linen is the same as the pants. The center stripe is also the same as another pair of pants (Pietra Pant Skinny) that I own. The band at the hem is hand dyed Kona cotton and I have a Wiksten Unfolding jacket made from it.
The GREAT thing about sewing with scraps is that you have instant coordinates. Whatever you made in the scrap you sewed, the new scrappy garment goes with it. So the pants, naturally, make a fun summer set, but so, too does the top under the jacket with a pair of jeans or a skirt.
This top is beginner friendly. If you've never sewn clothes before, this is a great one to start with. I'll share a sew-along with this one on video soon.
I cut up a bunch of scraps to use for my Tremont and had a bunch left over, so I have to incorporate those into other garments. I might, for instance, use a band at the hem of these pants from one of the scraps, or a waistband or drawstrings, cargo pockets, interior facings, interior pockets, yokes, collars or cuffs.
Do you have knit fabric scraps? Try these awesome designed-for-knit fabrics patterns. Stereo Sweater by Misusu https://www.misusu.co/collections/ladies/products/stereo-sweater-pdf-sewing-pattern, or the Dia https://www.misusu.co/collections/ladies/products/dia-ladies-sweater-tunic-pdf-sewing-pattern. Any pattern with colorblocking will lend itself to scrap use.
You can also take a basic garment, draw traced lines on a copy of it, and "explode" the pattern – cut along the traced lines, add seam allowances, and then sew them back together before finishing the garment as usual.