Sew over 50 #sewover50 is a popular hashtag on Instagram. And a lot of sewists post on Instagram. More designers are including over 50 models in their sewing pattern design features. And more of us sew!
Why does sewing matter for people over 50? Most clothing – and sewing pattern clothing – is modeled by teenagers and 20 somethings. That means the looks that designers are putting out there are designed for people with a 20-year old body. While plus sizing is becoming more widely available, mature bodies aren't always plus sized. But they're not 30 year old bodies anymore either! I read recently that only 1% of sewing patterns feature an older model or an older model who is not slim. If you shop retail, you might not be able to find trendy styles in the right size. Sewing allows you to access trends at any size or age.
Those of us over 50 want to look stylish, too. And we tend to gravitate, as we get older to bolder colors, edgier looks (but not necessarily trendy) which won't be found in typical ready to wear clothing.
Sewing matters for people over 50 because it puts us back into control of what we put on our bodies. We can, for instance, choose to wear silhouettes or styles that we like, avoiding whatever's "in" for that season. We can also fit these to our more mature bodies (not always plus sized!) and we can, further, nod to trends. Right now, the cropped top and high waist pant is in, and the high waist pants are fabulous. The crop tops? Not so much. But if that top were, say, just a little more meet-and-greet, it would be perfect. Still cropped but not crop! And for that reason, sewing gives us that opportunity to have that trend but not look like we're trying to chase our 20-something selves. I've even sewed some tie front tops with high waist pants that allow me to show just the barest little bit of midriff without being weird on mid-50s me.  In a few years, Gen Z will discover low waist pants again, and if you don't sew, you'll forever bemoan the dearth of the 9 or 11 inch rise pant in stores.
Color is huge for people in midlife and beyond. We don't have to conform to only neutrals or darks which don't typically look great on people as they age. Unless the style is super classic or super arty, you just come across looking like an Eastern European grandma. We can choose colors that flatter us! I spent my 20s and 30s clad in khaki, black, white, gray and cream. Maybe a hint of slate blue. But I broadened out in my 40s to more color and I'm embracing color in my 50s.
Some great patterns styled for those over 50 and featuring older models are available here (Sew Daily feature on the Instagram account Sew over 50) https://www.sewdaily.com/sewing/sewover50-instagram-sewing-community/
There's even a challenge on the Sew over 50 community to sew patterns specifically who DO feature models over 50. You can find that under the hashtag #sewoverageism.
What makes sewing over 50 different? There's a truth to the statement that if you want to be invisible, be a middle aged (or older) woman.  But there's also the truth that there are a lot of middle-aged and older celebrity women who have embraced their age, style and visibility. Think Jamie Lee Curtis, Jennifer Lopez, Queen Latifah, Halle Barry, Sharon Stone, Oprah, Julia Roberts, Jennifer Aniston. You might be thinking, they're not old – but though they're contemporary to you, yes, they're older! Sharon Stone's peak film moment (when she was in her mid 30s) was 30 years ago! FWIW, if you want to get Sharon Stone's hot Basic Instinct outfit, try the Nikko Dress by True Bias (cropped above the knee, the sleeveless version) with the Christine Jonson Swing Jacket, both in a white or cream ponte knit. I have a similar dress pattern (1990s original) from Vogue Elements. Both of these garments are pretty timeless and the mock turtleneck dress and top is super on trend right now.
Sewing over 50 recognizes that you don't have the body of your 20-something self and that's perfectly OK. It's acknowledging that your middle is bigger but your arms aren't. It's recognizing that certain things always looked good on you, and you should wear more of those.
Sewing over 50 gives you the power to be whomever you ARE and showcase that. And for many of us, our style evolves over the decades. I'm still somewhere in the "edgy classic" style – equally as comfortable in striped bateau neck tees and jeans as I am in asymmetrical jackets and interesting-cut pants and tops.
I'm on the shorter side of life now – even in the best scenario there are more years behind me than ahead – and along with age, came wisdom that I don't really care what others think of me (the way I did when I was in my 20s, 30s and even 40s). I'm happy with who I am now, albeit with a few tweaks.
The other big shift for me as I began sewing more of my wardrobe, was how abundant and fulfilled it felt! I spent most of my life feeling like I wasn't enough – not enough of the right clothing (even though I had many things I loved), not enough of the right look to present to the world. Now, I don't feel that and my closet makes me feel abundant, happy, even. Every season when I unpack the bright sweaters and fold them (kon-mari style) in my drawer, their hues fill me with joy. I have another shelf of larger (thicker) sweaters, ponchos and wraps (many that I have made), organized by color and those make me happy too (although shelf dividers would make me REALLY happy and I should get some of those so the sweaters don't topple over one another.)
The things I make are so perfectly suited to my style that they're a joy to wear. I buy things (mainly thrifted, off Poshmark) that I love to go with them – sweaters, mostly, since I don't knit very fast.
You know you're sewing for the long term
Sewing – and crafting a wardrobe –after age 50 is more about thinking "what will I be doing in this sweater and jeans in 15 years." As a younger person, I couldn't imagine what I'd be doing in a particular garment, let alone in 15 years because I lacked the perspective that I have now. I'm still WEARING clothing from 15 years ago, AND that I can see a path ahead for my life – or at least, I'm not afraid to imagine it. When you're 20, you're never thinking "I wore this outfit when I was 5 years old…" because that is not possible, but I have many garments that are well older than my teenage children. A fact I remind them of often 😉
About a month ago, I bought a new pair of white jeans in a boyfriend cut. When I wore them the first time, I could SEE myself sitting out on a patio at a Florida sailing club (in this case, somewhere I have not been but is on my list to go) sipping a beer, watching a sunset. My vision is that I'm retired (partly), I've had a great day of sailing and I'm in those white jeans and a navy sweater.  I would just as easily wear it to the sailing club I'm a member of right now, this summer, when I'm not retired (and I promise, I'll take a photo when I do.)
I can SEE myself in the same off white linen-blend paperbag drawstring wide leg pants I sewed 20 plus years ago, walking along a beach in the summer (the blend of fibers seems impervious to everything.) And these things are perfectly suited to the next 40 plus years. I see myself as a a grandmother, spending time near and with my kids and grandkids, wearing those slim cropped Pietra pants and sandals – looking every inch like the chic woman my own grandmother was. I fully expect I'll wear that asymmetrical wool baby houndstooth Tremont Jacket in purple and cream with a black Toaster 2 ribbed turtleneck and black ponte knit pants to an art gallery in my hometown on a November evening in a decade, as I sit here wearing it over a sweater and jeans today.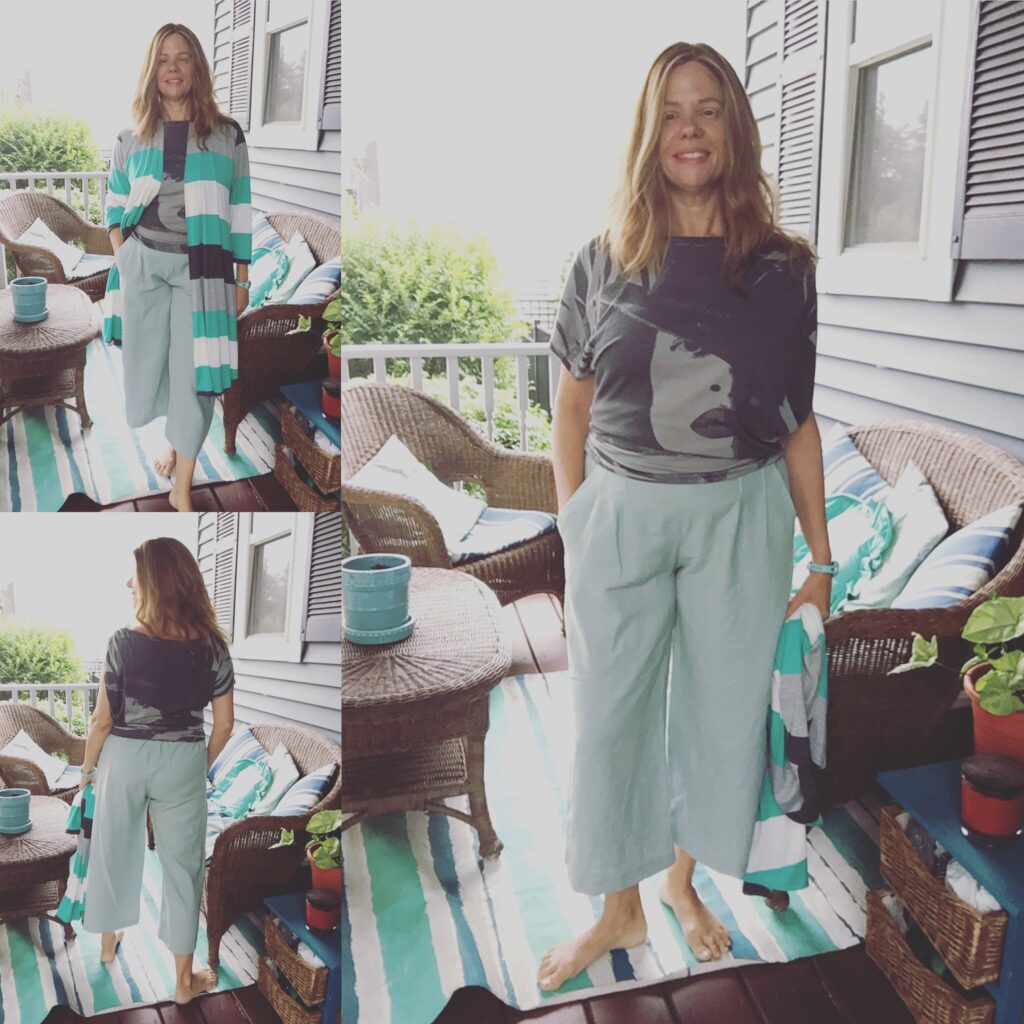 Choose your trends – or not
As a 50-plus sewist, I can choose what trends to embrace – wide leg pants? Flare leg? Already have those patterns sewn up. Long denim skirts? Pulled that one out of a "save for later" box in the basement. Skinny pants and jeans returning? OMG, so many sewing patterns! I don't have to try to wedge myself into something from a teen retailer because that's the only place trendy lives.
Sewing allows us to see mature, stylish people who don't have to conform to society's standards of beauty. We can follow hashtags for our favorite patterns and see people just like us, wearing the same thing we've sewn. It's really empowering to SEE yourself reflected, it gives you a sense of belonging, of embracing YOUR age.
But doesn't every older person already sew?
This was true in the 1950s, 1940s and earlier. Everyone sewed. But in the 1970s, and 1980s women went back to work and they stopped sewing. For Boomers (particularly early ones), sewing was something they saw their mom do, and they did, too. But for Xers (those born after 1966 but before the late 80s), there's this gap of sewing skillset and even interest. Millennials picked it up (and the oldest of those are in their 40s now) with a fervor and most of the sewing pattern companies now are dominated by Millennial designers. Older designers are exiting the industry (their patterns live on in our stashes and on Etsy and Ebay though.)
The Xer sewing gap are people in their 50s now, closing in on 60. These people didn't learn to sew in school (they may have, but as a rule, home ec was being phased out.) The hashtag #GenXsewing or #genxsewist pales in comparison to the huge #millennialsewing or #millennialsewist ones.
It's not too late- you can take control of what you put on your body and you can wear what you love. You can MAKE what you love! And what better time to do it when you might have realized that you need a hobby – one that is creatively fulfilling, easy to pick up and put down (I often sew one seam and that's it til the next day.)
Getting started or expanding your skills as an over 50 sewist:
Your local fabric store has it all. I love shopping my local and indie retailers online and in other cities. Typically the owner of your local fabric store is in her 40s and 50s or even 60s herself, so she's well aware of the variety of people that come to sewing in both skill and body types, and can help guide you to the best patterns for you. Mass market chains are often staffed (if at all) by younger people with not much sewing skill, so be sure to head to your local retailer or one in a nearby city for classes. You can also learn online from organizations like Sew It! Academy, Craftsy, and PatternReview. And every pattern company has a sew along or instructional videos on their site on how to sew their patterns.
A friend of mine posted that her hometown has a community center that teaches people to sew tea towels, a tote bag and wide leg elastic waist pants in a sewing class designed for grownups. Our LFS teaches people to sew tee shirts and basic wide leg pants, along with more complex bags, backpacks and other garments. You can and will go from making basic elastic waist pants and fun cropped boxy tee shirts to sewing more complicated garments in a fairly short period of time.
Millennial designers will turn 50 in about 10 years. And then they'll be much more accommodating of larger text sizes on their pattern description (I've had to use a magnifying glass to select my pattern size from the measurement chart on more than a few pattern designers' envelopes.) They'll include more photos of older models, and they'll feature older customers on their media (whatever we replace social media with.)
But until then, shop wisely, ask designers to feature older models in their pattern samples and on their websites, and POST your makes – the more visible we all are, the better!