Reliving the trends of your youth! Should you wear what you wore then? Should you SEW what you wore then?
Like many long time sewists, fashion comes around again. And you probably have more than a few patterns from what you wore back then.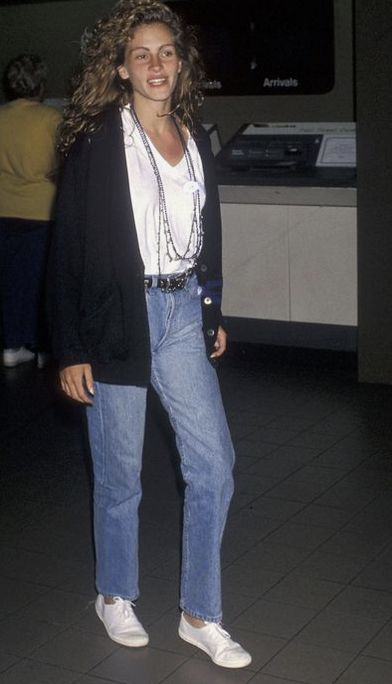 The 1990s are in full swing: oversized flannel shirts and shackets, Boyfriend blazers, relaxed fit jeans and even flare pants are all coming back. Oversized sweatshirts, midi length skirts and dresses – all stylish options for today.
And I'm guessing you probably have more than a few sewing patterns that match these trends. I know I do!
Should you sew the trend?
Short of a navel-baring crop top, yes. You can get away with a meet-and-greet crop top with high waisted pants or skirts, too.
What the 90s vibe brings:
The 1990s vibe of looser fits, more casual clothing dovetails nicely with our life right now. You can get away with a sweatshirt and joggers but if you want to step it up (but not too up) you can wear a midi skirt and sneakers with it too.
Here are a few 1990s trends I'm seeing around campus on kids who are in their late teens/early 20s:
Oversized boyfriend blazers – the more relaxed the better. Plaid always rules. I make mine unlined from the Christine Jonson Boyfriend Blazer. But you can also dig in your pattern stash for something like this one too.
Cropped mock turtlenecks: The free Monroe Turtleneck from Aussie Tessuti Fabrics, or the Nikko from True/Bias, or the Three Tees from Christine Jonson – go cropped but meet just below the top edge of your higher-waisted pants. You do NOT have to bare your belly, just make the overlap of pants and top about 2″ for good coverage. Or, go a little shorter, meet-and-greet, and wear a cami under it.
Oversized sweatshirts and sweatpants: I'm loving the Mile End sweatshirts from Closet Core – so many fun design details in these. They have joggers too.
Also, any of the printed patterns I've recommended you can purchase from my local fabric shop Seams Fabric, in East Lansing, MI. They ship!
Midi dresses and skirts (knits) – Loose and casual, I like the A-line 2-hour skirts from HotPatterns (download, seamed so you can make them from (faux) leather or suede or make the un-seamed one for a really fast two hour skirt. It's really less than two hours, but you know, putter along on that and it'll be two hours.
Pencil skirt: try this one!
Flannel shirt/jacket: Go with a classic like the Patterns for Pirates Logger, or go modern with shirt jacket like the Ilford. Plaids are a MUST for these. Go with nice fabric, you'll have a plaid shirt forever. I often thrift men's flannels which give that classic shirt jacket look.
White sneakers: of course, a classic.
Dive into your sewing pattern stash – or a vintage stash of patterns from friends – to find gems like boyfriend blazers, wide leg pants, cargo joggers, oversized shirt jackets in flannel and wool.
Wide leg jeans: I love the Ann-Normandy Designs Wide Leg Pants– and I've made this in Denim. Add yourself a second pocket in the front, and trace your favorite patch pockets (I rub-traced my Levi's pockets!) for the back. Sew the pockets on before you assemble the pants. The gore is a really lovely touch and the flat felled seam details are really nice on these.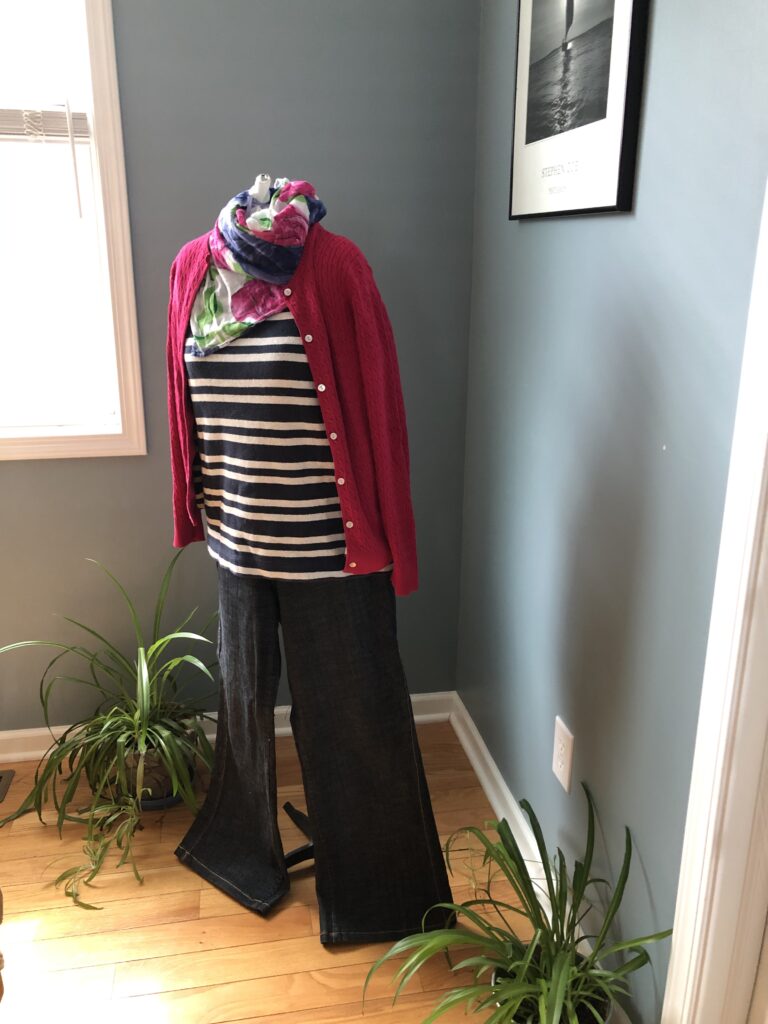 Should you sew what you wore then? YES! Incorporating trends that you once wore is just fine. I wore stretchy flare pants at least twice in my life. The only trend I probably can't get behind is ultra low rise pants – and that is mostly because I've had two children. Vintage patterns, if you have the right sizes, are great ways to get the trend especially made in modern fabrics.