Sew a spring break road trip capsule wardrobe for the mid-Atlantic coast
Luna Pants – woven jogger pants by Made by Rae
Toaster Sweater – turtleneck by Sew House Seven
Unfolding Jacket – woven oversized jacket by Wiksten
Miracle Pants – cropped or full length flare stretch knit pants by HotPatterns
Shirt Tail Tee – cut-on cap sleeve tee by HotPatterns
Mr. & Mrs. HP Breton tee – classic French Breton/Marinéire 3/4 sleeve tee shirt in striped fabric
Slit Skirt – front slit skirt in doubleknit by Christine Jonson Patterns
Emerson Shorts by True/Bias
Fleece ruana with ruffled edges
La Mégeve sweater with pockets from Naughty Bobbin Patterns
I mixed these with some pieces from my closet: a cotton cable sweater, skinny jeans, rain jacket, fleece jacket.
I'll note that this is the Spring Break that didn't happen! But I did sew a spring break roadtrip capsule wardrobe. And then my teen got COVID from a schoolmate after being back in school just 3 weeks.
So I decided I'd wear my spring break outfits anyway, because our rescheduled trip for June will be decidedly more summery (and will need different clothing for sure.)
We are driving from a cold Michigan to a warm(er) southern coastal Virginia for this trip, and I sewed for long drives and variable weather conditions, beach walks, bike rides and kayak trips.
Our first day is driving from Michigan to the Appalachians, Charleston, WV. I selected a Toaster Sweater by Sew House Seven in navy ponte from my LFS Seams Fabric in East Lansing, and a pair of Miracle Pants by HotPatterns in denim-look stretch knit.
The Toaster Sweater is part of a trio of Toasters I sewed. I like the Toaster for it's all-serger construction, funnelneck turtleneck and cropped high hip fit. This ponte is warm and almost scuba-like in it's structure, so the funnelneck stands up well on it's own. In softer fabrics, the neckline drapes a bit more.
These Miracle Pants are key for a road trip. These are 100% stretch denim-look knit fabric (close to a ponte weight but not double knit), fitted at the high hip and waist, shaped gently to a flare at the ankle. They are either cropped flares or full length, I opted for full length. The waistband is hidden elastic "hollywood" style. I made my usual size in Hot Patterns (12) but I tapered in a lot at the waist to almost an 8 (as I sometimes do) on both sideseams and the center back. I traced off my Levi jeans pockets and added patch pockets to the back, otherwise this style doesn't have pockets. They are comfortable for sitting in the car for hours!
I topped this with a ruffled edge Polartec ruana (patterns abound across the internet, but I used the Christine Jonson Travel Trio Three ruana and curved the edges) in teal, a socially-acceptable car blankie! I can wear this open like a cardigan, belted, or with one tail tossed over a shoulder. The fleece "grips" itself so for shoulder-tossing, it stays in place pretty well, and looks very chic. If you're belting this, use a stretch elastic belt for extreme comfort and style.
This outfit would have been day 1 and day 2 of up to 8 hours of driving, so being comfortable is key!
Day 2: Driving, broken up by a bike ride, a tour of outdoor Monticello and the University of Virginia for architecture.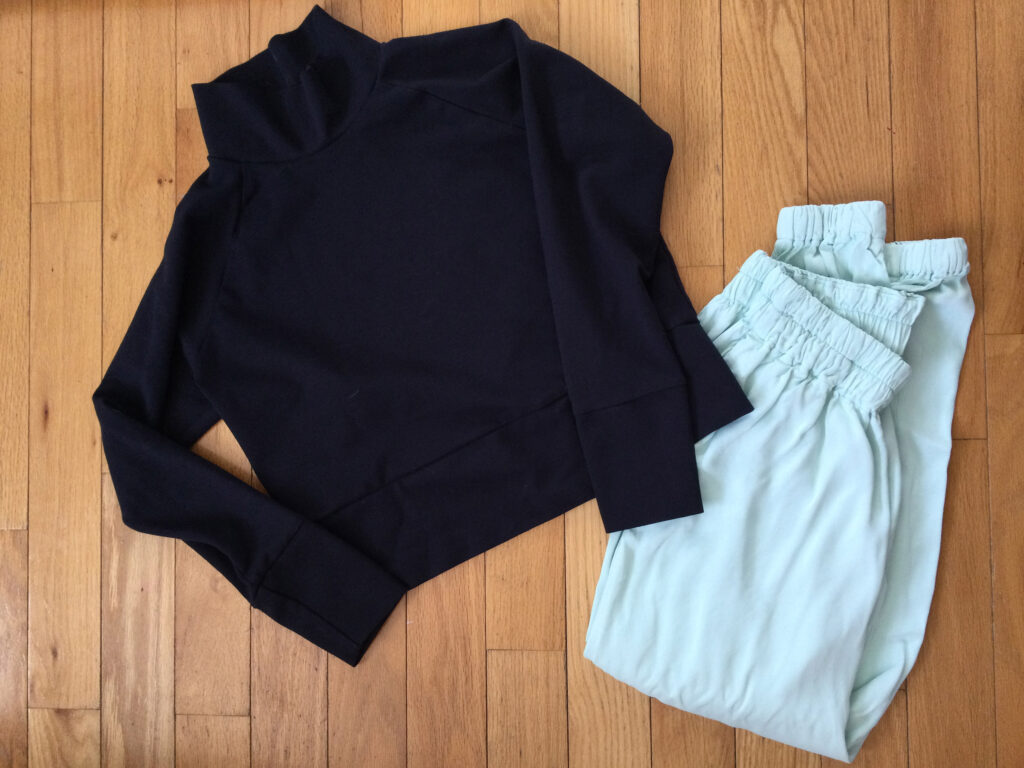 The Toaster Sweater and Luna Pants (woven joggers) are my next cozy outfit, worn with a cream puffy down vest from LandsEnd (not shown). This is the perfect hours-long car drive outfit – not too warm, definitely comfortable. The Luna Joggers I sewed are here. I created a short sew along/how to videos of my experience altering and sewing these.