Here's what I sewed, wore and how it went with my capsule wardrobe for overseas travel.
My family and I traveled to central Europe for 2 weeks (Germany, Austria, Czech Republic) during the big heat wave (or at least that week's big heat wave) this summer. Here's what I sewed, what I wore and how it went: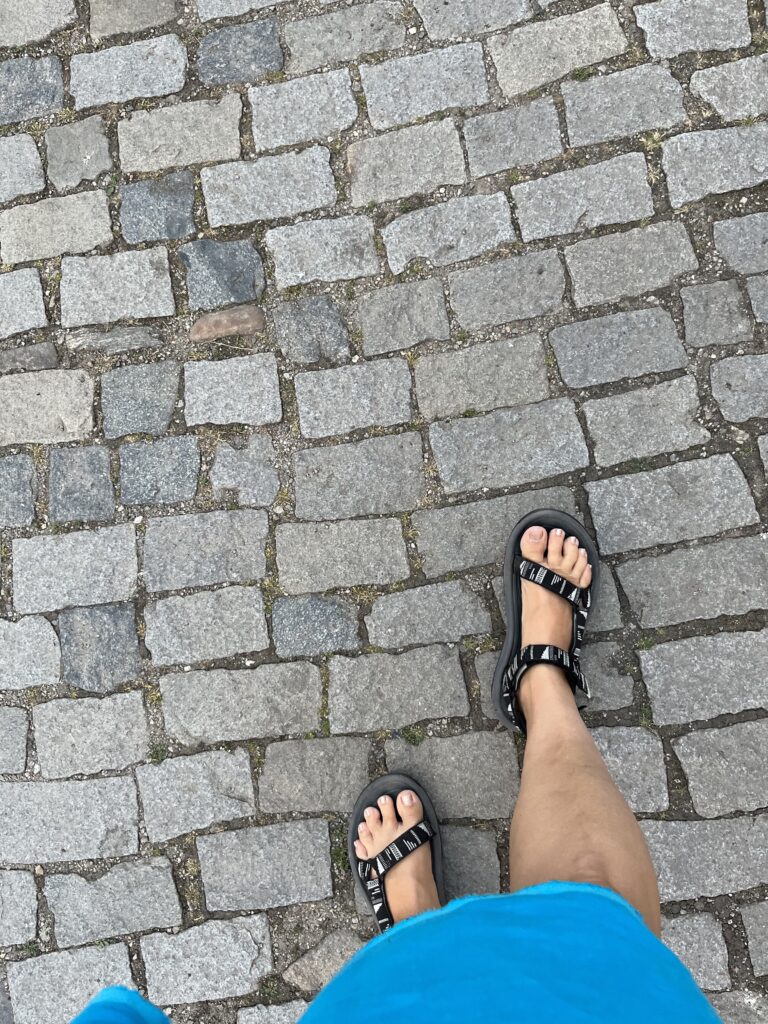 Six tops:
Two scrap-made Antero-Shell boxy linen tops (one in shades of black and gray, one in shades of navy/blue). One white rayon/lycra cut-on cap sleeve top (the Three Tees top/dress from Christine Jonson, but try any other cap sleeve top/tee as this one is likely sold out and not available.) One printed cotton lawn Scout Tee by Grainline Studio. I've worn the Scout tee on other sweaty vacations and it's a GREAT top, doesn't wrinkle, is very cool and light.
I also took one black tank top (a basic, Costco, I've had these a few years now, they wash&wear well over time), and one navy tank top (LandsEnd) that I purchased, also wears well for a long time. I also took a long sleeve denim shirt (thrifted) but I wore that only over other shirts, in Hallstatt, Austria, in the Alps.
One dress: the Ann Normandy Slip dress in linen. This was one of my MVPs for this hot, hot trip. Wore it 4 days out of the 14.
Five bottoms: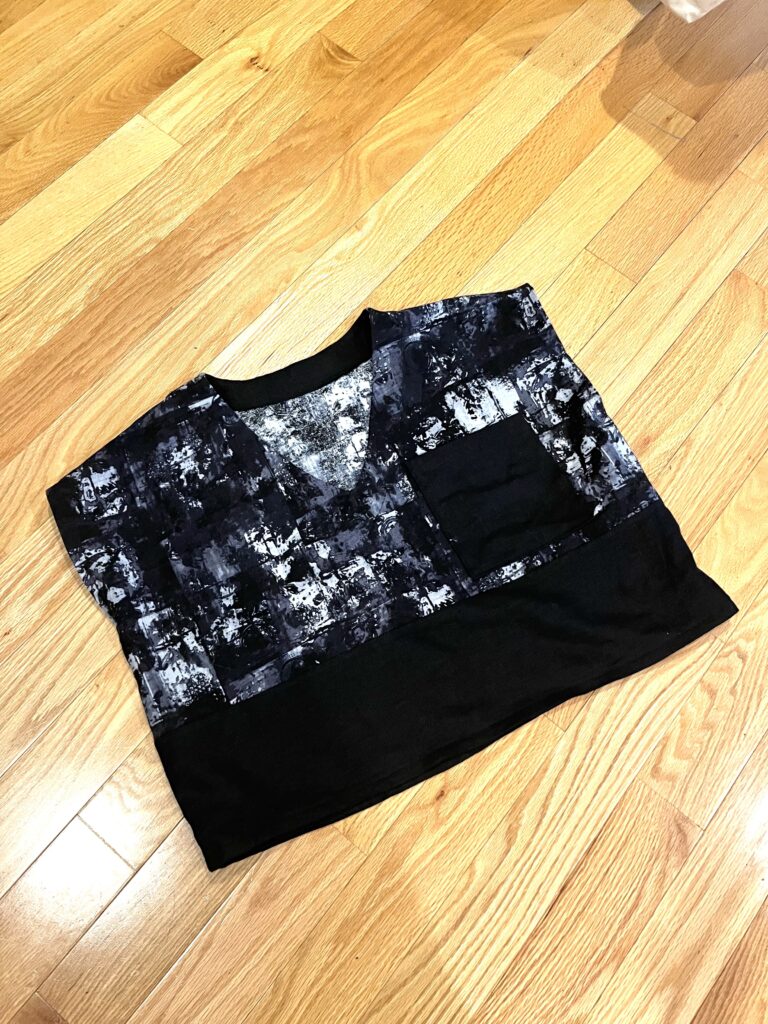 Skirt: midi shirttail hem skirt in overdyed rayon lycra knit. I used the Christine Jonson BaseWear skirt, but any basic elastic waist skirt with this shirt tail hem hack works.
Shorts: black linen Emerson shorts by True/Bias and light aqua Kona cotton shorts from the Closet Core Pietra. The scraps from the Emerson were used in the linen top I also took.
One pair OOP Butterick loose linen pants but similar to the Miller Trousers from Paper Theory patterns. Navy blue linen (the original fabric use to my scrap tops above!) I have previously added an ankle pleat to these and cropped them a little but I can remove that and let them out (I sewed with a long stitch length to make removal easy.)
I also took a pair of joggers but really wished I'd have SEWN some Luna (Made by Rae) Joggers in black tencel twill because the RTW ones I had were not breathable enough! Just ran out of time to sew these.
These garments were all workhorses on this trip – you're up early, stay out late (ish), it was HOT, hot, hot, and sweaty, I'm carrying a daypack, a crossbody and underneath it all, a passport/money neck wallet had to ride inside my clothes (good thing I wore boxy/looser garments!)
When I say these worked hard, they worked hard, and that's probably the biggest compliment I could give to this mostly handmade wardrobe on my trip.
A poncho: sewn from novelty sweater knit, this cropped poncho was really helpful on the plane (when it was freezing) and also one day in Hallstatt, Austria, when it rained (I wore it under my rain jacket as an extra layer.)
What I wished I'd have had: one more tee shirt dress, one less pair of pants. I'd have brought a striped JCrew dress that I got off Poshmark and had it out to take, but took it out in final packing.
I brought but never wore: a sweater.
These me made garments were worn, washed several times (a couple times in a washing machine, hung to dry and once in a sink, hung to dry) and reworn again. Carrying it all in a 50L backpack is sweaty business. I used packing cubes and never unpacked my cubes at any destination (we stayed 1-3 nights almost anywhere we went, so there was packing/repacking.)
Best part? These are also my favorites back at home!
Footwear: I wore my black and white Teva Hurricane XLT sandals (not the foam footbed kind, but the molded footbed, much more comfy and supportive, walked 7-9 miles per day), and black Asics running shoes.
I also brought a nightgown and a swimsuit, both purchased, and gym shorts, thrifted. I wore the gym shorts and tank top on a 40km bike ride along the Danube / Donau river through vineyards and small villages. I wore them also on a river rafting trip of the Vlatava river in the Czech Republic (over the swimsuit. Also swam in the river too, in the swimsuit and sandals.) I brought one swim tee, a long sleeve one from Landsend, and that helped on the super sunny day on the river.