I used my FREE Greenbush Top poncho top pattern and 3/4 of a yard of heavyweight wool with a boucle finish to create this great rectangular capelet. Best part? Almost NO sewing!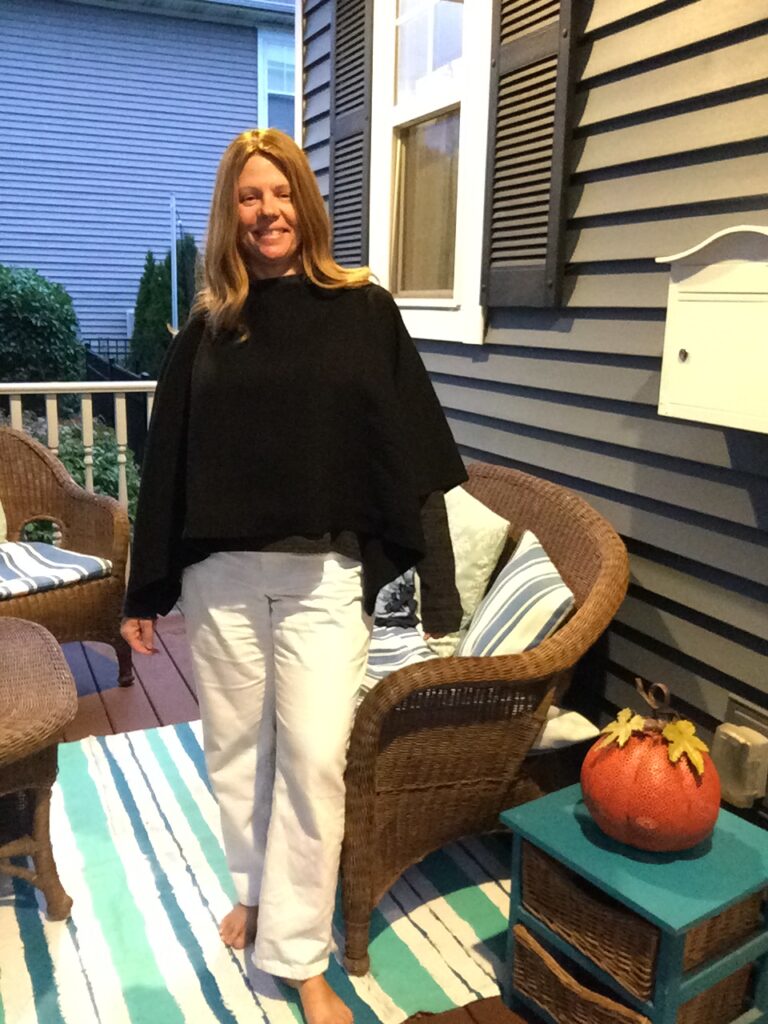 This wool is from Seams Fabric in East Lansing (they ship!) and I bought it on sale last fall. I used less than a yard of fabric from selvedge to selvedge, and one exact yard of fabric in length. The top is 18″ long from the neckline and because this fabric didn't ravel, I didn't even hem anything – so it is practically no sew!
When I constructed this, I marked the exact center along the fold. So I folded the fabric over so I had 18″ on the front and back side, and 44″ wide (my wingspan is 5′ wide roughly).
I then marked the exact center by folding the poncho top in from one side (so marked at 22″ along the fold). I made a small snip there, orienting my scissors along the long folded edge. I then marked 6″ either side of that marking and cut to that mark, leaving a 12″ opening. I stabilized the opening by stitching about 1/4″ away with a narrow straight stitch. I may stitch again 1/8″ away from the opening too. That's IT! I did no other sewing or hemming.
The result is a rectangle that is 44″ wide x 36″ long with a 12″ wide slit for the neckline opening. There's no actual front/back so you can wear it either side, so I did not add a fabric tag to the inner back neckline, but if you want a hanging loop, this is a great way to do it, by stitching a fabric label to the inside back neck.
About 20 years ago, I made a similar capelet for a friend in heavyweight gray wool boucle. I loved it, and sent it to her as a gift (and she wore it for a long time.) I always wanted to repeat that and make myself one. When I saw this heavy felted wool with a boucle finish at my LFS, I knew this was the garment!
The bonus to a lightweight boiled wool or a heavy wool coating is the poncho top doesn't need hems or seam finishes (or even a shoulder seam which is in the original directions.)
And the beauty of this top is it's customizable – want it longer than 18″? Just cut it longer (though you'll need more than one linear yard to do that, a yard and a half would be enough.)
I've made this in:
Silk, rayon challis, lightweight knit, cotton lawn, wool gauze, wool boucle knit, tropical weight wool, cashmere, and now, heavyweight wool coating. The instructions include directions for sewing sleeves and sideseams into the garment to be worn as a top. Omit these for the poncho version.
It's easy, flattering, and makes a terrific gift for a special someone that will surely fit.