What's a 30 x 30 capsule wardrobe? You take 30 pieces from your closet, and wear / mix them for 30 days. It's designed to keep you IN your closet, instead of looking elsewhere (instagram, pinterest) with the wanties and overconsumption that is the norm in our society. For sewists, it's making sure in that 30×30, you're wearing one thing you've made in that 30 days, every day. This is my 30 x 30 autumn capsule wardrobe to sew.
I decided to do this because even sewing can be overconsumed – I have a LOT of fabric and patterns – possibly beyond life expectancy. And I really wanted to not consume so much, use what i had and LOVE what I have. I mean, I go into my closet and put on something and 99 percent of the time, I'm "why have I not worn this more often, I feel great wearing this!?" (the other 1% I change into an outfit in the 99 percent, so it's really 100 percent.)
I don't have to dress formally so 100% of my clothes are wearable on any given day (weather permitting of course.)
I post about capsule wardrobes all the time, and generally they're smaller, like this one with five pieces. but you can add onto that by taking just one piece and mixing it with another 5-pieces and so on, until you get to 30 (that's 5 x 6 if you're doing math.)
Am I being strict about the 30? Nah. If I did 31 or 36 or whatever, that's fine. The goal is to mix them up and wear them often in the 30 days – and for me – to wear the things I have not worn much recently (last fall and winter.)
If there's something I sewed that I need to fix or alter, I'll do that too. If there's something I'm already sewing, or a need (like pants!) I'll do that, but only from whatever I have in my stash now.
I'm on a little bit of a cropped (wide) pant with-sweater-and-blazer kick lately, so I've pulled out two pair of cropped pants with cozy sweaters to start the 30 days, a pair of black and white striped knit pants from the Christine Jonson Taper/Wide Leg pant (single side seam "wide" version) yesterday with a quarter zip I bought (in a light peach color) last year. I show this above in a closeup – but I do have on the B&W knit pants.
I'm planning to SEW, wide leg cropped pleather pants a la this from Sew News (right, below) and look like the leather pants on the left, below which are listed at $3,000! OMG, THREE THOUSAND DOLLARS FOR PANTS. I mean, you're putting your @$$ in them! Anyway, the cost aside, they are luxe and I have some burgundy pleather in my stash. The Sew News ones include instructions to add the horizontal seaming that's common on leather pants because of piecing hides.
Also props to SewNews for their use of models of color, of all sizes in their magazine. I fully think it's the freshest project mix in the sewing magazine business. I mean I love Threads mag, but I don't need a couture corded covered button bustier in my life. I need pleather pants from a free pattern, or knock off West Elm velvet accent pillows for my house, or a faux fur pouf (I sewed it in outdoor fabric) you can put fabric scraps in (on my front porch!)
30×30 can be super fun to plan, sew and wear – and a great way to use what you have in STASH and in your CLOSET first!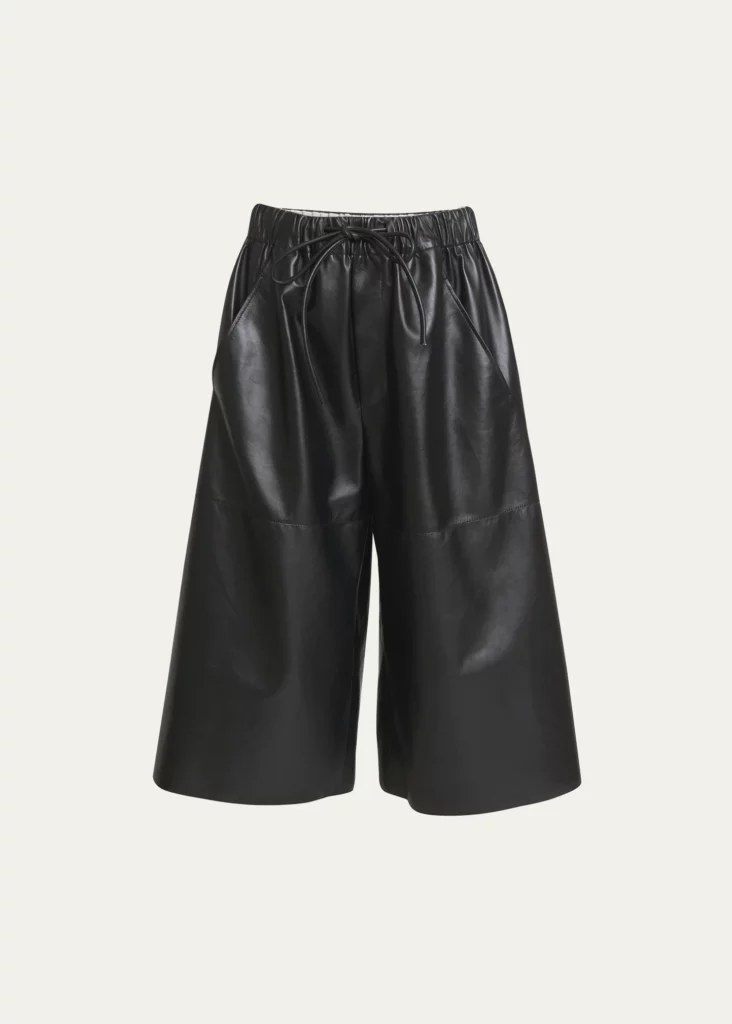 The $3,000 leather pants, left and the SewNews pattern hack with pleather, right. It's from the Fall 2023 issue. These are a must-sew for my fall capsule wardrobe.
In this capsule:
7 pants/skirts
Black and white stripe knit cropped pants (Christine Jonson Wide leg)
Medium blue skinny linen cropped pant (Closet Core Pietra)*
Camel corduroy (Closet Core Pietra) (this is a swap for the one above as it gets colder this month.)
Light sage linen cropped wide leg (True / Bias Emerson)* – Swapped out in late November for whiskey babycord Emerson pants (sewn in November)
Jeans from my closet
Knit midi skirt in aubergine
Black joggers (purchased, but would rather be wearing the Luna from Made by Rae in black tencel, which are To Be Sewn.)
To be sewn: SewNews Pleather cropped wide leg pant in burgundy pleather (stash fabric) – these will get sewn in December, alas, as my sewing machine had to go in for service. I can use my kid sewing machine, but not with a teflon foot and microtex needles!
*So far it's not been too cold to wear these but as we get to the end of the month, I may have to sub in something else/sewn for these light weight pants such as their corduroy versions.

11 tops/sweaters:
Striped sweater black & white
Blush quarter zip – purchased, Columbia
Aqua blue quarter zip (thrifted, Gap)
Striped hoodie sweater in blue/oatmeal – purchased in 2021
Print cotton lawn tee: Grainline Studio Scout
Purple knit v-neck cap sleeve tee – SewNews Antero Shell
Black & black print cap sleeve tee – Antero Shell
Cream cable knit funnelneck sweater – thrifted (Talbot's)
Gold/camel print mock neck long sleeve – True/ Bias Nikko
Cream cashmere turtleneck- thrifted (Land's end)
Bright coral cashmere turtleneck – Land's End (purch 2006)

6 jackets/ponchos
Black and teal poncho – cut to measure, sewn by me
Black & teal 30 minute jacket (Threads Magazine) – same fabric as the poncho
Brown wool blazer with purple and camel windowpane – thrifted but also been in my closet for 30 years too.
Black knit moto jacket – Moto Jacket by Christine Jonson Patterns
Thrifted "tribal" sweater – oversized open cardigan with gray designs woven in, freecycled.
Navy quilted jacket – Hovea by Megan Nielsen (sewn November 2023)
3 coats: (I made none of these)
Columbia rain jacket (not shown, light gray with medium gray)
Fleece bomber jacket
Columbia knee length down parka in dark gray: "my big coat" for those of you from the midwest. Normally we wear these in January and February, but you know, first cold snap of the season. In February when it's 42 degrees, we'll be in short sleeves!
5 Footwear:
Short camel Sorel booties
Ballet flats in sage green
Black puffer booties
Purple suede pointy toe flats
Black/ gray Asics trail running shoes or hiking boots depending on the weather (I'm counting these as interchangeable.)
Activities:
I am an election precinct chairperson, so I had an all day (LONG) election to put on at the precinct I'm assigned. 5am – 10pm+. I've been to all the hockey rinks up to 5 days a week, plus hiking, grocery shopping, walking the dog, a bunch of Zoom meetings and an in person coffee with a friend I haven't seen in an age. This month includes a Thanksgiving hike and feast for my scout's troop (they cook, we visit them at the park where they are camping and go hiking, etc.) , Thanksgiving itself (and the weekend, plus taking our boat down and packing it up.) And a lot of driving! A LOT of driving. Many rinks, several overnight trips to rinks.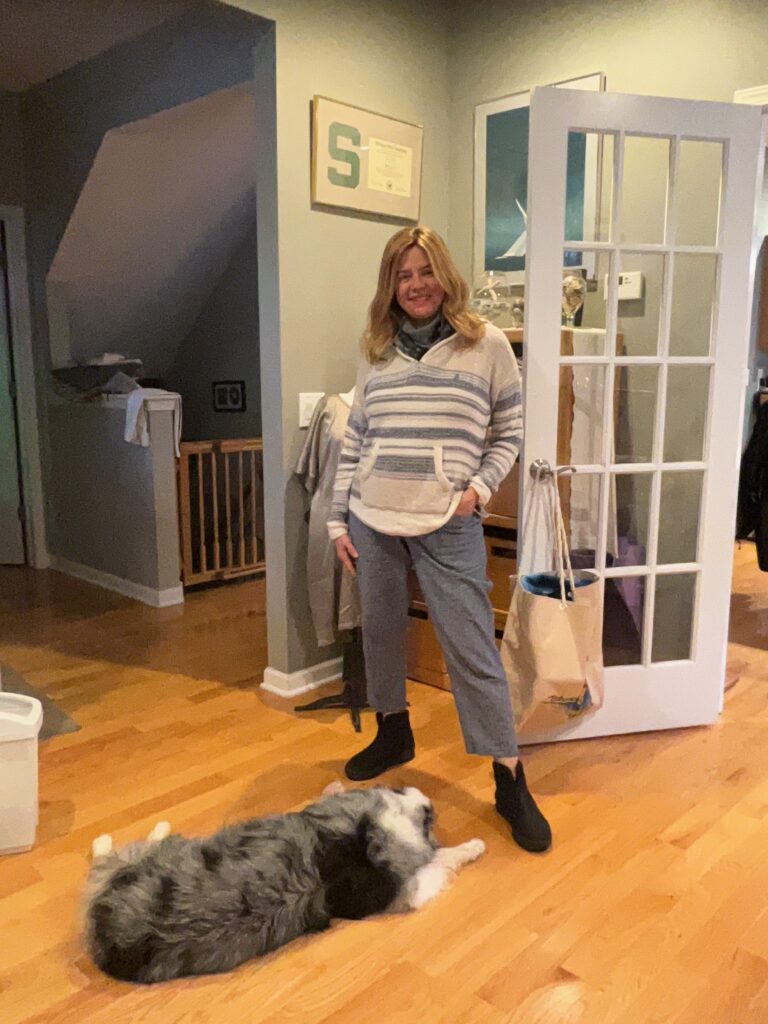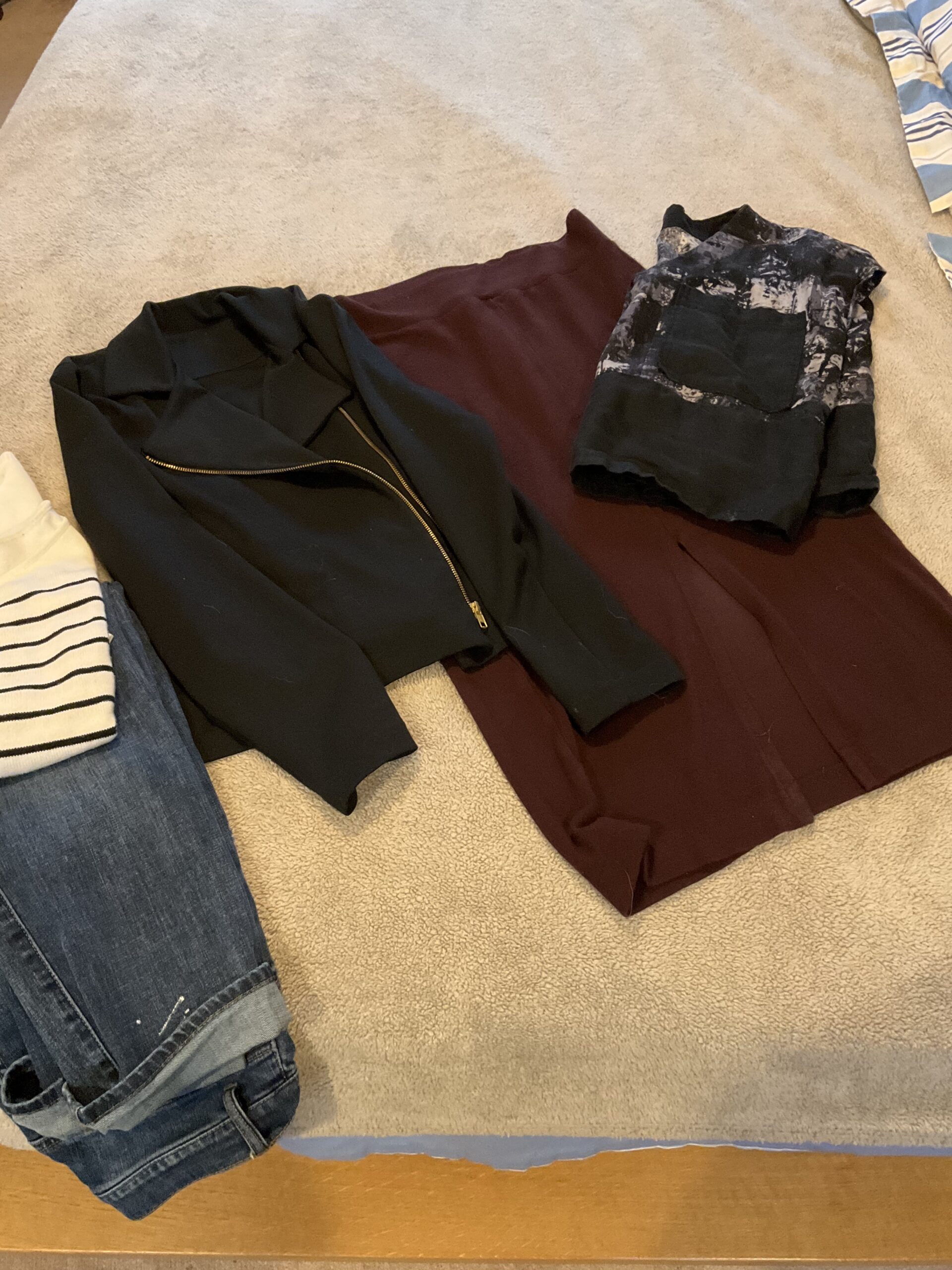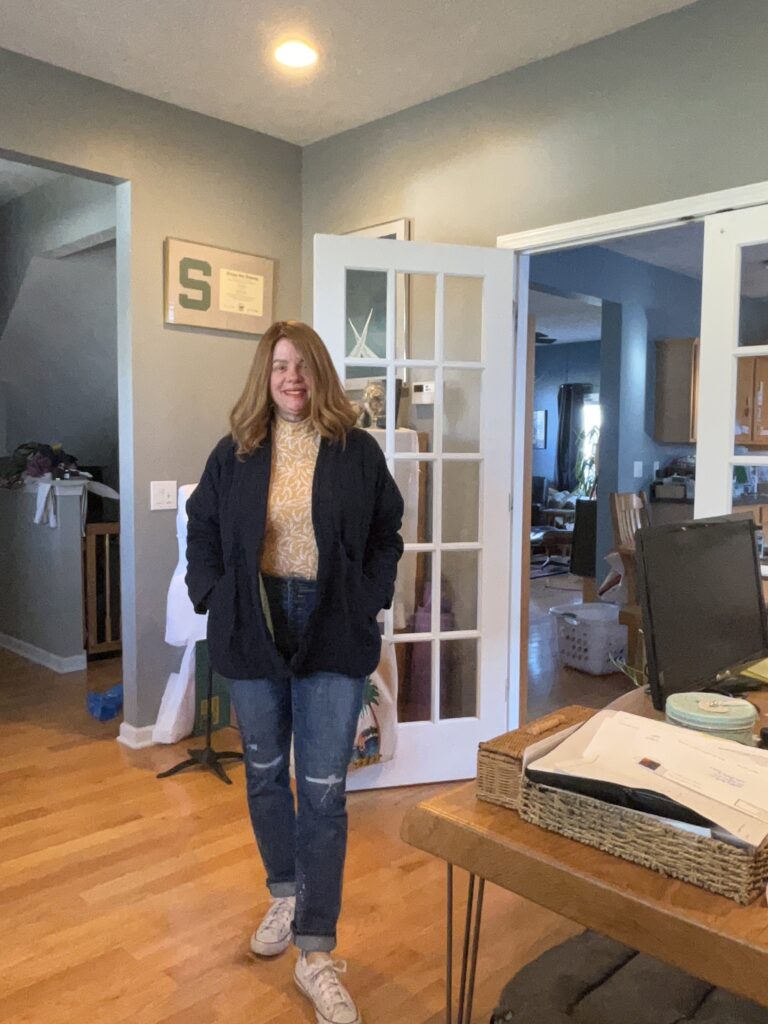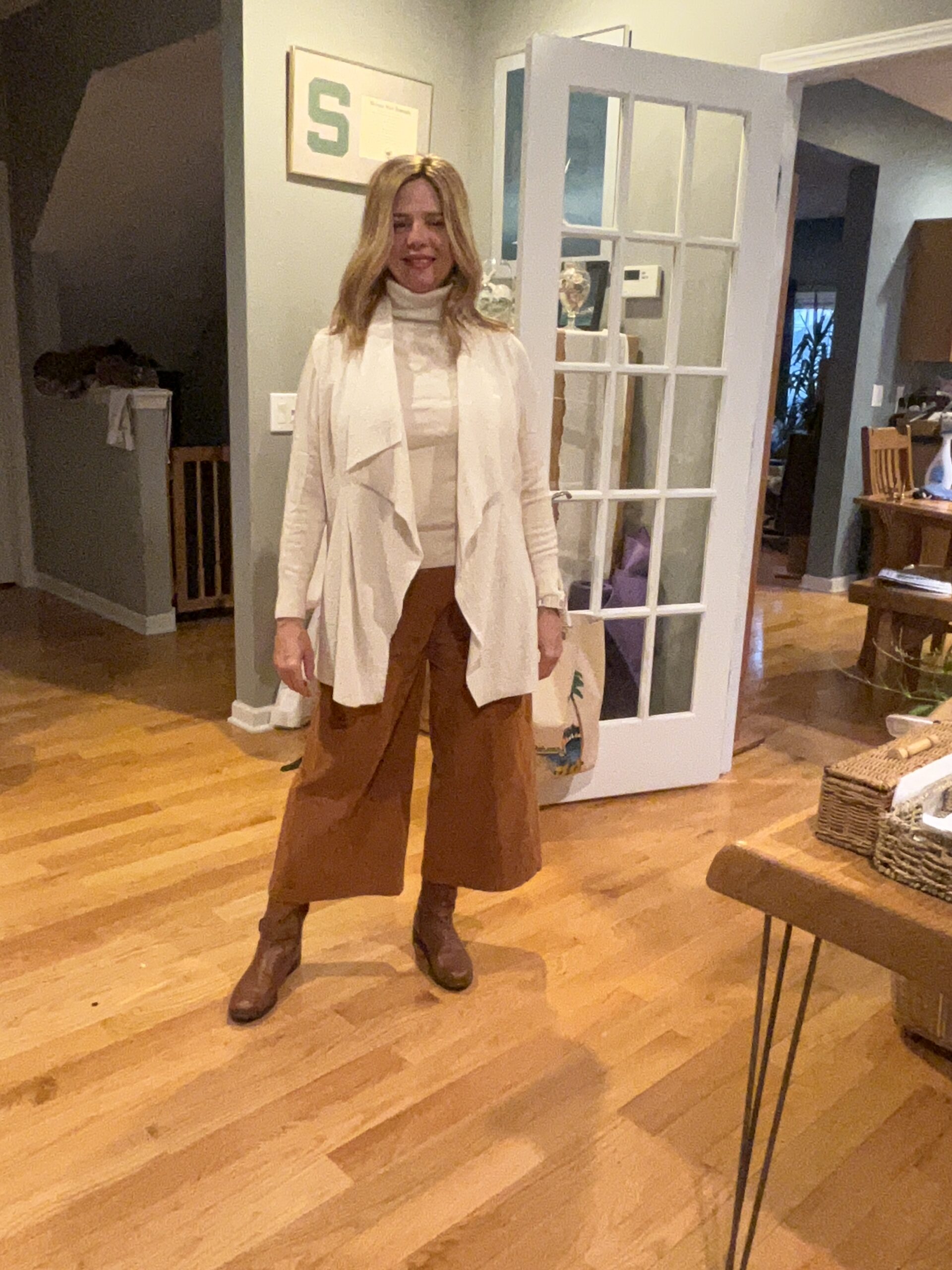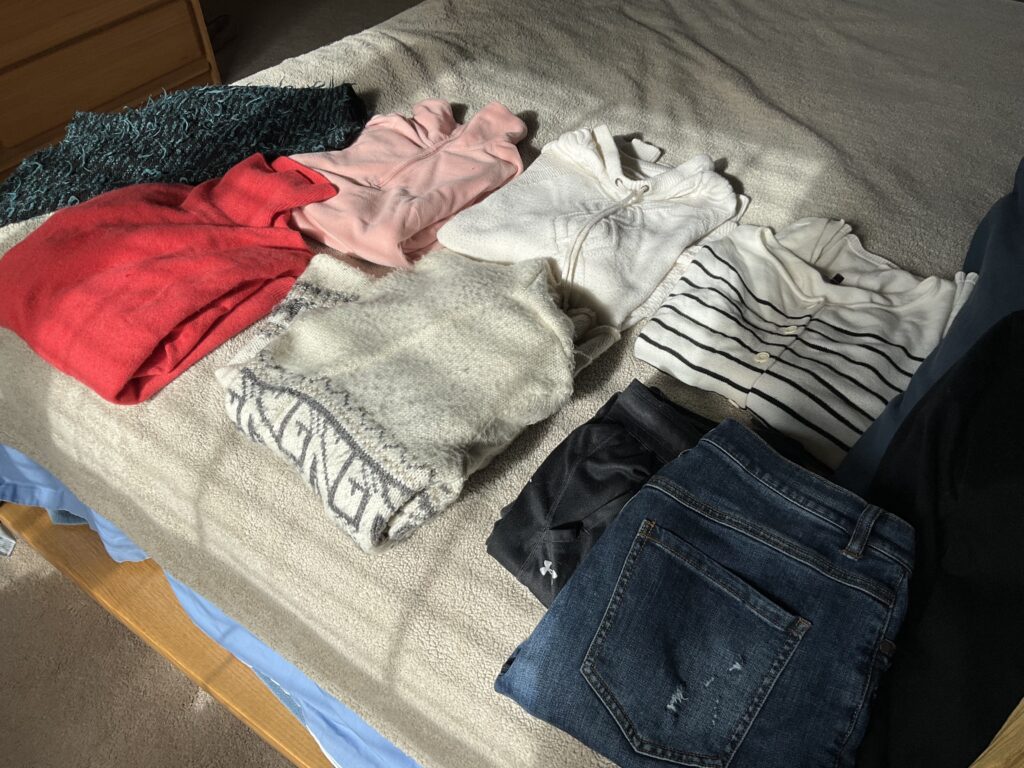 If you have a bench or chair in your bedroom, that you lay the "not quite clean or dirty" clothing on, this is a great way to keep track of your capsule wardrobe for the month. These items have all been worn once or twice. I did have to do laundry twice to keep the capsule going! As you can see from the pics, a capsule doesn't need to be all neutrals, I have several brighter colors including gold (print), geranium red, pale peach, aqua blue and purple. I was able to mix in some prints too.
Seeing clothing arranged in stacks also helps you see new combos – for instance, I have never yet worn the geranium red sweater with either the poncho or the 30 minute jacket in the teal and black sweater knit, but I can see how these would coordinate, the red giving a bright punch to jeans and a poncho outfit or jeans and camel corduroys outfit.
A surprisingly warm end (mid 50s) to November means I can wear the linen pants a lot longer than typical this time of year (same, too, with the short sleeve tops under sweaters or jackets.)