Looking to sew the classic wool blazer and jeans look? Here are my sewing pattern review & pattern recommendations!
This is part of my 30×30 capsule wardrobe, and as such, I'm making it a new blog post for the algorithm 😉 I have several other blazer and jeans blog posts.
In this pic, both jeans and blazer are thrifted or purchased (the top is sewn by me) but I've made many blazers — and not YET jeans. Want to explore what it will take to push over the edge and sew jeans with me?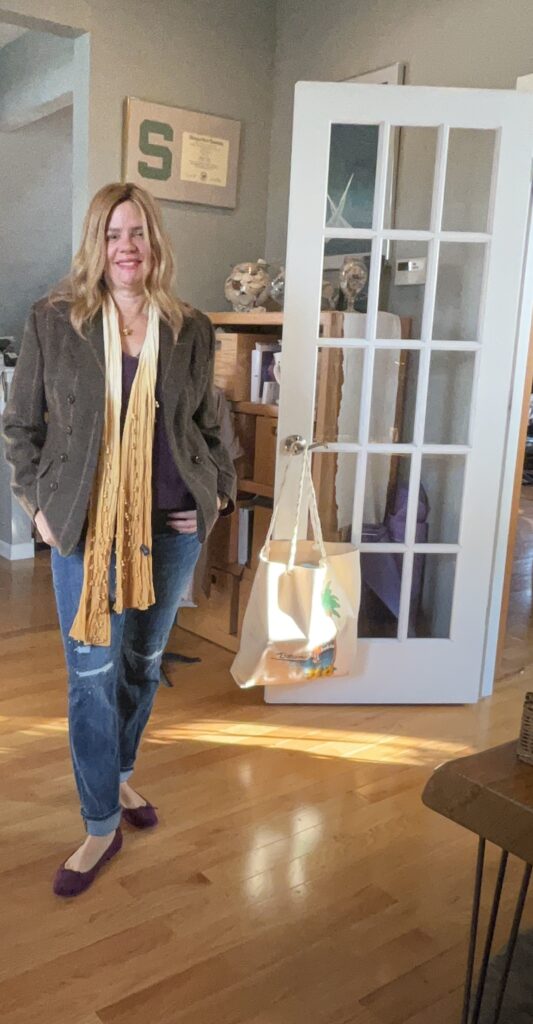 Blazer Sewing Patterns:
I love the Christine Jonson unlined Boyfriend Blazer, and if you're new to blazers, this unlined easy to sew one is a beginner friendly one!
If you want something with a lining, try this Simplicity one. It has both shawl collar, and notched collar, comes in extended sizes for plus size, is oversized. Shawl collars will be easier to sew for your first blazer, so go for that. I sewed two wool ones from a vintage pattern (it was new when I got it!) some years ago and loved and wore those forever. It was a gift project from my mom (wish I still kept them!), she gifted me fabric, lining and the patterns! I've oft talked about how I've had professional organizers in here and got rid of things I wish I had not. Those blazers were among them. I have the pattern and could sew it again. Speaking of, do not overlook a vintage sewing pattern! In your stash, your mom's stash, an estate sale, even ask on a sewing group for them. Etsy and Ebay are also good places to get them. Those 1990s blazers are awesome!
Jeans sewing patterns
Here's where I think you should go for an indie pattern for your jeans selection. There are three pattern companies I recommend for jeans: HotPatterns (available as digital downloads on Etsy), Closet Core (print and digital) and Megan Nielsen (print and digital). These all come with excellent reviews, and good fit. Now, I'll share I have not sewn jeans proper (that is, five pocket jeans). I have made jeans skirts, wide leg pants with jeans-styled accents, but the true five pocket variety? I'm with you! I need to sew a pair!
I plan to make a Boyfriend jean – my take on this is that if you're going to invest in good denim, and the time it takes to sew jeans, go with a classic wear-forever style. Skinny and wide come and go but a good pair of boyfriend straight leg jeans will last forever. My LFS has some 'good denim" coming in – American grown, milled and woven Denim! It's from Vidalia Mills in Louisiana, and I can't wait to make it. True selvedge denim requires a straight boyfriend cut jean to take advantage of the selvedge for the outer leg seams. And I think having a pair of American grown, milled, and woven AND sewed jeans is a hugely worthy project. The store has 4 shades coming in from light to dark.
Are you ready? I'll be sewing my first pair of jeans this winter, and I'll invite you to join me then on YouTube and the blog for a sew along.