Do you ever upcycle your own sewn garments? I did so with this Polartec Tweed Fleece Poncho with Reflective Trim. I sewed the JetSetter Poncho from Hot Patterns, and purchased the tweed fleece from Mill Yardage, the Malden Mills retail arm for fleece fabric.
I had originally sewn this as a self drafted capelet with an attached scarf, but changed the design after I wore it several times. I wanted a capelet or poncho for bicycling but the scarf was fussy for riding, and so I re cut it into the Jetsetter Poncho by HotPatterns, using reflective trim accents on the poncho and using the scarf as the cowl neckline.
Because this poncho has paneled seams, the reflective accents are applied from the hem into the panel and from the neckline into the panel, giving an almost "arrow" appearance. For that reason the arrow on my back goes to my left, so when I'm riding on the right, it "arrows" the cars behind me to the left. Clever!
The fleece is luxe tweed-look fleece. It won't pill (it's the good stuff) and it looks really nice as a poncho. I did have to "slightly" shorten the length of this when I upcycled the original garment, but it runs long on me as I'm shorter than average torso with long legs.
The construction of the JetSetter Poncho is very straightforward. It has a front and back panel (*almost a raglan*), and sleeve panels with facings. It also has a deep cowl neckline. It does not have pockets and a pro tip, it didn't work to put them in the paneled seams (I tried!)
For the reflective trim, I used 2″ trim and first applied it with Wonder Tape and then top stitched over it. I then constructed the poncho as usual.
The tweedy look is perfect over jeans and a sweater; the reflective trim is perfect for fall or spring nights when the sun is down, but you're out walking the dog or riding your bicycle home. The reflective trim appears as light gray/silvery when worn in the daylight. It is not too obtrusive and would look good on almost any color – navy, gray, black, taupe as shown here. You can use any width of trim – two parallel rows of narrower trim would give a sporty appearance.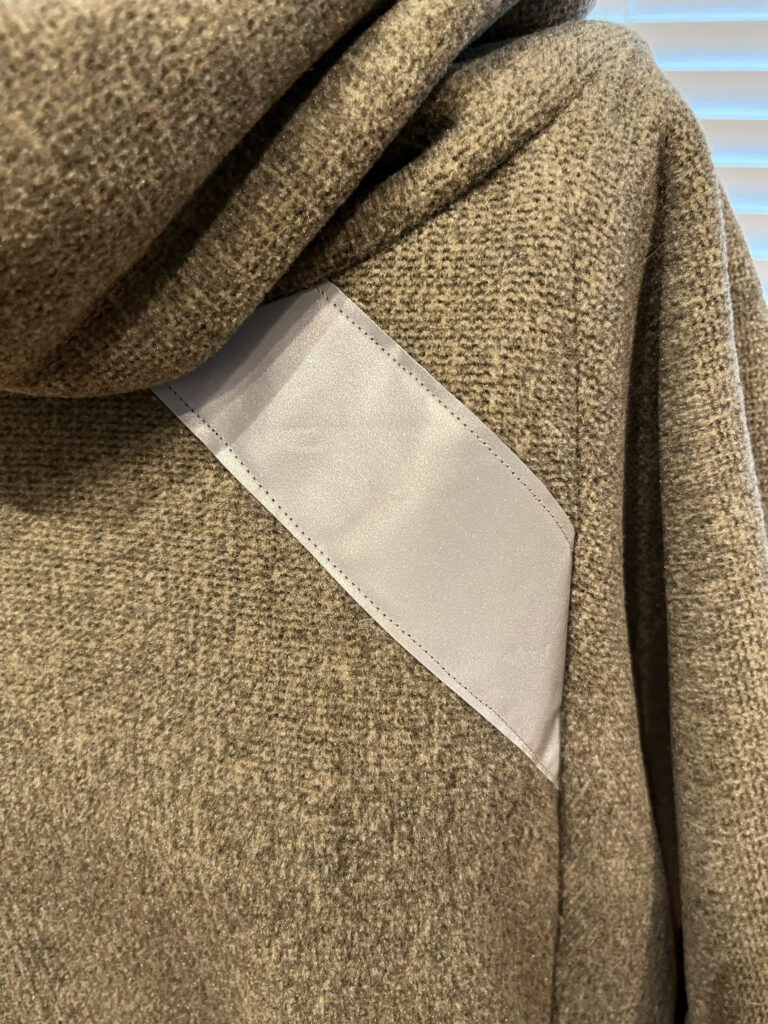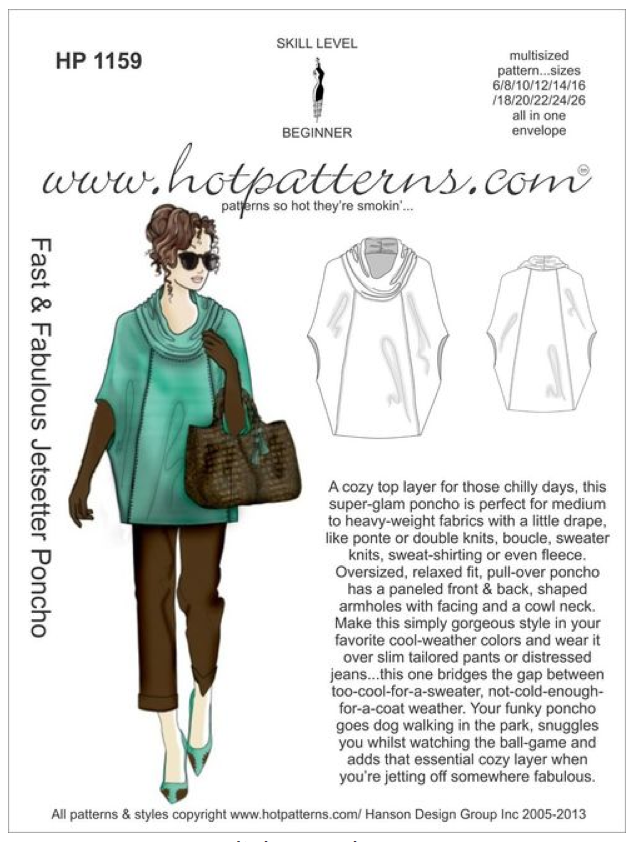 Styling the JetSetter Poncho:
It looks fab with a slim pant like jeans, or the HotPatterns Tailored Trackpant or the Pietra Pants (skinny) or the Perfect Pant Skinny by Christine Jonson. The latter is a knit pattern designed for 4-way stretch fabrics and is super easy to sew and flattering to wear.
I'd pair this with a sneaker or a ballet flat for bicycle riding or dog walking or sightseeing.