Spring Break Beach 2023 Sewing Pattern Recommendations are on my mind right now, as we just booked a trip to an all-inclusive resort in Jamaica.
I usually plan to sew a lot, but I have a lot I've sewn, so this year I plan to add just a couple of new things, and I'll share all the sewing patterns I've used for a capsule wardrobe for a beach vacation.
These are my TWO patterns (and a few more) that I'm sewing and taking, and that you should consider sewing. The Hot Patterns Dragonfly Kimono and the Greenstyle Boca Bay Bikini.
We are flying a low-cost carrier out of a city (in another country) that's 4 hours away! So we need to pack light.
My packing list includes 3-4 swimsuits, a coverup kimono or shirt, a pair of pants, three tee shirts, three shorts and at least one sun dress (if not two, they double as swim coverups if needed.) I have to have a sweater (for the trip down/back) and sneakers, in addition to sandals.
On the swimsuit side, I am looking at the Boca Bay Bikinki pattern by Greenstyle. I've already got the Greenstyle North Shore, but like the look of the Boca Bay's top and it's cheeky high waist bottoms.
I also have trusted Kwik Sew 3608, a bandeau tankini and cutout one piece that is widely available on Ebay and Etsy even though Kwik Sew is out of print now. I've made many of these over the years!
For shorts: The Pietra Shorts are my go-to and I will be taking these with me. I'm making a new pair in off white twill.
Tee shirts and tanks: The Christine Jonson Flyaway Top (and matching Wrap Pants) are superb for beach vacations, but those pants are NOT suitable for a plane ride or a cold departure climate, so I'll need something else. The top is perfect as a layering piece under a sweater for the plane and will be perfect for the Caribbean weather.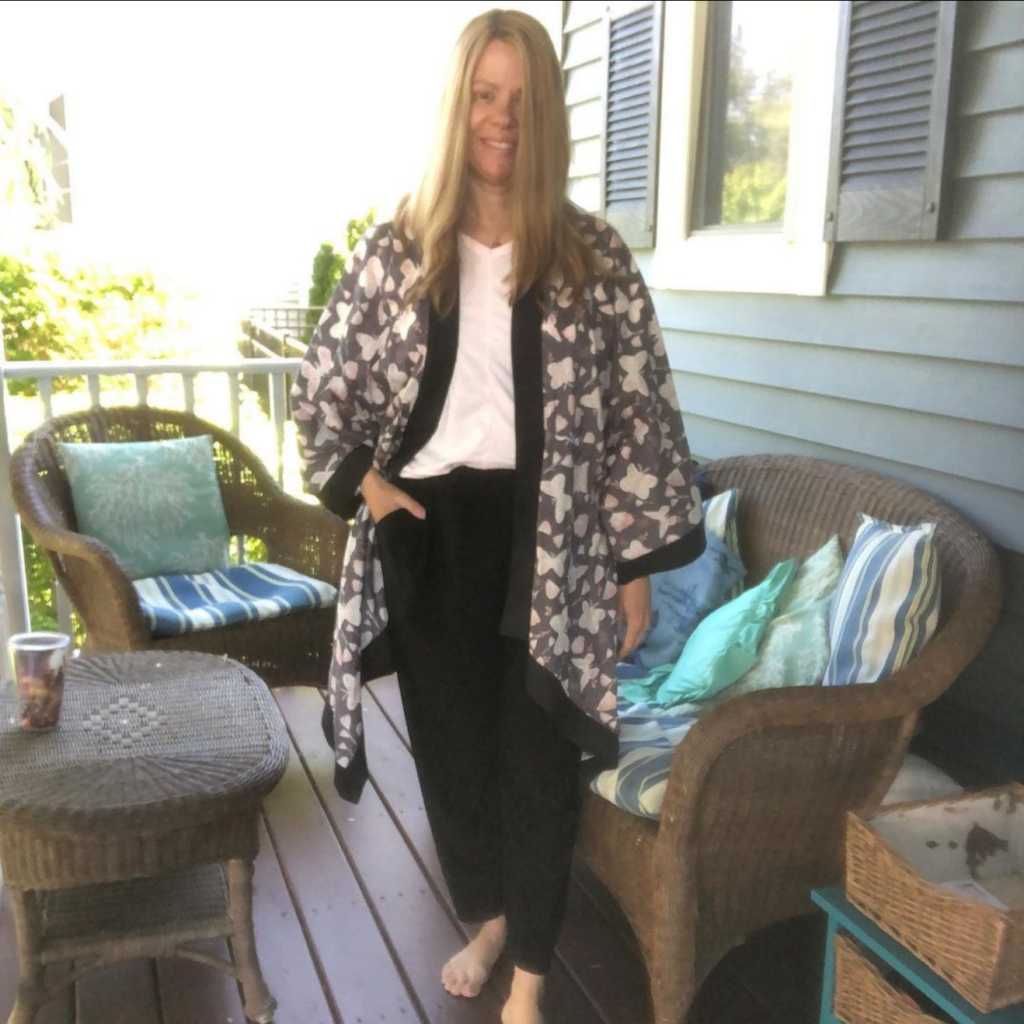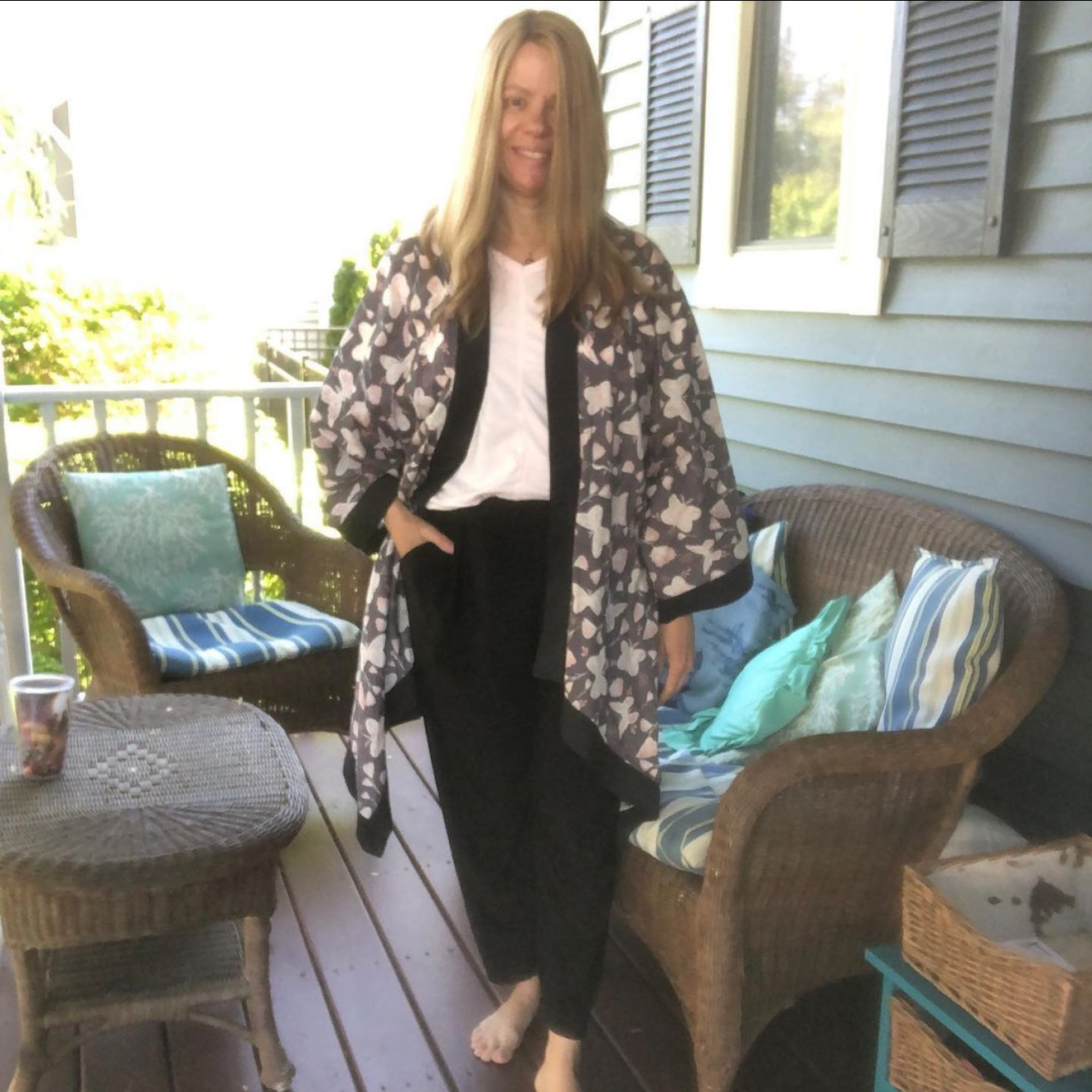 Swim coverup – the HotPatterns Dragonfly Kimono is definitely coming with me. Not your usual square kimono, this has angled and shaped panels. I do need to sew one that matches with more of my swimwear, and that's a #1 pattern on the top of my must-sew list for this trip.
Packing list for an island beach vacation:
In your checked bag *pay for one checked bag –
Snorkel gear (mask, fins, snorkel) for each person on your trip.
Full size reef-safe sunscreen. Make sure it says Reef Safe as many tropical destinations BAN other kinds of sunscreen. FWIW, even a tiny bit (tiny, what's on one swimmer) of the other kind of sunscreens can bleach corals. We know so much more now! You can also wear a swim shirt or rash guard, but pro tip, sunscreen your back waistband. We were that family with the 1″ strip of sunburns right above our waistlines on our last snorkeling vacation!
In your backpack or personal item bag: a swimsuit and flip flops. Trust me on this one. If you end up in the tropics in your plane clothes, you'll want a swimsuit with you. Also, one or two novels, your journal and headphones along with any personal electronics. Fun story, in college, we used to charter sailboats and go sailing in the Abaco Islands. You fly from a small airport in Fort Lauderdale on a 6-seat plane to Marsh Harbor, Abaco, and from there get on your boat. If your bag doesn't make it to Fort Lauderdale, you might end up not taking it with you to the Bahamas! And if that's the case, you'll borrow a swimsuit, cut off your jeans and buy a couple of tee shirts! That happened to my husband in college. So, trust me when I say bring a swimsuit and flip flops with you in your personal bag on the plane.
In your carryon roller bag:
2-3 shorts
2 sundresses
1 coverup (the Kimono shown here)
4 tops
Additional swimsuits
Additional swim tees
Additional sandals
Toiletries case/makeup bag
On you (on the plane)
Light weight pants
Sneakers or gym shoes suitable for hiking (plus socks)
A hoodie or sweatshirt or poncho over a long sleeve tee – you can wear a swim tee or tech tee