Looking to welcome the new season? Sew two garments to work with one you already have to create a fall mini capsule wardrobe to sew. These are my fall 2022 picks.
Video: Fabric stash selection for 2022 fall mini capsule
In this video I mention making a rectangular poncho from a free sewing pattern called the Greenbush Top. You can get that pattern right here – and there are instructions for both a poncho (a medium to heavy fabric) and for a top (light to medium weight fabric). I also show my thrift haul (which matches with all these new fall 2022 mini capsule wardrobe to sew items)
I selected the Ready To Sew Pleat pants in a lightweight black fabric for my tester garment – Ready to Sew is a French sewing pattern designer. She works with a lot of sustainable fabrics (upcycled, organic) and natural dyes, plus she's a minimalist who recently upgraded from a tiny home on wheels to a tiny home (after having a child last year.) I'm NOT a minimalist but I appreciate the upcycled, organic and natural dye instructions in her patterns! These are a slightly wide leg, cropped with a unique wrapover front or wrapover with a built in pocket! They're like nothing I have in pattern stash and probably nothing like it in yours either!
I also have the Pio pants from Ready To Sew. These are a narrow slim leg elastic waist pant with front vertical seams and drop in pockets (this pocket is widely loved in the sewing pattern industry – and I recently saw them on a pair of JCrew linen joggers, so it's making mainstream movement with that pocket style.)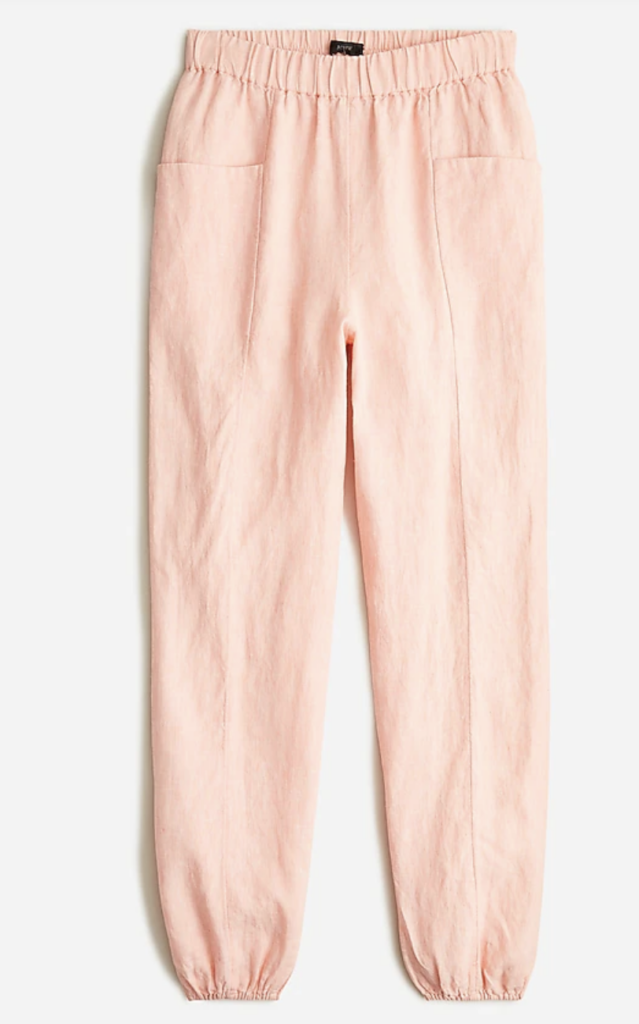 I am pairing these items together:
Recently made a Fuscia cotton lycra Funnelneck top with cropped sleeves and a slightly lower funnel neck from this Christine Jonson pattern. There are literally just TWO pattern pieces!
Cream babywale cord Pio Pants for winter – my daughter borrowed my cream RTW cords, so I'm making a new pair for myself from the Pio.
Black lightweight cotton Pleat pants – to test out the pattern, followed by gray Pleat pants.
Black Greenbush Poncho top in heavy wool bouclé. This wool would be suitable for an unlined coat or vest too.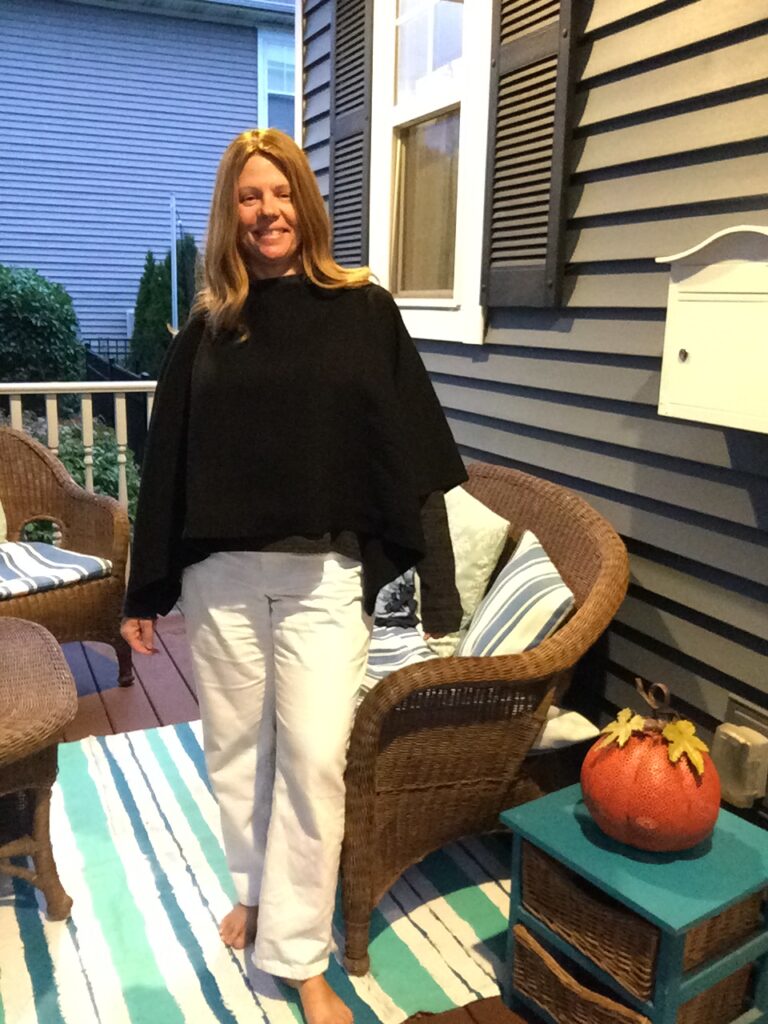 Green and black fleck handknit wrap (Chris Triola, a local knitwear designer, from her sample cuts.) I'll use the knit cuffs on these on the edges of the wrap. This also goes with my black rib Toaster sweater, a charcoal gray merino sweater (old, Eddie Bauer), a black cotton cable turtleneck (old, Target) I'm attempting to repurpose this knit into the Style Arc Salma Wrap.
On Pinterest, I found this oversized cropped hoodie called Hubert from a Danish designer. This would be awesome in a sweater knit for fall. I do already have the Mile End from Closet Core so that's an option, too. Pinterest is my go to for new sewing patterns I've never heard of. Unlike Instagram which is showing mostly nonsensical paid posts (and my hashtag searches), Pinterest shows me lots of new things centered around things I already love – and their algorithm changes instantly based on my search.
And last, a Bog Coat in this gorgeous black and fuscia heavyweight wool.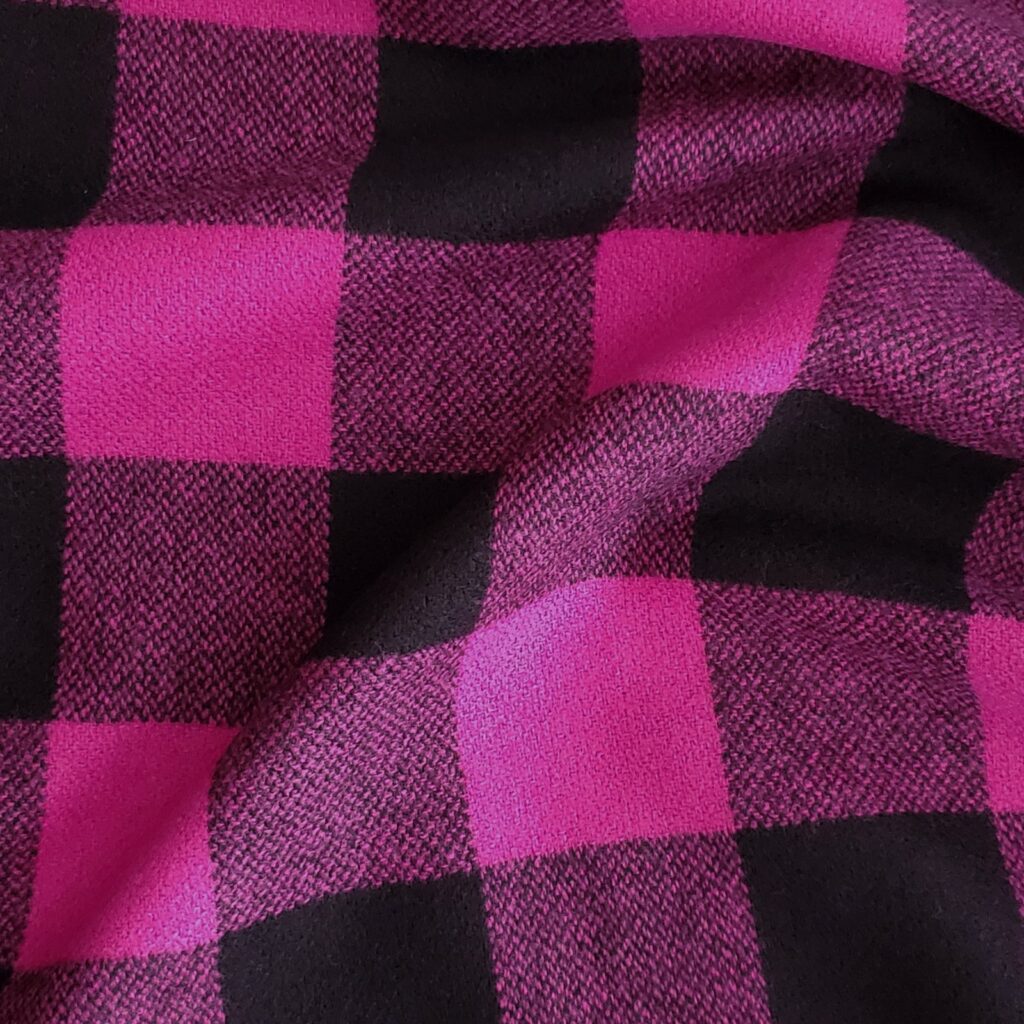 What things can you haul up from your fabric and pattern stash? What things do you have that you can pair with two new things to sew? Or what two things do you have that you can pair with one new thing to sew? Get the worksheet here and plan it out!